August 18, 2009
Manimani's Best
Sora no Manimani
isn't the best show of this season; that's a dead heat between
Taishou Yakyuu Musume
and
Bakemonogatari
. But I'll be damned if it isn't my favorite show of the season, and maybe the whole year.
My favorite part of the show is Sayo Yarai, who's the brains behind the Astronomy Club. She's also the steadying rock of the club, an excellent balance to the impulsive and frenetic Mihoshi. If there's ever been an anime I've been drawn to because of a single character,
Sora no Manimani
would be it, and Sayo would be that character.
Which is not to say that
SnM
is a one-character show; far from it. The whole gang is fun to be around (except for the Club President, who tends to pass out and bleed from the mouth if you look at him funny, or if the wind is blowing), the humor ranges from intelligent to slapstick, the art is pleasing to the eye, and the stargazing scenes look fantastic.
But I'd rather have Sayo be the main character. She's just more
interesting
than Mihoshi and Saku, both of whom are pretty much cookie-cutter. Saku's a bookworm and Mihoshi's on speed; we see them all the time in anime. Sayo's quiet, but not a
Rei
or
Yuki
. She can be goofy, smiles a lot, and people listen when she speaks.
And in ep05, we discover she has some other assets...
more...
Posted by: Wonderduck at 09:08 PM | No Comments | Add Comment
Post contains 282 words, total size 3 kb.
August 01, 2009
What's Wonderduck Watching? Summer 2009 Edition
It seems that every anime season in Japan brings with it moans of pain from the American fans. "There's nothing good," goes the refrain. "This is the worst season ever." Inevitably, though, there's at least one or two shows that people discover to be pretty darn good, and many of the rest end up being at least watchable (even in the best of times there's unwatchable shows, too). It's a twisted circle of life, but it's one that anime bloggers and readers seem comfortable with, on the whole.
But I noticed something odd heading into the Summer 2009: a surprising dearth of "the sky is falling" posts! There seemed to be a little bit of something for everyone this time around, and a new season of
The Melancholy of Haruhi Suzumiya
, to boot!
We're about four weeks into the season, and the long-anticipated
Haruhi 2
is
widely
considered
a
bust
(
though not by me
, I'm diggin' it), but the rest of the shows are showing a remarkable level of quality. Instead of "
thin slicing
" the season, though, I'm just going to cover the programs that have made the cut for me.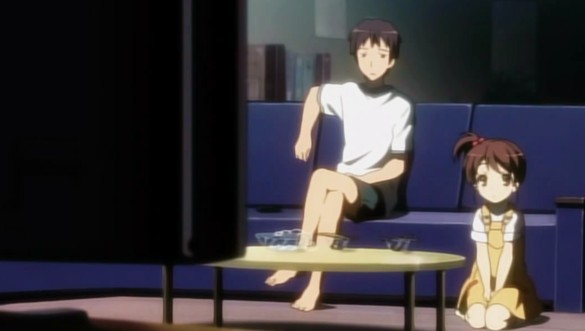 So, without further ado, let's answer the burning question "What's Wonderduck Watching?"
more...
Posted by: Wonderduck at 11:44 PM | Comments (7) | Add Comment
Post contains 1861 words, total size 14 kb.
26kb generated in CPU 0.0116, elapsed 0.1758 seconds.
45 queries taking 0.1672 seconds, 230 records returned.
Powered by Minx 1.1.6c-pink.