May 21, 2015
Your Weekly Asuka, Ep07
"
In the end, Asuka always ends up on my mind.
"
-President of the band club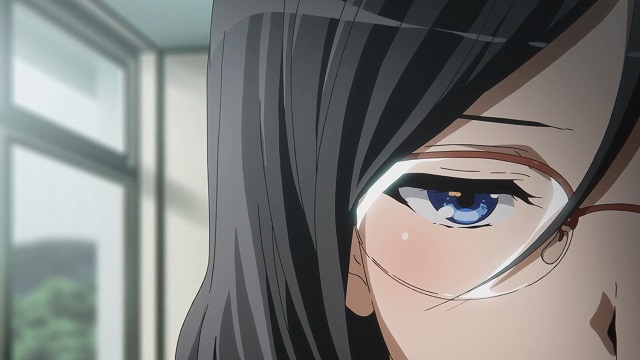 -Hibike! Euphonium
, Ep07
A remarkably Asuka-centric episode. "Remarkable" mainly because she barely says anything, and nothing at all to any of the main characters in a non-ensemble setting. However, the truth is that she was the focal point.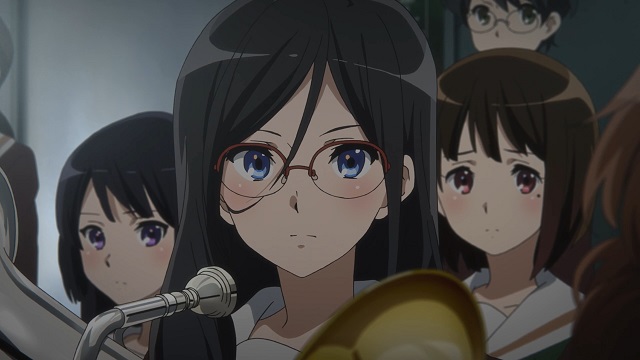 The Goofy part of her was completely missing this time around, but her screen time was actually quite limited. However, almost every conversation somehow became about her... and not always in a positive light. There's an undercurrent amongst the first-year members of the band that she's too perfect, that it's all a put-on, and one can't tell where the REAL Asuka is as a result.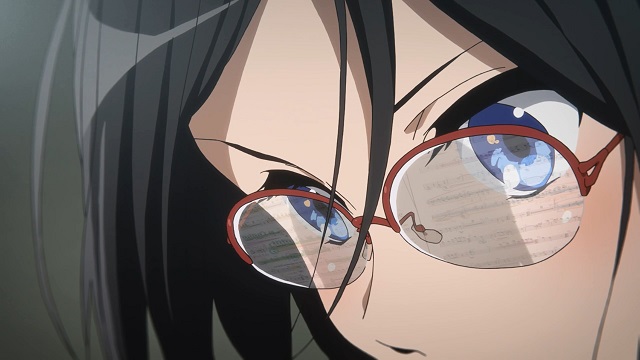 It doesn't appear that the upperclassmen feel the same way. However, many of them feel something even more stinging about her: that she let the band down. We finally discovered why there's such a dearth of second-year students in the band club, and it's about what you would expect: a group of them were more interested in socializing than playing. However, there was a group that DID want to play seriously, and conflict inevitably resulted. People looked to Asuka to solve the conundrum and... she didn't. She played neutral to the whole thing, as well as turning down the position of President. According to one of the officers of the band club, Asuka thought it out and realized that she couldn't succeed as the President with the club in the condition it was in.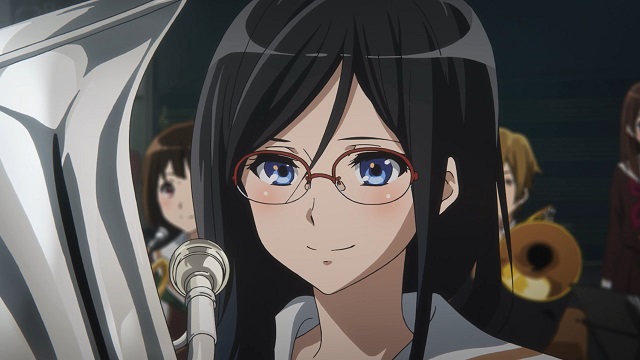 That puts a completely different spin on her "
master facilitator
" persona, one that's not so flattering when mixed with the fake/phony appellation. And yet, we still don't really know the TRUE "cute goofball"... we just know what other members of the band think of her. Big difference there, but it was a fascinating character study cleverly done. I have hope that next week we'll actually find out more.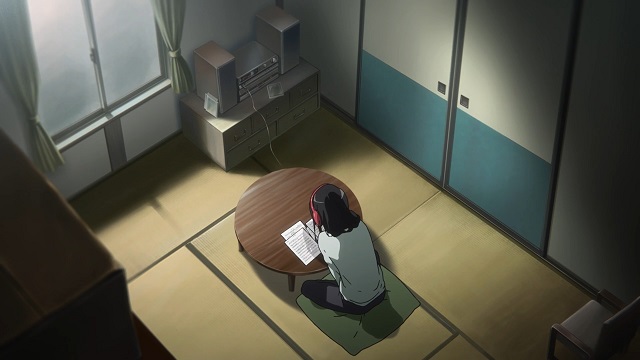 Because this one image teases so much about her. We've seen a few bedrooms over the course of this show, and none of them have been so empty, so sparse, so... lonely. You'd expect the room to be a riot of color and action and noise, given the "Goofy Cute" that resides in it, but... no. I fear what this means about her backstory.
Posted by: Wonderduck at 10:27 AM | Comments (4) | Add Comment
Post contains 388 words, total size 3 kb.
1
It appears that even her friends may not actually know Asuka all that well. Although the fact dump comes from a second-year student, so that may be too much reading between the lines. But, that could lead to an episode featuring Kumiko visiting Asuka at home and getting the whole story. Which I'm quite looking forward to.
Posted by: Ben at May 21, 2015 11:04 AM (LImvu)
2
Remarkably solid writing in this series, for a "school activities comedy/drama" show. I wonder how much of that is the LN source and how much is KyoAni's efforts.
It's nice to actually be looking forward to weekly installments of a Kyoto show again!
Posted by: GreyDuck at May 21, 2015 08:44 PM (/zxpg)
3
I'm late to this party, but FWIW here's my comment...I notice that Asuka has blue eyes. There's a
certain trope
(caution: TV Tropes link) in some anime shows set in modern-day Japan--if a character has blue eyes, it's a sign that he or (usually) she has mixed racial ancestry, with at least one grandparent being Caucasian. (Haruka Morishima from
Amagami SS
is an example of this.) Has there been any indication that Asuka is mixed-race? That might be a source of some of the sad history the show is hinting at, e.g. perhaps she was bullied at one time because of her ancestry.
BTW, thanks for the writeups on
Hibike! Euphonium
, and on Asuka. I also find her appealing, and this series has made my short list of shows to watch if/when I get back into Japanese animation.
Posted by: Peter the Not-so-Great at May 24, 2015 04:15 PM (dzzLh)
4
A tiny bare room like that usually means the kid is going to high school somewhere away from home, and living alone without her parents.
But it could just be a case of "everything extraneous is in the closet."
Posted by: Suburbanbanshee at May 24, 2015 04:52 PM (ZJVQ5)
26kb generated in CPU 0.0182, elapsed 0.2151 seconds.
49 queries taking 0.2061 seconds, 229 records returned.
Powered by Minx 1.1.6c-pink.