April 28, 2015
Your Weekly Asuka, Ep04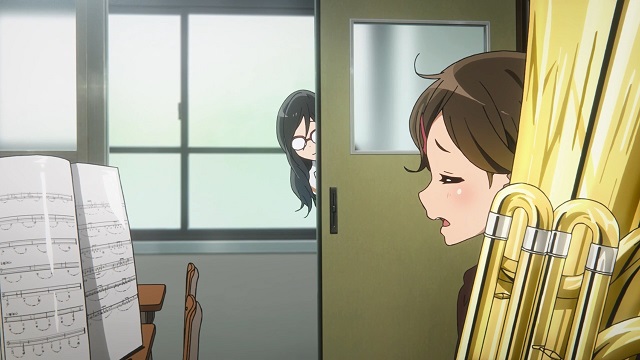 -Hibike! Euphonium
, Ep04
A rather Asuka-less episode, with the cute goofball having maybe a minute of screentime. She was remarkably serious this time around, too. From being the voice of reason in the section leader meeting that actually determined the course of the series from here on out to teaching the newcomers to the bass section advanced techniques, she played the role of "good sempai" to a Tee.
What might not be obvious at first blush is that Asuka has, to date, gotten everything she's wanted in this series. From corralling three of the main characters to making sure the band is trying for Nationals to subtly siding with the new teacher in the section leader meeting and thus pushing everybody to accept his somewhat abrupt (but effective) style, Our Goofy Fascination is proving to be ridiculously skilled in playing the political game. One gets the impression that if she was even slightly normal she'd be president of the student council, or maybe dictator-for-life.
You know how there is a school of thought that says that the
Star Wars
series of movies is actually telling the story of R2-D2? At least through Ep04, an argument can be made for
Hibike! Euphonium
being Asuka's tale, told from the standpoint of the three so-called main characters. To be honest, I'm not sure if I really believe that or if it's just because I'm doing this weekly thing, but I find the possibility to be intriguing.
Shhhh... don't tell anyone!
Posted by: Wonderduck at 11:45 PM | Comments (3) | Add Comment
Post contains 251 words, total size 2 kb.
1
If it's not her story specifically, I still think she's the MVP...
Posted by: GreyDuck at April 29, 2015 09:37 PM (/zxpg)
2
Asuka is an unusual character. She's almost a Mary Sue (she even runs faster than most of the others), but you don't typically see a Mary Sue that isn't the protagonist and, while respected, isn't very well liked. It's not really fair to say she drives the plot; it's more like she knows exactly where the story is going and just happens to be right there with it. Which isn't uncommon; it's one of the forms the "wise old guru" takes. She's so ridiculously talented that there's no way she doesn't end up on top unless she just decides she doesn't want to be. It's almost like the goofiness is an act...
And as a side note, according to my spell checker, "goofiness" is correct, "goofyness" is not. I didn't even think it was real word.
Posted by: Ben at April 30, 2015 07:43 AM (S4UJw)
3
"Fixer Sues"
are usually not protagonists. Not saying if Asuka's one yet, it's early days, and her role in the show isn't that overwhelming so far.
Posted by: Mitch H. at April 30, 2015 08:19 AM (jwKxK)
27kb generated in CPU 0.022, elapsed 0.2715 seconds.
49 queries taking 0.2548 seconds, 281 records returned.
Powered by Minx 1.1.6c-pink.