April 28, 2009
What's Wonderduck Watching? Spring 2009
So after a period of about six weeks where I watched practically no anime whatsoever, I marathoned the 10-year old series
Bubblegum Crisis 2040,
watching the 26 episodes in three nights. Suddenly, I found myself wanting to watch anime again... it's a miracle!
"Well, sure, Wonderduck. That's great, but a decade-old show? What are you watching
this
season?"
Five shows, actually.
Valkyria Chronicles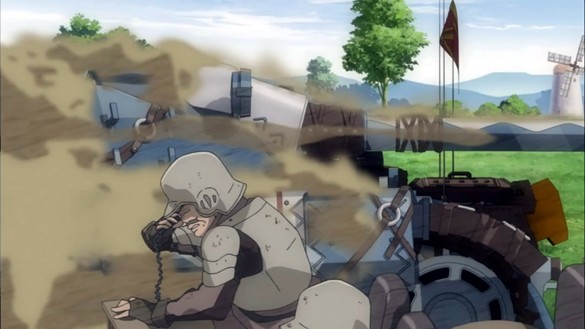 ...or as I've taken to calling it,
A Guy, Two Girls, and a Tank
. In a world not unlike our own, more or less, the country of Gallia is being overrun by "the Imperial Army," trying to take their vast fields of Unobtainium power source. Our heroine, Alicia, is swept up in the defense of her town and with the help of the son of a legendary General and his adopted sister, and their hidden tank Edelweiss, turns disaster into... well, sort of a victory. All three enlist in the Gallian army. I'm sure there's a plot in here somewhere, but even if that's all the plot there is, the show is worth watching for the insane amount of detail the animation company has put into their tanks:
This isn't just a glamour shot... the tanks
always
look this good in this show. Okay, yes, Edelweiss manuevers more like a F1 car than a tank (the bootlegger turn it makes without throwing a track is particularly egregious), but who cares when it looks that nice?
Saki
Red Hot Mahjong Action! A good sports show makes you care, even if you know nothing about the sport in question. To be frank, I know nothing about mahjong, and I'm probably not going to know any more after watching
Saki
, but I've found the first three episodes to be mesmerizingly fun. The show's namesake is so skilled at mahjong that she can make the score end up exactly how she wants it, despite the high level of luck involved (imagine playing chess and being able finish the game with two pawns, a rook and a king... every game you ever play, no matter your opponent. It's kinda like that). Sure, there's a Pokemon-level of lightning flashes and other dramatic effects whenever Saki plays a tile, but this show makes it work. Animation quality is okay, nothing special, but the character designs are nice and the writing is clever enough.
K-On!
In effect, another sports anime, though in this case it's about the trials and tribulations of a bunch of amateurs trying to form a band via the high school's "light music club." I've
already written about
my reservations regarding
K-On!
, but there's still time for it to surprise me. As of right now though, it's entertaining enough.
One helluva ED
, though.
Chrome-shelled Regios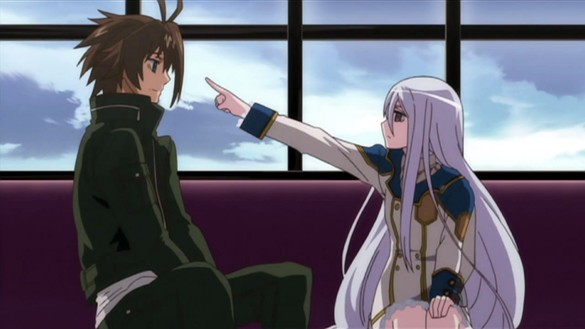 Okay, yes, I admit that this is really a holdover from last season. I started watching
Regios
just before I hit that stagnant period mentioned earlier, after a glowing recommendation from former Duck U. Anime Club member Kelly the Badger. In a world where the cities are mounted on giant treads and slowly trundle across the planet to avoid giant sandworms that look like something Frank Herbert would have come up with after a really bad night, young adults attend not-military academies to better serve and protect. Hijinks ensue when our protagonist (called "Fon-fon" by the telekinetic tsundere, above right), who is essentially a pacifist, is discovered to have a ginormous amount of power. There's a lot of humor in
Regios
, but the true gem of the show is Felli, the aforementioned telekinetic tsundere. Seeing her in a meido cafe, trying to smile and failing miserably, is one of the funnier things I've watched in a long time. Animation is clean and sparkly, and I'm hoping that the plot doesn't get too dark and gloomy down the road. It's fun right now, though, and that's kinda the point, isn't it?
Hatsukoi Limited
It's a slice-of-life show... of
course
I'm watching it. But there are other reasons, too...
...and that's most of 'em, right there. The girls are cute, the animation is good, and the plot (such as it is) seems to be episodic so far, so you don't have to worry about what happened six weeks ago. "Have you ever fallen in love?" the opening asks, and there's your main theme for the show.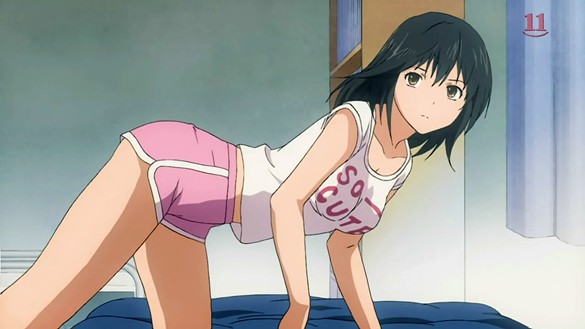 ...
...sorry, what was I saying? I got distracted. Oh, right, the main theme of the show is...
...uhm...
(distracted)
...y'know what? This show is a clever fanservice romp with a lot of humor. That's it, that's all it is, and that's really all it should be.
Sorry, ladies, you'll have to face facts. At least your show is
clever
, right? It's not
Eiken
. Actually, I'm getting a distinct
Kimikiss
vibe from
Hatsukoi Limited
, with more panchira. And that's not a bad thing, not a bad thing at all.
So
that's
what Wonderduck's watching this season.
Posted by: Wonderduck at 10:24 PM | Comments (3) | Add Comment
Post contains 818 words, total size 6 kb.
1
My problem with KimiKiss was that it sort of derailed badly at the end. I've been leery of schooltime-rom-com shows since the last few I've tried turned into utter disasters. (What was the one with the violin-playing chick? Yeah, THAT was a mess.)
I may have to give Regios a shot, though. Hey, something to marathon...
Posted by: GreyDuck at April 29, 2009 07:28 AM (o5Lvb)
2
Damn. I haven't even tried Regios or Hatsukoi yet. Season's getting better and better.
Posted by: Avatar_exADV at April 29, 2009 01:43 PM (pWQz4)
3
Wow, Hatsukoi Ltd sure looks like... er, [wipes drool] where was I??
Ahem. Saki still seems OK and I think K-ON is a good one to watch after your third or fourth drink. Not knowing where Eden of the East is headed, I'm denying myself an opinion right now.
Posted by: Tiberius at May 01, 2009 09:22 AM (TXmvK)
Comments are disabled. Post is locked.
26kb generated in CPU 0.0105, elapsed 0.0617 seconds.
47 queries taking 0.0549 seconds, 226 records returned.
Powered by Minx 1.1.6c-pink.