November 08, 2015
The Four Faces Of Kei 'n' Yuri
In the comments of the last post
, friend
Ben
asks what anime series I'd like to see get remade due to age or quality. While I didn't type my answer immediately, the second I saw the question I knew how I'd be replying:
The Dirty Pair
. If not the actual first "girls with guns" series,
Dirty Pair
was certainly the first to be hugely popular. The adventures of Kei and Yuri have been around for nearly 40 years, and I've been a fan since sometime in the '90s. Light novels, one 26 episode TV series, three movies, two completely different OVA series, and even US comic books cover most of the source material of these great characters. Along the way, only two things have stayed more or less constant with the visual designs: Kei has red hair and Yuri dark hair, and the two are female. Obviously one of the most important aspects of a remake of such a legendary franchise would be the updated character design. With any luck, the production company involved would pay attention to what had come before. With that in mind, let's take a look at the evolution of the best known 3WA Trouble Consultants, shall we?
Mughi changed, too!

Light Novels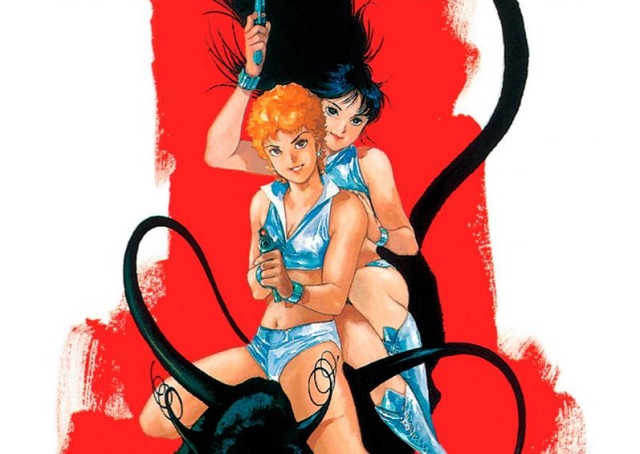 The first appearance of The Dirty Pair came in 1979, serialized in Japan's
SF Magazine
. While not the art for the original 1980 release of the first book "The Dirty Pair's Great Adventures", the above picture is a very faithful remake of it for the 1993 Japanese reissue (and the cover of the US release). It may as well, then, be the original character design for Kei and Yuri. Amusingly, their outfits were based off the costumes worn by women's pro wrestlers in the '60s and '70s... which makes sense, as the concept of the duo was formed from the pro wrestling team "The Beauty Pair", who wrestled for All-Japan Women's Pro Wrestling. That company was part of the Worlds Women's Wrestling Association... which also made it into the books as the World Welfare Works Association, or 3WA. In any case, pretty much everything we'll see springs from this design for all intents and purposes. They won't be
exact
copies, but the important stuff carries over.
TV Series
The year is 1985, the first true animated appearance of the Dirty Pair. While clearly inspired by the cover art of the book, there's actually very little in the way of description of Kei and Yuri in the novels. In any case, while the cover may be canonical,
this
is the way the Dirty Pair looks for most people. The TV series had a troubled broadcast history, with the first 24 episodes airing in 1985, but the last two being delayed until late 1986. In between, the OVA/Movie
Affair At Nolandia
was released, and interestingly the designs are sort of a cross between the TV series and the book cover: more realistic, but not
real
like the cover. The OVA was not well-received, mostly because it was
too
serious and realistic. The followup movies and OVA series follows the TV series' designs.
Dirty Pair Flash
Nearly 10 years after the original series came out, an OVA "reboot" of sorts was released.
Dirty Pair Flash
ignored almost all of the previous source material; the two didn't even like each other to start with. Some things did carry over however: Kei's the hothead tomboy, Yuri the supposed girly-girl. On the whole, most fans of
The Dirty Pair
don't particularly care for
DPFlash
, though I like it. I just try not to compare the two.
US Comics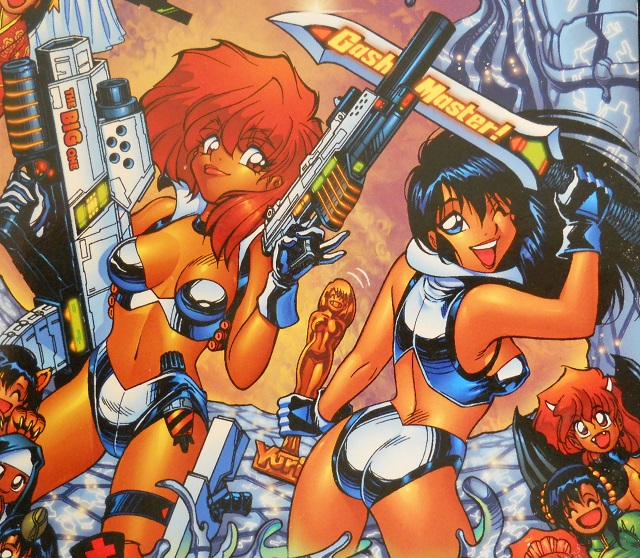 Technically this is out of chronological order, as the US comics by Toren Smith and Adam Warren (later Warren alone) first appeared in 1988. However, this is my post. Heh. Warren's version of the DP was actually that which I saw first; somewhere in a box back at The Old Home Pond, I've got the original comics for 1988's "Biohazards". The character designs are curvier than the TV series, but the outfits were very much based on the original book art. Warren's designs fluctuated over the 10 years he was actively doing these, from relatively normal looking to quite stylized. It's not to everybody's taste.
So. Plenty of source material for an imagined reboot to work with. If only it would actually happen... bet it'd go over pretty well (assuming it had a budget)!
Note: If you're not overly familiar with the Lovely Angels, the best place on the web for info is
ElenoreCity
. While it hasn't been updated since 2007, it's still the go-to source for all things Dirty Pair, and has been since the web was young. I've had it bookmarked for years.
Posted by: Wonderduck at 09:09 PM | Comments (9) | Add Comment
Post contains 792 words, total size 6 kb.
1
I still have a mess of the Adam Warren comics in boxes in a closet here. If I remember correctly (always a crapshoot...) my first real experience with Dirty Pair was a bootleg VHS unsubtitled copy of "Nolandia Affair."
Yes, I still have it.
I wouldn't say that any incarnation of The Dirty Pair is the best of its kind, but I will always have a warm place in my heart for these two walking disasters...
Posted by: GreyDuck at November 09, 2015 09:14 AM (rKFiU)
2
Thanks for posting this. I've been rewatching all the Dirty Pair that Hulu has as a part of my recent subscription there (going ad free and liking it, at least in short bursts. Talked about it a little
here
. &nbsp
It wasn't my first anime, there's a close tie between Robotech, Sailor Moon and El Hazard. Robotech and Sailor Moon were on early mornings while I was in middle and high school, but I didn't recognize them as anime per se at the time. El Hazard is the first thing I watched on Laserdiscs with a script sheet somewhere the same year I graduated in '95.
Either way, I love the OVA intro and music still.
Posted by: Tom Tjarks at November 09, 2015 10:26 AM (XbFxF)
3
The Smith/Warren collaborations are up there with
Project Eden
as my favorite incarnations, but Warren's solo efforts don't do it for me; his character designs simply aren't attractive. Actually, in general, his art style has gone in a direction I have no interest in.
IIIRC,
Sim Hell
, while listed as a Warren solo, still had a lot of story input from Toren, which explains why it was better than what came after.
-j
Posted by: J Greely at November 09, 2015 11:37 AM (ZlYZd)
4
...his character designs simply aren't attractive.
Ergo, "It's not to everybody's taste." I agree with you, by the way; Toren Smith was almost like control rods in a nuclear plant... remove them, and Warren went crazygonuts with his designs. I think he's an excellent artist, but I have a hard time with what he did to Kei & Yuri in his solo stuff.
Posted by: Wonderduck at November 09, 2015 06:29 PM (a12rG)
5
On his own, Warren seems to draw every woman like an inflatable sex doll, with lips set for Full Suck. Consider
this panel
from the unpublished Quick & Dirty story he started in 2004. With luck, it will remain unpublished.
-j
Posted by: J Greely at November 09, 2015 09:22 PM (ZlYZd)
6
Over on his deviantart page, there is a sketch labeled "
extra pouty
".
Which would be his default level of lips a little while later.
Posted by: Wonderduck at November 09, 2015 09:36 PM (a12rG)
7
Some of his work on "Empowered" goes even further, to the point where Emp in profile doesn't look quite human, with a barely visible upturned nose and the lips and jaw thrust so far forward she looks like she's in mid-werewolf transformation.
Yeah, he's been going further and further astray. From obsessively busy backgrounds to this compulsion to hang signs on everything. But on the other hand, I just cant resist stuff that mucks around with the Superhero Genre.
Posted by: Mauser at November 10, 2015 06:26 AM (5Ktpu)
8
..."Project Eden," that's the VHS I have. Not "Nolandia Affair."
Has anyone seen my marbles?
I didn't get past "Sim Hell" in the Warren comics, and from everything I've heard, that was a wise decision on my part. Those lips shown in the above comments aren't so much "pouty" as "balloon-like." Nooooot appealing, Mister Warren.
Posted by: GreyDuck at November 10, 2015 09:06 PM (rKFiU)
9
I love this series. (except for Flash. that was garbage). I own practically everything English done for this series. The dvds/movies, comics, two novels, comics,and even a few figurines. I found years ago Masi Oka was said he might like to do a live action film for this, but it's not gonna happen.
Sadly, there is one huge episode I do not like; episode 10. I felt they left it open-ending. The girls were trapped in jail, the boy prince and this girl ran off and they faded to black. It was dumb.
Other than that, I'd watch the rest of the series.
Posted by: Rokusho at March 29, 2019 12:25 PM (MfGno)
33kb generated in CPU 0.0146, elapsed 0.2818 seconds.
49 queries taking 0.2711 seconds, 234 records returned.
Powered by Minx 1.1.6c-pink.