October 22, 2018
What A Time To Be Alive!
First, TokyoPop announced they'd be bringing
ARIA: The Masterpiece
over to our shores. If you're unfamiliar, it's essentially a collector's edition with a bigger format, better covers/binding, some new artwork, and improved paper quality. The first one comes out in February, and we've
finally
got a chance to actually see all of the ARIA manga released over here officially.
Then a new volume, #9, of
"Sunshine" Sketch
came out a few weeks ago, after nearly three years of waiting.
Now a new volume of
Yotsuba!!
is coming out on November 13th, after two-and-a-half years of waiting.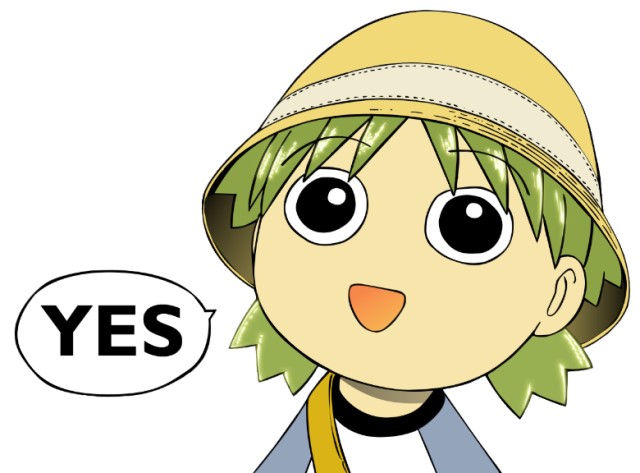 And they've just announced that
Magical Girl Spec-Ops Asuka
is going to be an anime, premiering in January.
...and there's a darn good chance that's gonna be a possible writeup candidate, too!
Really,
this is the best of all possible worlds!
what a great time to be alive!
Posted by: Wonderduck at 11:37 PM | Comments (5) | Add Comment
Post contains 150 words, total size 2 kb.
1
Writing up
Asuka
. You must do that.
Posted by: Ben at October 23, 2018 11:33 AM (osxtX)
2
We seem to have a theme of the dead rising up from the grave (Okay, technically TokyoPop was never formally 'dead' but merely moribund moving into occasional moments of liveliness.), though the prospect of Stu Levy reentering the industry has not exactly been joyfully received by many people.
Posted by: cxt217 at October 23, 2018 05:42 PM (LMsTt)
3
Hmmmm. Magical Girl, yes. Dark and bloody violence, maybe not so much.
I'm torn. Might give it a whirl, though, especially if that season is as parched a desert as this one is so far...
Posted by: GreyDuck at October 23, 2018 08:59 PM (rKFiU)
4
More
Hidamari Sketch?
(I've never read the manga, but will.) More
Yotsuba?
This is indeed a great time to be alive.
Posted by: Pixy Misa at October 23, 2018 09:40 PM (2yngH)
5
Pixy, this new volume of
HidaSketch
is the first one to come after the graduation... meaning it's completely unanimated. I've had it for two or three weeks, yet I
still
haven't had a chance to read it!
Posted by: Wonderduck at October 24, 2018 02:10 AM (9gv+L)
24kb generated in CPU 0.0111, elapsed 0.1888 seconds.
49 queries taking 0.1809 seconds, 230 records returned.
Powered by Minx 1.1.6c-pink.