December 05, 2009
Uiharu's Power
One of the few anime series I'm actively following this season, and the
only
one I consider "appointment viewing", is
To Aru Kagaku no Railgun
(or
A Certain Scientific Railgun
when translated to English). In this show's world, psychic powers are common, and can range from teleportaion to the ability to bend light around one's self so as to appear to be somewhere else to the ability to nullify any other power to just about anything else you'd care to imagine. I'd not be surprised to hear there's a super-speedster out in this world, for example. I'm sure there are
pretty useless abilities
, too.
Our main characters are Mikoto, the eponymous Railgun of the title; Kuroko, a teleporter; Saten, who has no powers; and Uiharu, who does have a power, but we've not seen it in use.
Or have we? Over at Chizumatic, the question of Uiharu's ability came up recently when
Ubu Roi wondered just what her power actually was
. Oddly enough, I came up with a theory to answer that very question a few episodes back, one that was confirmed just recently!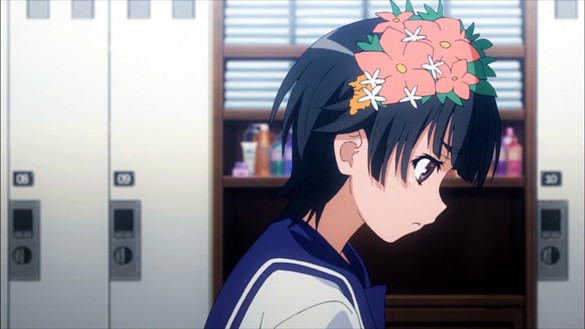 Meet Uiharu.. Hi, Uiharu!
I posit that Uiharu's power is the ability to grow flowers from her head, but it works only when she's healthy. Consider:
This is Uiharu in the flashback episode that tells how she and Kuroko meet. You'll note that she has only a small amount of flowers in her hair. This is because she is still very young and her powers have yet to develop fully. The green strip is not the headband you might think, but instead the 'fertile ground' where her powers will truly, if you'll pardon the pun,
blossom
.
However, when she has a cold or is injured, her abilities to grow flowers from the fertile ground turn inward, to heal her body. Consider this screencap:
Throughout the episode that this picture is taken from, Uiharu has a cold. There's no apparent sign of the verdant field on her head because it's died off, like an uprotected garden in the winter. It's gone black, like her hair. Next episode, however, she's healthy and the flowers are back.
So there you have it. Uiharu's power is that she has a "green skull" that can double as a weak healing factor. Perhaps not the most useful in the world at her current skill level (Level 1 or 2 at most, surely nothing higher or it would have been mentioned already), but consider what she could do if she was a Level 4 or 5. Could she become a
Poison Ivy
analogue? Maybe grow prehensile vines from her head that could grasp or, with thorns, tear? And don't forget that it's well known that growing plants can do such things as break through concrete. Slowly, yes, but that's at normal growing speed. Maybe Uiharu, in the future, could bring down a building just from the rapid expansion of greensward from her cranium?
A figure of great strength and power, indeed...
...or maybe it's just a headband...
Posted by: Wonderduck at 05:26 PM | Comments (3) | Add Comment
Post contains 506 words, total size 4 kb.
1
Or maybe it's just a headband that she took off when she was in bed.
It is explicitly stated by her in one episode that her power is level 1.
Posted by: Steven Den Beste at December 05, 2009 06:11 PM (+rSRq)
2
Steven, you might want to take a closer look at the very bottom of the post...
Posted by: Wonderduck at December 05, 2009 09:40 PM (C32SO)
Posted by: Steven Den Beste at December 05, 2009 10:18 PM (+rSRq)
Comments are disabled. Post is locked.
23kb generated in CPU 0.0186, elapsed 0.1131 seconds.
47 queries taking 0.1043 seconds, 226 records returned.
Powered by Minx 1.1.6c-pink.