March 04, 2012
The Polls Are Now Closed
The votes are in. The Pond Scum has spoken. The next series that I'll be doing an episodic recap for is
High School Of The Dead
.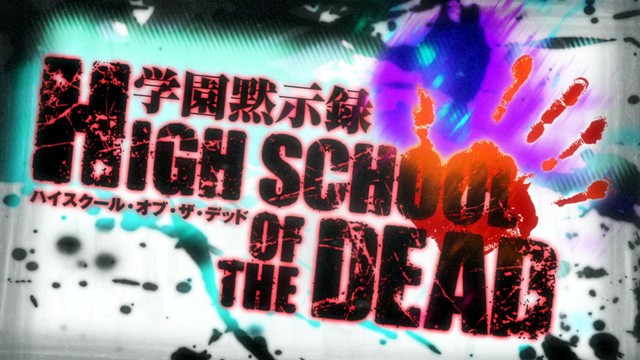 This is Wonderduck's complete lack of surprise.
Considering that it was my favorite show in 2010, this will hardly be a chore. Don't get me wrong, it wasn't the
best
anime series of 2010, just the one I enjoyed the most, the one I most looked forward to watching. Considering that Season 3 of
Hidamari Sketch
ran that year, as did
Amagami SS
,
Sora no Woto
,
Strike Witches
S2 and
Ikkitousen Xtreme Xecutor
, all of which I greatly enjoyed, that's really saying something. Heck, I'm even reading the manga for
HSotD
as well, and I don't read all that much manga.
However, I will say that this
wasn't
the show I hoped would win. If I hadn't of opened the choice up to voting, I probably would have done
Blood-C
. There's a lot more train-wreckage in that one, though it did all make sense... eventually. I may even still do it sometime down the road. Alas, only DiGiKerot and David voted for it. I'll admit that I threw
Library Wars
into the mix because I actually enjoyed the show; yes, that's right, I was one of the few.
Which brings me to
Black Lagoon
. It's outstanding. It's one of the best anime series I've ever seen. It's also grimmer than the
Warhammer 40K
universe. It takes a lot to make the Zombie Apocalypse seem light and fluffy, but in comparison to
Black Lagoon
, pretty much
anything
is cotton candy and unicorns farting rainbows. Having said all that, it might have been interesting to recap, but all in all I think I'm glad it didn't win. Though, it
is
a shame I won't get to say anything officially about this scene:
...because it's an Elco 80' PT boat firing two Mk8 torpedoes at a Mi-24 "Hind" helicopter, and you just don't get much of a chance to say things like that very often.
So the final counts were:
High School of the Dead
- 9 votes
Black Lagoon
- 5 votes
Blood C
- 2 vote
Library Wars
- just watching.
Stay tuned for the first recap of
HSotD
, coming awfully soon.
Posted by: Wonderduck at 11:53 PM | Comments (6) | Add Comment
Post contains 382 words, total size 3 kb.
Posted by: Steven Den Beste at March 05, 2012 12:02 AM (+rSRq)
Posted by: Steven Den Beste at March 05, 2012 12:04 AM (+rSRq)
Posted by: Siergen at March 05, 2012 05:44 PM (3/gGt)
Posted by: Wonderduck at March 05, 2012 07:21 PM (O9XO8)
Posted by: EdwardM at March 07, 2012 08:48 PM (l11kA)
Posted by: Wonderduck at March 07, 2012 10:28 PM (O9XO8)
Comments are disabled.
23kb generated in CPU 0.0126, elapsed 0.4895 seconds.
47 queries taking 0.4812 seconds, 229 records returned.
Powered by Minx 1.1.6c-pink.