March 10, 2012
Tank Witch
Over at Steven's place,
a discussion about the new

Strike Witches

movie
is going on. Over there, I mentioned that I'd kill to see some Tank Witches involved. Reader Siergen wonders what a Tank Witch would look like, since they've not been animated, and Steven says their legs look like the lower half of Robby The Robot. Still, that doesn't really clear anything up. Fortunately, I can do a little better than that!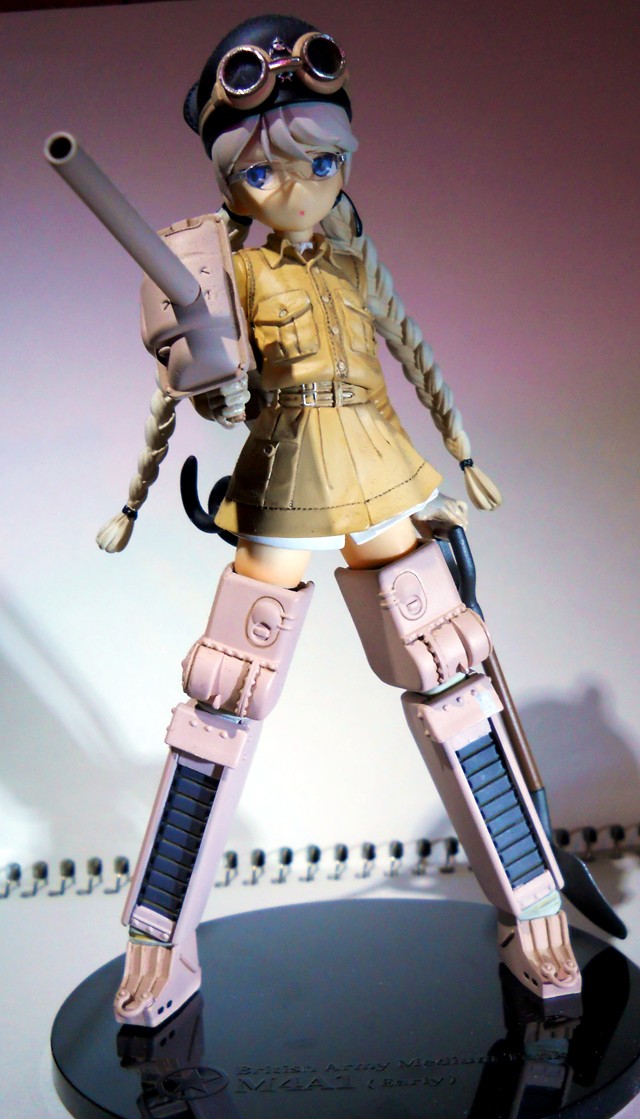 Ladies and Gentlemen, allow me to introduce Elizabeth, a Britannia
M4A1 (Early) Sherman
Tank Witch! She normally sits on top of my computer, guarding the external hard drives. She ended up at Pond Central thanks to the good graces of
Avatar
, who sent her my way last year. According to the light novels, since they don't have to fly, a Tank Witch can use more of her magic ability for her shields, much like a tank is more heavily protected than a fighter plane. They're obviously slower, however, so there are tradeoffs. Still no pants, though.
Posted by: Wonderduck at 11:19 PM | Comments (5) | Add Comment
Post contains 171 words, total size 1 kb.
1
Still no pants, though.
Well, that would be one tradeoff too far, wouldn't it?
Posted by: Pixy Misa at March 11, 2012 05:02 AM (PiXy!)
2
I do like the model. For a no-pants Strike Witch, it's surprisingly modest. Let me pick something up from the series (well, sorta) that doesn't break my "no models I'm not happy to have a girl over to see" rule.
Posted by: Avatar_exADV at March 11, 2012 02:37 PM (GJQTS)
3
Bah, no tracks. What, does she just run from the Neuroi, in that heavy set of leggings? She's not a Tank Witch, she's a Pillbox Witch.
Posted by: Mitch H. at March 15, 2012 07:41 AM (jwKxK)
4
Yeah, it isn't clear just what the tank legs are doing for her. The Striker Unit allows the witch to fly, which is obviously important. But what does this thing do?
It doesn't provide the shield. Canon is that the witch can do that already without the Striker Unit. (We see Sakamoto do that in a flashback in ep 2 of SW2.)
That gun she's carrying is pretty damned large, but it's also canon that witches with their ears out are superhumanly strong and can carry such things easily. That doesn't come from the Striker Unit either. (Barkhorn takes that to ridiculous extremes, but all of them are much stronger than an adult man when their power is activated.) So she'd be able to carry that gun anyway, even without the legs.
The only obvious thing it could give her would be increased mobility. Except that there aren't any tracks.
Posted by: Steven Den Beste at March 15, 2012 11:32 AM (+rSRq)
5
There are tracks... they're the black things where her shins should be. My guess is that her speed is improved by the Tank Unit, probably up to 30 or 40mph. Do the treads actually do the moving? No, of course not, no more than the little blades on the Striker Units are enough to make them go 300 or 400 mph. It's all magic, the Units just focus and multiply... I think, at least.
And, just to make things clear,
please go here
.
Posted by: Wonderduck at March 15, 2012 06:17 PM (PHdMw)
Comments are disabled. Post is locked.
22kb generated in CPU 0.0351, elapsed 0.6058 seconds.
47 queries taking 0.585 seconds, 228 records returned.
Powered by Minx 1.1.6c-pink.