October 18, 2012
Sword Art Online... Huh, Who Knew?
Let's get this out of the way right now:
Sword Art Online
is not my type of anime. Not a big fan of sword-and-sorcery, don't play MMORPGs, the virtual-world-in-anime is pretty much played out after
Summer Wars
nailed it, and on and on and on. There's zero reason why I should like the show.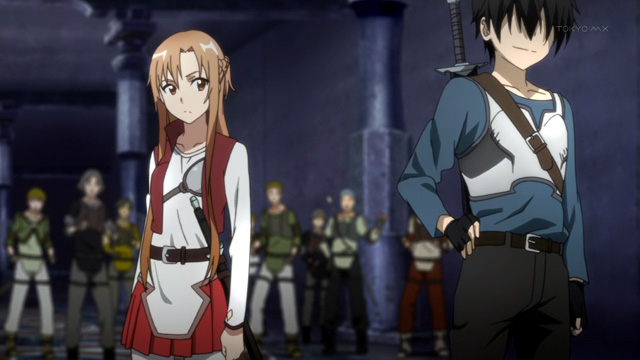 Other than plot, characterization and animation quality, that is. Our Hero seems to be a nice guy, until he gets called out in Ep02... then he turns into a (justifiably) egotistical jerknard, awes his detractors with his cool new jacket, and walks away. Our Heroine seems to be as much of a loner as he is, except bythe end of Ep02, we've basically only learned her name. The plot? Well, eh, killer video game, except the victims have a chance to fight their way out of it, or live there until they die or are killed... either in the game or in real-life. Over-used, I suppose, but it feels better this time around for some reason.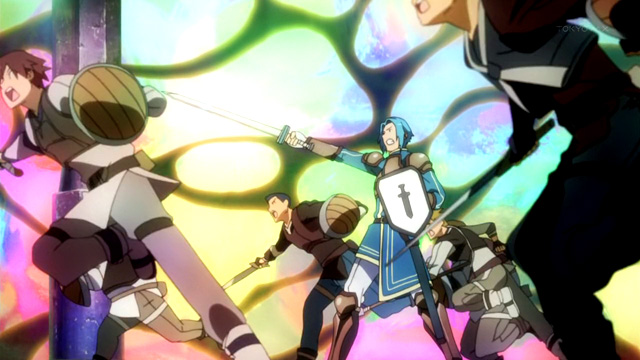 I guess the animation could be better, but it's certainly good enough to get the job done. I've read enough to know that the story that's being told right now isn't the actual story of the series, but we'll see about that. Either way, it's got me hooked.
Not bad for a show I shouldn't be enjoying.
Posted by: Wonderduck at 07:52 PM | Comments (8) | Add Comment
Post contains 233 words, total size 2 kb.
1
I'm led to believe that the anime is continuing, but I'm probably going to let it go after, what was, it, 14? Yeah. (I'd explain why but spoilers.) It's a good stopping point, and I'm not
that
invested in our dynamic duo.
But, it was pretty much the only thing I could stand to "finish" out of last season, so there's that. Better than it had any right to be, I'd say.
Posted by: GreyDuck at October 18, 2012 11:05 PM (xbP2x)
2
I was enthralled reading the light novels the series is based on. Watching the anime has been...I like it, but there are too many 'meh' moments in it that make me want to wander off to do something else.
The light novels themselves were not free of problems - whenever Reki Kawahara wanders off into discussion of technology, it is not too bad, but get into military, history, or politics (Especially American military, history, and politics.) and it takes a trip into the kind of never-never land that five minutes with Google and Wikipedia would have avoided - and problems cover, surprisingly enough, some of the Japanese discussion. Even Dale Brown is better at those than Kawahara, which is an achievement of sorts.
C.T.
Posted by: cxt217 at October 19, 2012 01:51 PM (pYv3v)
3
I've been rather impressed by it. "Better than it ought to be" is an apt description, but I found it really got interesting when the male and female leads started to get close. I almost stopped with 14 too because it was was perfectly satisfying to leave it there, but I'm really curious as to what direction it's going in now, especially after the end of last episode, so i'll be at least watching it a bit more.
Posted by: brickmuppet at October 19, 2012 02:48 PM (e9h6K)
4
Okay, I probably shouldn't do this, but the first picture is bugging me. If she is wearing that kind of armor... wouldn't that indicate that she was left handed? And shouldn't her sword be on the other side?
Posted by: Tom Tjarks at October 22, 2012 10:50 AM (FYKqK)
5
Apparently it's a play on Japanese archery harness. It is a familiar sight in anime. Might be not applicable to a swordswoman, but who cares.
Posted by: Pete Zaitcev at October 22, 2012 12:05 PM (RqRa5)
6
Vert wears something like that in the first episode of
Dog Days 2,
but it protects her right breast, not the left. And she uses her bow right-handed. (Hers is leather, not metal, but it performs the same function of protecting her breast from the bowstring.)
Posted by: Steven Den Beste at October 22, 2012 02:16 PM (+rSRq)
7
What weird, the archery thing can be hung off the
left shoulder
(a-la SAO) or
right shoulder
. There's even
a page
where you can see both together, although they always shoot right-handed.
Posted by: Pete Zaitcev at October 22, 2012 05:34 PM (RqRa5)
8
I am not sure what it is but Asuna (The girl pictured in the top screenshot.) is not wearing that gear as armor.
C.T.
Posted by: cxt217 at October 22, 2012 08:47 PM (yz2wz)
Comments are disabled. Post is locked.
24kb generated in CPU 0.03, elapsed 0.4354 seconds.
47 queries taking 0.4183 seconds, 231 records returned.
Powered by Minx 1.1.6c-pink.