January 01, 2010
Sad Wonderduck In Snow
It's winter, and you know what that means to a Kyoto Animation fanboy, right?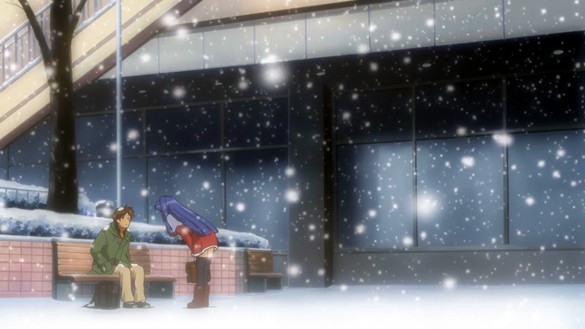 It's
Kanon '06
time again! Oh, sure, I could watch this show whenever I feel like, no question. But to truly feel right, it's gotta be watched during the cold and gray of wintertime.
Lucky for me, a couple of fansub groups have been 'subbing the recent Japanese Blu-Ray release of the show... and if there was one "killer app" that could force me to upgrade everything to BD, this show would be it. It's from a time before KyoAni went... um...
cartoony
with their faces. I mean, let's compare:
The picture on the left is from KyoAni's most recent show,
K-On!
. More specifically, it's the main character from
K-On!
, in the OP sequence, which is where you find the best animation. The picture on the right, however, is from
Kanon '06
, is of a tertiary character, and is from an unimportant scene in the first episode. Which looks better to you?
It's things like this that make KyoAni fans all stabby.
Anyway,
Kanon '06
. My second most favorite show. Blu-Ray. The final days of my vacation. Bliss.
Too bad my computer can't handle full BD resolution without choking...
Oh, and for all those people who say KyoAni can't do fanservice?
Okay, I admit, it's the last fanservicey shot KyoAni does
ever
... but still! I've always wondered just why they put this scene into
Kanon '06
, other than the obvious. Nothing like it ever occurs again in the show. I don't remember it being from the game, so it's not a shout-out. It's just... there.
Which is fine (more than fine!), but it's also kinda odd in context.
Posted by: Wonderduck at 11:47 PM | Comments (1) | Add Comment
Post contains 287 words, total size 2 kb.
1
KyoAni can do fan service. There's plenty of it in
Haruhi
.
Posted by: Steven Den Beste at January 02, 2010 01:23 AM (+rSRq)
Comments are disabled. Post is locked.
21kb generated in CPU 0.0479, elapsed 0.4103 seconds.
47 queries taking 0.4011 seconds, 224 records returned.
Powered by Minx 1.1.6c-pink.