January 08, 2013
Now And Again, Manga
Over at Brickmuppet's place, a recent contest (whyasnake) brought his
favorite manga
to the light of day. As with all right-thinking individuals, it turns out that it's
Yotsuba&!
. Careful readers of The Pond will remember that
I have a special place in my torso for that title
, which explains why it has to be my favorite manga of all time.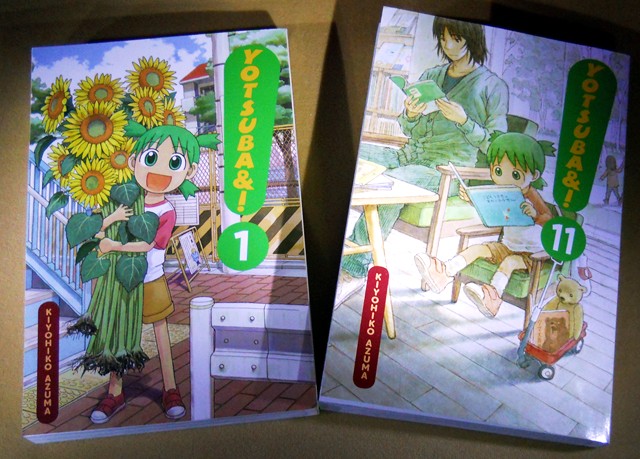 But let's face it, that doesn't make for a particularly exciting post, so I'm going to dig a little deeper into the stacks of manga in my collection to find two other favorites! Join me, won't you?
Firstly, I need to talk a bit about my manga history. To whit, I have practically none prior to September of 2009. I had specifically avoided purchasing manga for the simple reason that I already had an addiction to anime; the last thing I needed on my assistant-manager's paycheck was yet
another
sinkhole to throw cash into. Oh, sure, I had acquired the
Azumanga Daioh
megadoomsdayeditionomnibusfromhell, but that didn't count. Then I bought up the
Yotsuba&!
series and I knew I was going to be doomed if I didn't stop. And then I found the title that is my
FAVORITE INCOMPLETE SERIES
.
Aqua/Aria
is the direct root source of
my third-favorite anime series of all time
, so it's hardly a surprise that I'd be fond of it. ADV originally had the license, which they promptly managed to kill off, as they did so many of their titles. Tokyopop picked up said license, was very kind to the title, and then in 2010 pulled up stakes and left the anime/manga business entirely, leaving another six volumes unreleased. To date, nobody has found themselves in dire need of Wonderduck's money, so it sits incomplete. Darn shame, too; the anime did a brilliant job of translating the manga to the screen. Oh, it's not all exactly the same, but it's close enough. I have hopes that
Seven Seas
will come to their senses and realize just how perfect it is for them... if there's a better manga company out there, I have yet to find it... but I'm not holding my breath. Gondoleri on Mars... it sounds dumb, but it works oh so well. Which brings us to my
FAVORITE COMPLETE (almost) SERIES
.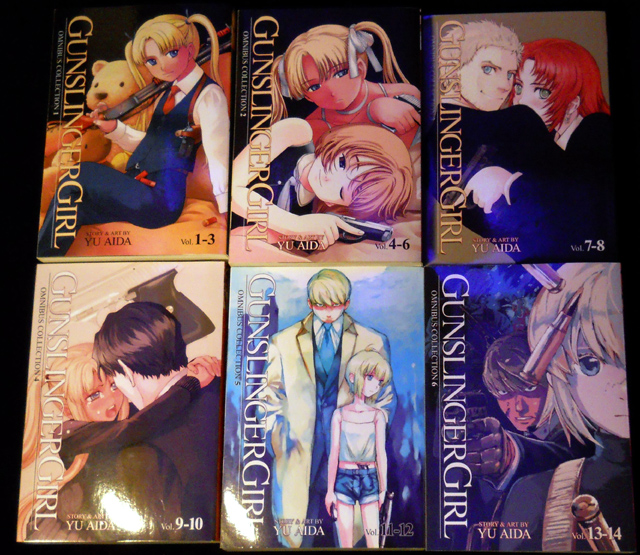 Gunslinger Girl
is one of those franchises that manages to turn the squick factor up without really being all that squicky at first glance. I mean, girls with guns is a staple of manga and anime, right? Well, these girls are almost all pre-teens saved from death by disease or injury and turned into cyborg killing machines with brainwashing so that they can't refuse an order by their "fratello," or handler. Of course they're used as assassins for the Italian government. It's not at all uncommon for them to suffer horrendous injuries, simply to be repaired and run back out there again. Oh, and did I mention that they all have limited lifespans due to a drug used to keep them brainwashed? Okay,
now
the story is in the "distasteful" realm. Despite the way it sounds,
Gunslinger Girl
is brilliant in the way it shows the girls dealing with the changes going on in them, how they react when one of the group dies, and on and on. The newest omnibus from Seven Seas (there's that name again) came out today, and I've not had a chance to read it yet. I do know where it's going, though, and I'm both dreading and looking forward to it.
Looking at the rest of my manga collection, it is entirely anime-related... either I've seen the anime, or it's a spinoff of a series (
Disappearance of Yuki-Chan
, anyone?). I've never successfully read a manga online or downloaded; they don't fit my screen well. There is one exception, however... a glorious doujin entitled
"Dear Akari-sama"
. It's a... reimagining of
Aria
, of a sort. If you're a fan, you can't miss it.
So, all in all, I don't have a particularly wide range of manga in my collection. I might be one of the five people in the US reading
Library Wars
, but that's about the biggest outlier. Y'all know what I like to watch, any suggestions for me?
ps - I do read
Sunshine Sketch
, yes. No, I won't read
GA
.
Posted by: Wonderduck at 09:09 PM | Comments (2) | Add Comment
Post contains 718 words, total size 6 kb.
1
Wait, there's finally a new GSG release?
To the bookstore!
Posted by: GreyDuck at January 09, 2013 10:20 AM (3m7pZ)
2
Just one more to go, GD... just one more to go.
Posted by: Wonderduck at January 09, 2013 11:22 AM (OS+Cr)
Comments are disabled. Post is locked.
24kb generated in CPU 0.017, elapsed 0.2174 seconds.
47 queries taking 0.2054 seconds, 225 records returned.
Powered by Minx 1.1.6c-pink.