September 21, 2008
Ikkitousen Great Guardians: This One's For Steven.
I admit, I'm way behind the curve on watching
Ikkitousen Great Guardians
. I'm only up to ep05 at the moment, and I'm really not enjoying it all that much. Sure, sure, there's fanservice everywhere, and that's nice and all, but the creators seem to have a hard time figuring out if this is going to be a serious series (like
Dragon Destiny
) or a comedy.
As a result, we've gotten a good intro episode, two serious eps (02 and 03), and now two particularly stupid ha-ha episodes (04 and 05). And when I say "particularly stupid", I mean "as stupid as you can imagine
Ikkitousen
can be, except worse."
Episode 05 is so mind-numbingly dumb that I've taken two days to watch 12 minutes of it. My IQ level, none too high to begin with, plummets every second I watch.
However, it's not entirely bad. It's a beach episode, and at roughly the 9:38 mark, this appears on the screen:
It's a damn shame that they've turned Kan-u Unchou into a comedy figure in
I:GG
. Completely ruined her character so far, after doing such a great job with her in
Dragon Destiny
... and I'm not talking about the artwork.
So... stupider than normal, and they're destroying a good character. Why am I watching this again?
The shark attacks, of course.
I'm a shaaaaaaaark...

Later, we get to see Kan-u and Hakufu take out a shark with... wait for it... karate kicks. Because we all know that sharks are sensitive to such things.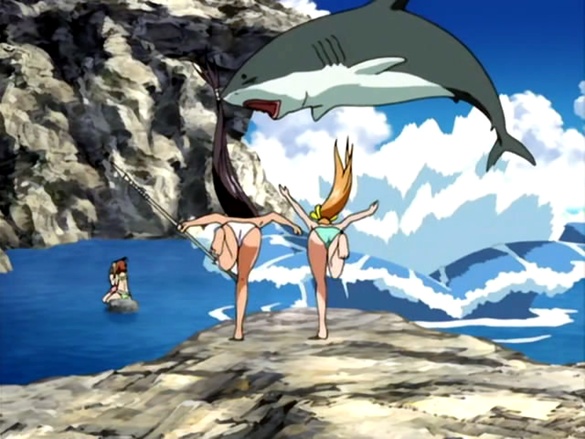 Here's the windup...

So basically we've gotten one of the three "required shows" taken care of, the beach episode. Now all we need is the festival ep and the onsen show and we can officially declare this a romantic comedy.


My brain hurts.

Posted by: Wonderduck at 11:30 PM | Comments (2) | Add Comment
Post contains 303 words, total size 3 kb.
1
I really do think that Kan'u is the best looking woman in anime.
Posted by: Steven Den Beste at September 21, 2008 11:57 PM (+rSRq)
2
They're gonna need a bigger boat.
Posted by: Peter the Not-so-Great at September 22, 2008 06:35 PM (0FK9t)
Comments are disabled. Post is locked.
21kb generated in CPU 0.018, elapsed 0.2571 seconds.
47 queries taking 0.2487 seconds, 225 records returned.
Powered by Minx 1.1.6c-pink.