September 20, 2012
How A Manga Helped A Duck
Warning: this post is going to have a bunch of Wonderduck details from a dark time. If you're not in the mood for that sort of thing, thanks for stopping in and here's a picture of a cute girl.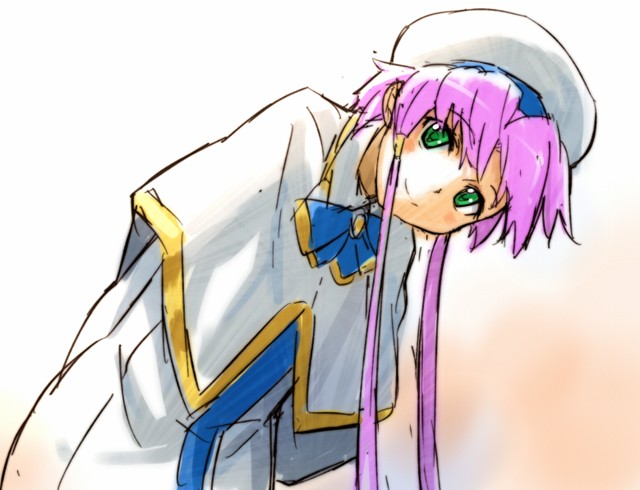 For the rest of you, thanks for sticking around.
The day after Momzerduck passed away, I drove back to Duckford from Ph.Duck's apartment in Chicago. After a stop at IKEA for lunch, I had an hour alone in the car with my brain whirling dervishly. Actually, that's not an accurate description, because that suggests that there was something coherent going on in there, and there wasn't. I probably shouldn't've been driving, but... well, y'know. I got back to Pond Central, took a quick shower, changed clothes, then drove to the funeral home to help arrange her
memorial service
.
The next day, I realized I couldn't stay around Pond Central without going nuts, so I drove to the nearby mall. After spending an hour wandering around that paean to consumerism in a blind daze, I found myself in the attached Barney & Ignobels. I found myself in the manga section, staring blindly at the various and sundry. For me, this was odd; I already had an expensive addiction to anime, and I had made a conscious decision to avoid putting a manga monkey on my back. Yet there I was, looking at the titles. Nothing looked at all appealing... of course, considering my mood at that time, nothing would have looked appealing. Turning away, I literally bumped into a cardboard dump tower from
Yen Press
. Contained therein were six volumes of
Yotsuba&!
, the series they had recently acquired from ADV, retranslated and re-released. Somewhere in the dark sludge of my brain, a memory burbled up: one of the various bloggers I read (Avatar? Brickmuppet? Someone else?) had mentioned that the series was light, happy and cheerful. And, hey, Kiyohiko Azuma, the creator of my favorite anime,
Azumanga Daioh
, did the series. I purchased the first two books, went home, and began to read.
By the time I was done with the two volumes, I realized a couple of things: 1) I had actually enjoyed them, and B) they were quite good. And Momzerduck would have
loved
them. The next day, I went back to work at the Duck U Bookstore, and it was a disaster. By noon, I was a complete wreck; my boss let me go home, and I drove right back to Barney & Ignobels to purchase the other four volumes.
When I finished, I found myself typing an e-mail to Kiyohiko Azuma, thanking him for his work on
Yotsuba&!
, and trying to explain how he had helped a 41-year old cope with the death of his mother by drawing the antics of an irrepressible five-year old. I sent it, and of course never heard back. I hope he got it, though, and I hope someone translated it for him. Because, at the time, I never thought I'd be happy again, and his books had given me the first inkling that it was at least a theoretical possibility.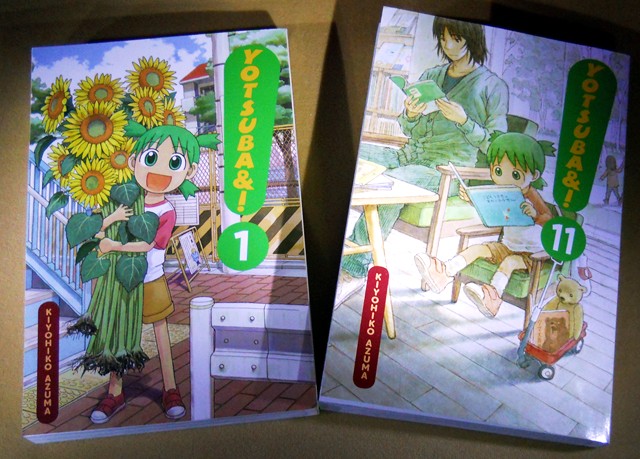 That was three years ago, and there are 11 volumes now... indeed, the newest just came out a few days ago. It seems only right and appropriate that I read it today.
I don't know what would have happened to me if I hadn't read the books back then... probably nothing different, to be honest. But I feel like
Yotsuba&!
helped get me through the roughest time of my life, and for that, I'm can't thank Azuma and Yen Press enough.
Posted by: Wonderduck at 10:37 PM | Comments (2) | Add Comment
Post contains 605 words, total size 4 kb.
1
Heh. I also enjoyed volume 11 greatly.
I watched a lot of Marmalade Boy back when Dad had his cancer (he's okay now, almost 15 years later). Served a similar purpose for me, though from a different direction - no matter how down I was, I figured, I still dealt with it better than the characters in that show!
Posted by: Avatar_exADV at September 21, 2012 01:36 AM (GJQTS)
2
I was watching Someday's Dreamers today, and they talked about how our dead want us to live happily, because they love us. So yeah, I'd guess that your find of that particular manga was no coincidence.
But that said, it's also true that comedy and lighthearted stories get a lot of guff as not serious art, but the brokenhearted do not usually want any part of angsty dramadrama. I would never throw epics into the toilet; but Polar Bear Cafe has been saving my sanity this year.
Posted by: Maureen O'Brien at September 23, 2012 06:57 PM (cvXSV)
Comments are disabled. Post is locked.
23kb generated in CPU 0.0303, elapsed 0.2316 seconds.
47 queries taking 0.2093 seconds, 225 records returned.
Powered by Minx 1.1.6c-pink.