January 09, 2010
Ga-Rei Zero, Episode 01
Brought to you by Glico's Pocky!
I d/l'd this show from BakaBT during their recent freeleech event, knowing nothing about it except for two things: one, there are cute girls in it, and two, the series is a prequel to the manga
Ga-Rei
... which I have never read. So, in other words, I didn't know anything about it. But, hey, cute girls!
Our Heroes.

So these individuals (L to R: Kudou, Tooru, Masaki and Natsuki) are part of a "special action" team, devoted to taking down supernatural forces that threaten Japan (and by extension, the entire world). They're aided in this task by...
Mami, who's the comms experts. They're all highly skilled in their individual talents, and they need to be. They're called out whenever a supernatural disaster is too much for the grunts of their organization to handle... which is what's occurring in episode 01.
The supernaturals are mostly invisible to normal people (even the grunts need technological help to see them), but the heroes can see them easily. The specters above are "Category C"-level, which is somewhere just above cannonfodder, but there's a
lot
of 'em in this attack. They almost overwhelm the grunts, but one squad holds the line and seems to end the disaster.
Until this guy shows up. It's a "Category B", and it's WAAAAY over the paygrade of the grunts. Oh, and then the specters regenerate. The squad is mangled, but our heroes arrive just in time to save the day!
I wouldn't think that's a particularly stable firing platform.
Natsuki's a talented motorcyclist, and her tires are studded with spiritually-charged runes. Tooru is a sniper, firing rune-encrusted bullets. He's also good at striking a dramatic pose, no? He starts plinking away at the Cat B, and she goes to work on the specters...
...first by laying down a protective circle of rune-embossed rubber...
...then by getting a little more in their phantom faces, making her cycle dance on their heads. While their efforts are quite impressive, and they don't seem to be in any danger, they're not really getting anything accomplished. Too many baddies, too few heroes. Until Kudou and Masaki arrive...
...flying a tilt-rotor airplane fire-tanker filled with spiritually-charged holy water! No more specters! Tah-dahhhhh! The Cat B is weakened by this run, and Tooru drops it with a boom headshot. But there's ANOTHER one. Our Heroes, guided by Mami, set a trap for it in Tokyo's water supply reservoir system. But how to get it there?
Oh. Right. Natsuki plays bait, the Cat B chases her like a big flaming armadillo, rolling like a ball at high speed down the Tokyo highways and byways. Eventually they get into the reservoir system, Tooru hits the monster with a sniper rifle, and Kudou and Masaki release the water, passing it through a spiritual filter to turn it into holy water and killing the creature.
Wet and tired, Our Heroes relax with nice hot coffee and witty repartee.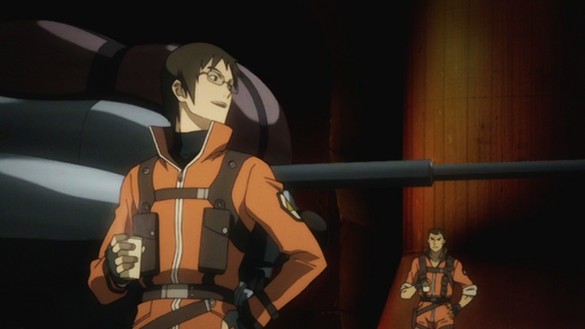 I don't think that's supposed to happen.
Oh, this can NOT be good. Guns are drawn, but...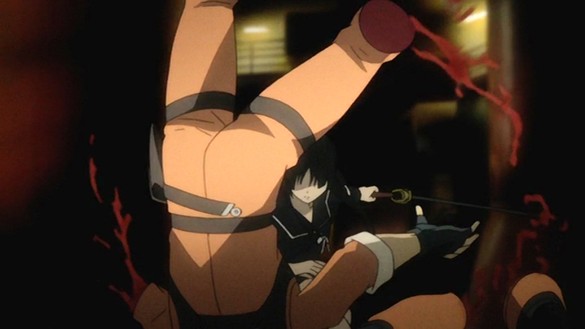 ...down goes Kudou. Tooru calls Mami for some sort of help, but she's no help.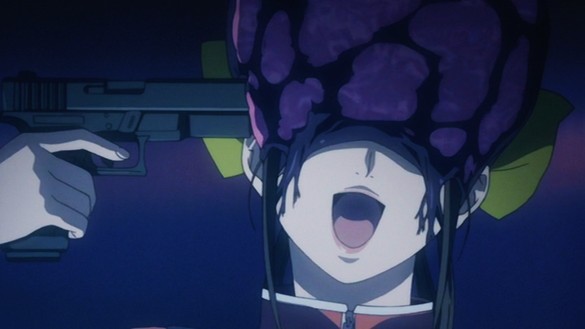 That's her hand holding the gun, by the way. That's a "Category D" holding her brain. Bang. Natsuki and Tooru run and hide, trying to figure out what's going on. She seems collected, but she loses her head, though.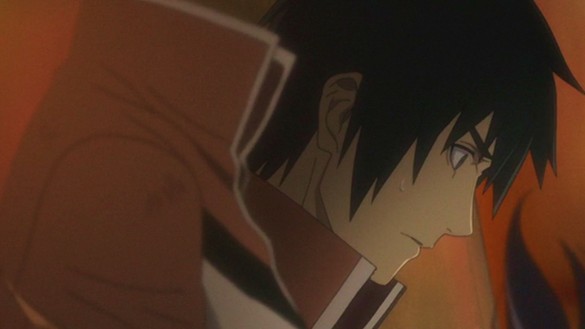 Tooru looks up from his girlfriend's cranium, just in time for...
Splat. Roll credits.
Okay, I didn't expect that. All Our Heroes are dead at the end of episode 01, but there's 11 to go. Neither of the cute girls I was expecting even show up here! And who's the violent lass with the cutlery?
I finished watching the series this evening, and here's the thing: Our Heroes introduced in episode 01
never appear again
. From all reports, the pre-airing promotional material for
Ga-Rei Zero
featured Natsuki and Tooru, and they had some decent seiyuu to boot. Natsuki was voiced by
Eri Kitamura
, who has also been in
Fairy Tail
,
Ikkitousen-Dragon Destiny
,
Minami-ke
,
Toradora
, and a bunch of others. Tooru was voiced by
Tomoaki Maeno
, who's relatively new to the VA thing. He was Saku is
Sora no Manimani
, and Dojo in
Library War
though, two shows that I think have been pretty overlooked. Seems like the producers of
Ga-Rei Zero
really,
really
wanted to push the shock value of killing off their entire character list in the first episode!
I liked this series, a lot. I might even continue with doing episode-by-episode, even if the show is from 2008. If I had to describe it, I'd call it "slice of life, with slicing of lives." Surprised me at every turn, and not just in episode 01, either. Good stuff, if a little bloody.
Posted by: Wonderduck at 12:06 AM | Comments (3) | Add Comment
Post contains 808 words, total size 8 kb.
1
So...ummm...Would you go so far as to call this the feel-good hit of the winter season?
Posted by: The Brickmuppet at January 09, 2010 10:30 AM (NkKu7)
2
Sounds like my kind of show. I either missed this when it came out or forgot about it. I imagine it slows down a bit after the first episode, but I take it the series doesn't shift gears entirely?
Posted by: Xinem at January 09, 2010 01:22 PM (R6Lr1)
3
Brickmuppet, it wasn't a feel-good hit of any season... it aired in 2008.
Xinem, with a start like this, it can't help but slow down, but not as much as you might think; you'll see what I mean when I do episode 02.
Posted by: Wonderduck at January 09, 2010 06:24 PM (Cpxcy)
Comments are disabled.
27kb generated in CPU 0.0218, elapsed 0.4269 seconds.
47 queries taking 0.4174 seconds, 226 records returned.
Powered by Minx 1.1.6c-pink.