May 31, 2017
Aria The Avvenire Ep03
"But Wonderduck," I hear you say and honestly I should get that looked at, "that came out in July of last year!" And you are absolutely correct, it certainly did, good on you! "No, that's not what I mean," you're saying crossly, "I mean 'why in the world are you only blogging about it now?'"
Oh, that's very simple. I only just watched it last night. Look, let me explain why I, as devoted a fan of the
ARIA
franchise as there is, didn't watch the last episode of the long-awaited special that was released with the new BD boxsets. I don't know if anybody else does this, but if I'm hotly anticipating something I often... wait on it. A new book I've been looking forward to for months? It's going to sit on the table for a few weeks. New episode of
ARIA
? Oh yeah, that's gonna wait. Part of it is anticipation: "I'm so excited about this that I don't want to lose that feeling!" Another part is fear: "Please please please let it be as good as I hope. If it's bad, it's going to feel awful!"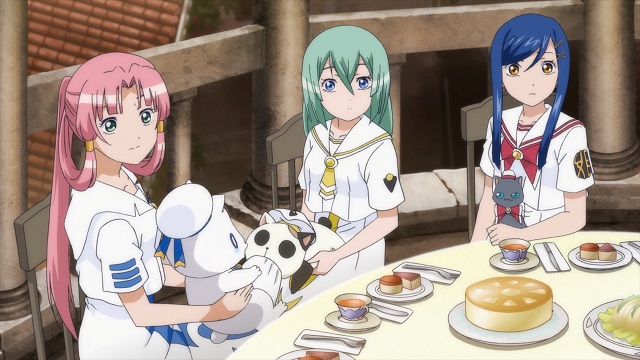 So I've been saving it for a dark and unhappy night. Last night, in the middle of a bout of self-loathing (I may be on happy pills, but they don't work miracles), I decided it was time. I settled into my chair, got as comfortable as my various injured body parts would let me, and pressed play.
Just from the first few minutes, I knew two things. First, oh god they got it right on the button. Second, I could see where this was going and I was going to be a sobbing mess by the time it was done. If you're a fan, you'll note the people in the picture above: three generations of undines (plus Grandma). The three newbies in the aprons, the main characters on the left, and the "old guard" on the right... except someone's missing.
I had been wondering throughout all of "Avvenire" how they were going to handle the Athena problem. You see, two people provided the voice for Athena: Tomoko Kawakami was her speaking voice, and Eri Kawai her singing voice. Sadly, both women had passed away... Kawai in 2008, Kawakami in 2011. From all reports, nobody involved in the production of the OVAs wanted someone new to provide her voice... so they did everything possible to keep her in the series without having her actually be in the series. She sings in Ep01, but it's a song from the original batch of shows. I don't remember her being in Ep02 at all, and here in Ep03, she's in rehearsals for an opera performance.
Not a spoiler: she doesn't make it to the party. Which bums Alice right the heck out... until we begin to hear a familiar voice...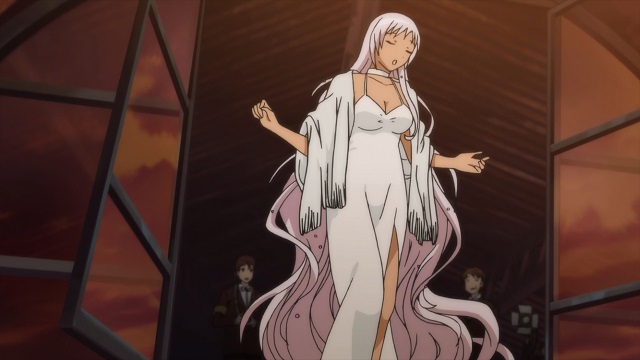 Her appearance in the show pleased me to no end... and then I heard what she was singing.
Lumis Eterne
, the canzone Alice sings in her promotion test... and yep, there's the tears. I managed to last 20 minutes, about ten more than I was expecting.
Along the way, the production staff got to re-draw some of the classic moments from the three series. That's very cool indeed, since much of the series was aired before such things as "high definition", "blu-ray" and stuff like that. Smell the 4:3 aspect ratio! And oh my sweet merciful heavens, did it look good. I know there's no way it'll ever happen, but if there was ever a series that demanded a HD remake, it's the
ARIA
franchise.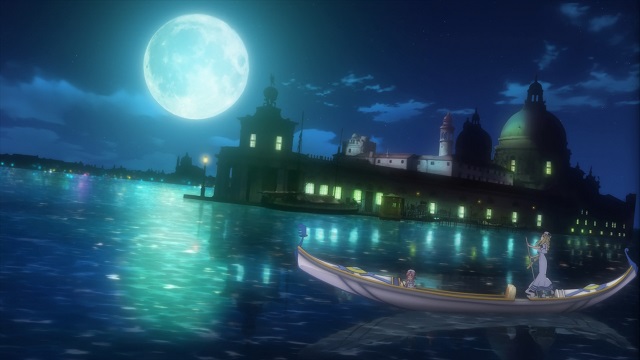 Because let's face it, half of the attraction of the series is the scenery porn. The entire show looks good for its time, but in comparison to what we can do now? There is no comparison, alas. Just one more reason to regret the ending of the story.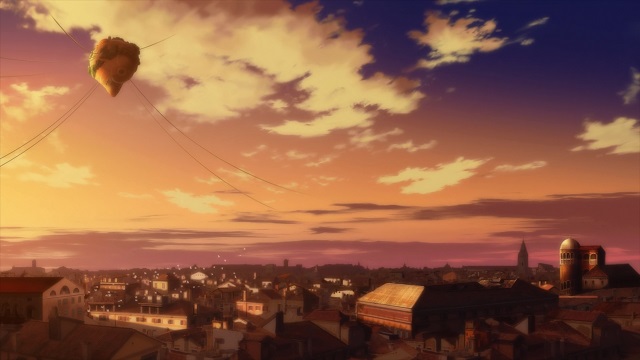 Click for bigger. You know you want to.
I cannot recommend ARIA enough. I'll freely admit that it's not for everybody... it can be very slow at times, which is a feature, not a bug... but for those who want to feel good about life for a half-hour, it doesn't get better than this. And maybe... just maybe... if we're very lucky indeed, there will be more ARIA someday.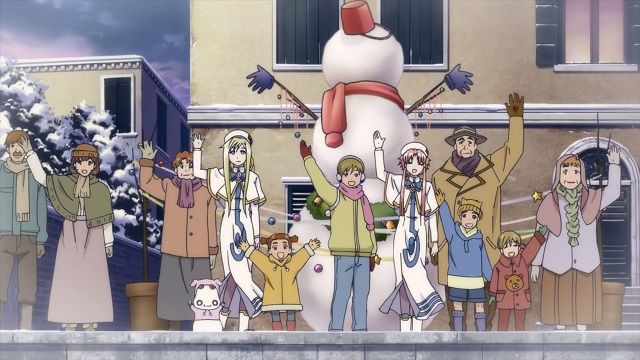 If there isn't,
ARIA the Avvenire
is a fine way to go out.
Posted by: Wonderduck at 11:02 PM | Comments (1) | Add Comment
Post contains 735 words, total size 5 kb.
1
Oh, wow.
Yeah. Gotta pick up the shiny platters and take a run at this, definitely. Thank you for the review/reminder!
Posted by: GreyDuck at June 01, 2017 07:30 AM (rKFiU)
26kb generated in CPU 0.0105, elapsed 0.093 seconds.
49 queries taking 0.0866 seconds, 226 records returned.
Powered by Minx 1.1.6c-pink.