April 19, 2011
What's Wonderduck Watching? Spring 2011 Edition
Or, more correctly, "what's Wonderduck
not
watching?" I've been a fan of anime for a long time. I became a diehard fan maybe ten years ago, and was a casual fan for some years before that. Over the years, my desire to participate in this hobby has been universally high; shows may come and go, both good and bad, but I've always enjoyed the actual watching of them. Until now.
Which is weird. Readers of The Pond know my tastes: slice-of-life, romantic comedy, melodrama, that sort of thing. "Cute girls doing cute things in cute ways" would be a good description of the type of show I generally go for. Throw in the occasional action-based series that catches my eye at the right time, and you've got me pretty much covered.
Knowing that, the Spring 2011 season has a good handful of shows that may as well have been written specifically for me. Yet I find that, not only am I not particularly enthused about them, I'm having a hard time watching whole episodes at a time.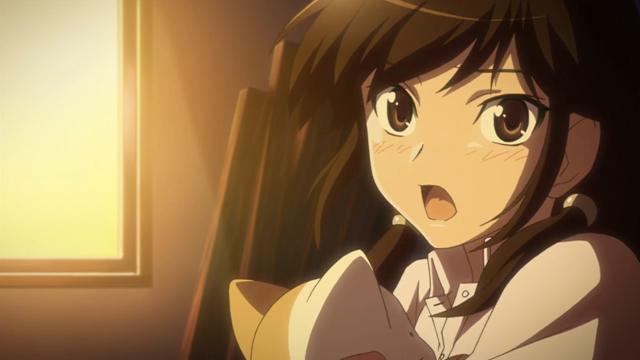 Picture from

The World God Only Knows II

, which I'm probably not going to watch either.

Let's take a look at what isn't catching my fancy this time around, shall we?
A Channel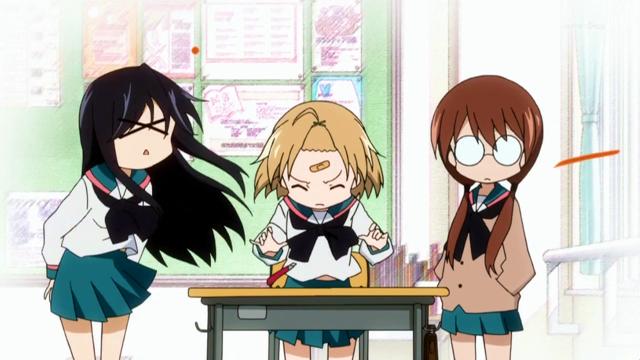 Lucky Star
meets... I dunno, a bucket of water maybe. It's fun enough certainly, but nothing that's gone on has really made me think "wow, when's the next episode coming out?" The show seems to revolve around Run, the blonde ditz who is always doing dumb things... like going to school without socks or underwear. Of course, her friends try to save her from these dumb things. Hilarity ensues. The one with the black hair is a clone of Mio from K-On! without the musical ability. The one with the glasses is the smart one. Not shown is the short one who seems to have a thing for Run, to the point of assaulting anybody who stands near her. It's based on a 4koma, and thus basically goes from one gag to the next in short spurts. Blandly funny.
Nichijou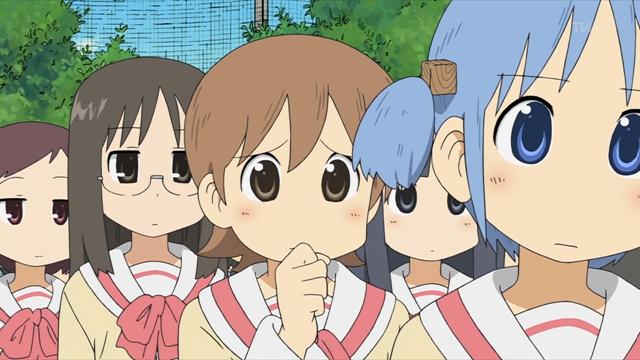 Azumanga Daioh
meets a 55-gallon drum of water. Also based on a 4koma, but even more gag-based than
A Channel
. The similarities to
AzuDai
is even more pronounced by the resemblances to Chiyo-chan and Osaka that a couple of characters have. There's also an eight-year old genius professor that looks like Becky-sensei from
Pani Poni Dash
. And random wildlife in the halls of the school. Wacky hijinks ensue. Produced by Kyoto Animation, which means I pretty much have to watch it, but I'm not sure if I'm enjoying myself yet. Wacky is fine, but wacky for wacky's sake usually doesn't work for long.
Ano Hi Mita Hana no Namae o Bokutachi wa Mada Shiranai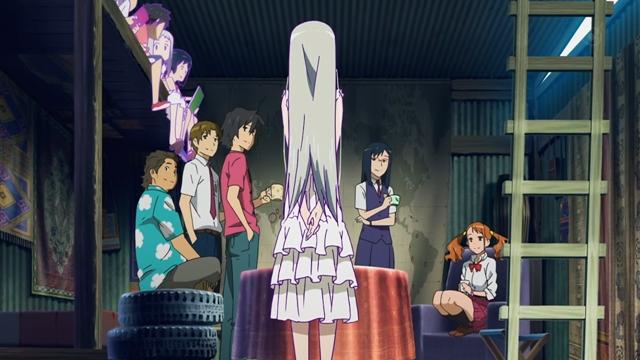 I so want to say that this is
Kanon
mixed with half the Pacific Ocean, but I can't. For one thing, there's no snow. There is a dead girl, though. The short version of the story is that a group of childhood friends fell apart after one of their members was killed in a terrible tragedy. Now ten years later, she's returned in hallucinatory form to one of them, and she needs the whole group to get back together for reasons unknown. But everybody's changed, and nothing has stayed the same. Sad moping ensues. Which makes me wonder why it's the only one I managed to watch all the way through on the first attempt. An original story by A-1 Pictures, the same group that animated
Fractale
last season and
Sora no Woto
last year. Based on that track record, it should at least look good.
There are a couple of other shows that I haven't had the gumption to load up and watch, but I'll eventually get around to.
So why the malaise? Could it be that the
Rio Rainbow Gate!
experience burned my love for anime out of me? Could I just be going through one of those phases that every fan hits occasionally? Or is it that this season just isn't that good? Time will tell... I'm hoping for the second possibility. Despite my pessimism, I do see possibilities for all three of these series.
Or maybe I'm just fooling myself. We'll see.
Posted by: Wonderduck at 10:10 PM | Comments (5) | Add Comment
Post contains 716 words, total size 5 kb.
Posted by: Steven Den Beste at April 19, 2011 10:38 PM (+rSRq)
Posted by: Siergen at April 19, 2011 11:02 PM (jh6XC)
Posted by: GreyDuck at April 20, 2011 09:15 AM (3m7pZ)
Posted by: Steven Den Beste at April 20, 2011 09:41 AM (+rSRq)
Posted by: Avatar_exADV at April 20, 2011 05:53 PM (pWQz4)
Comments are disabled. Post is locked.
28kb generated in CPU 0.0122, elapsed 0.3794 seconds.
47 queries taking 0.3711 seconds, 281 records returned.
Powered by Minx 1.1.6c-pink.