July 16, 2008
Strike Witches ep02: It's The Little Things That Count...
Strike Witches
is really turning into everything I could have hoped for (and did!). Lots of good ol' fashioned fun... and the animators have a remarkable eye for details.
For example, take this screenshot: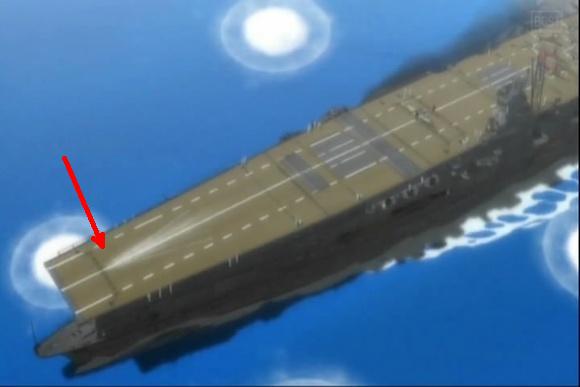 The red arrow is pointing to a stream of smoke coming from the centerline of the
Akagi
's flight deck. Most people probably wouldn't notice this, as it was only on-screen for a second or two, but when I saw it, my jaw dropped.
The IJN used a steam valve set in the fore of their flight decks to help their pilots gauge wind direction and speed on takeoff. It's the little things that count, and that tiny detail just made me go "wow, they got it
right
."
Another detail, but one that raised a question in my mind, is in the screenshot below:
Major Sakamoto leads a squadron of fighters from the Akagi against the Neuroi attacker.
Those aren't Zeros she's leading; they're
Mitsubishi A5M
s, Allied code-named "Claude", which was the predecessor of the Zero. It was a remarkably nimble fighter, even moreso than the Zero, but carried the same armament as a Sopwith Camel: two .303-cal machine guns. They were introduced into carrier service in 1937, and withdrawn from all frontline duties by 1942 (two defended the Shoho in the Battle of the Coral Sea).
I wonder, with the arrival of the Neuroi, did the Zero ever get built? It's obvious that ANY normal fighter plane is hideously outmatched against the aliens, so why bother with advancing the state of the art? In the intro to the series, we see British Hurricanes in 1939 facing off against the invaders... maybe the Spitfire never got made? And the Fw-190?
With the Witches being the preeminent fighting force, when would the first jets come into use? Assuming the good guys win, would jet transport
ever
come about? Or would it be much, much later than it actually was?
So many questions from one little screenshot...
Posted by: Wonderduck at 10:33 PM | Comments (5) | Add Comment
Post contains 337 words, total size 3 kb.
1
It seems they did get built, but as Striker Units instead of as real planes. Sakamoto and Miyafuji are stated to be flying the A6M3a. Bishop flies a Spitfire Mk IX. Barkhorn flies a FW190D-6 (prototype). Wilcke, Hartmann, and Juutilainen all fly Bf109-G. And Yeager flies a P-51D.
Posted by: Steven Den Beste at July 16, 2008 11:15 PM (+rSRq)
2
That makes sense... the effort put into the real-world creation of the modern fighter plane would be put into the Strikers in this one.
I'm diggin' this show.
Posted by: Wonderduck at July 16, 2008 11:42 PM (AW3EJ)
3
Well, no, it doesn't really. Why build 8 different kinds of striker units, in quantities of 1-3 each, instead of one single kind?
The answer is that Gonzo was stuck with that because they inherited it from the original figurine line and the associated artwork. In story terms it makes no sense at all.
For instance, it makes no sense that three of the Striker Units are Bf-109's. That's a Messerschmidt, German. In the alternate history "Karlsland" was one of the first countries conquered by the Neuroi. Would the good guys really have smuggled Dr. Miyafuji's design notes into Karlsland so that engineers there living in caves could create striker units to smuggle back out to German witches operating from airfields in the UK?
Posted by: Steven Den Beste at July 17, 2008 12:14 AM (+rSRq)
4
Maybe they smuggled the Germans -out- instead?
But it makes sense that there's a lot of, essentially, "custom" work going on if they're not being manufactured, but hand-crafted. All using the same basic design principles, but each designer has his own ideas about how to improve this or that aspect of performance (or, for that matter, what aspects of performance need to be improved in the first place...) On top of that, given the extremely limited production, they -all- need to go into service, even if it turns out to be equivalent to Italian Air Force quality...
Or am I wrong in that? I haven't had a chance to sit down with the show yet.
Posted by: Avatar_exADV at July 17, 2008 09:49 AM (pfysU)
5
I suppose if you think of each one as being custom-crafted for the user, it might make sense to give them a certain amount of cosmetic variation. It would be a single design team, not different teams for each one.
OK, that works for me as a retcon.
Posted by: Steven Den Beste at July 17, 2008 10:52 AM (+rSRq)
Comments are disabled. Post is locked.
26kb generated in CPU 0.0107, elapsed 0.2063 seconds.
47 queries taking 0.1987 seconds, 281 records returned.
Powered by Minx 1.1.6c-pink.