July 13, 2008
ARIA: not on the cart yet!
Pssssst... hey, buddy! Yeah,
you
. C'mere...
*looks around furtively*
Wanna new episode of
Aria: The Origination
? 'Course ya do... you'ze a smart guy. Well, I gots one fer ya... it's called episode 5.5. That's a strange name, yeah, but dere's a reason fer it: it's one o' dem special DVD-only thingies. But it's a full 24 minutes of
Aria
that we didn't expect, y'know?
So howsabout it? Wanna know more?
Do you have any idea how hard it is to type like that? Sheesh. Anyway, ep5.5, "In That Secret Little Place", is very much a perfect episode of
Aria
: nothing but filler. I say that with the utmost of respect, mind you; since there really isn't anything happening in your average show, "nothing" is about as good as you can get!
Alicia is out all day, Aika has work to do around Himeya, and Alice is in school, so that leaves Akari and President Aria with nothing to do. So, as you would expect,
they sit around and play with their Xbox360 all day.
they go wandering around the residential areas of Neo-Venezia! If you think this sounds exciting, then you might be an
Aria
fan.
We discover that Akari has a bit of an unexpected fetish: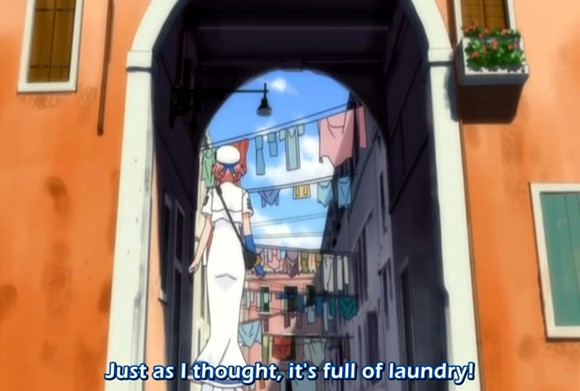 I suppose this shouldn't be surprising... after all, as an undine, she's essentially a rock star; how much laundry does she DO?
"Wow! Look at all the damp but drying commoner's clothing! Kawaiiiiiiiiii!"
Of course, nothing of the sort is even vaguely implied in the show. Akari really is excited by such things. Everything is exciting and wonderful to her... she probably can't see the color blue, her glasses are so rose-colored. Which is why we love her.
Lunch at a nearby outdoors cafe introduces us to one of the normal residents of Neo-Venezia, a man who's been eating at this same place since he was a lad... and he's always gotten the same thing: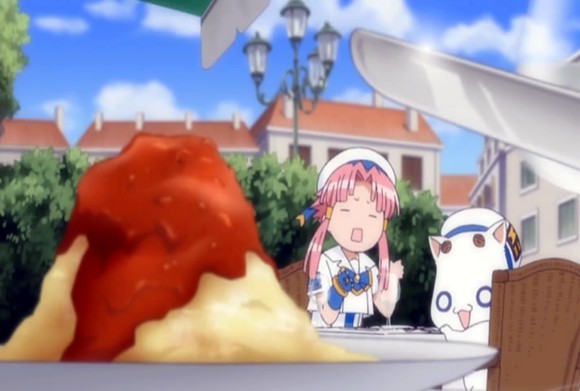 Polenta a la volcano. Akari seems surprised, President Aria seems hungry...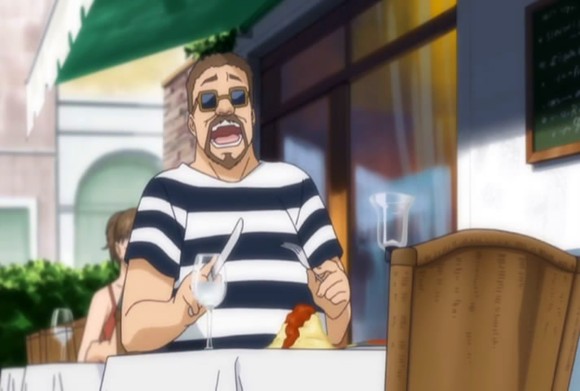 ...and Mr Normal Resident seems amused by the attention.
After a filling lunch, an Alfred Hitchcock film breaks out: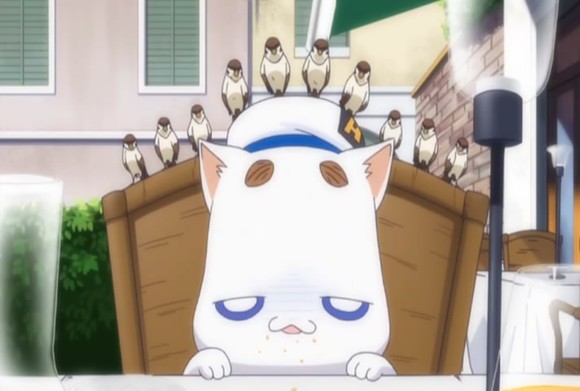 ...and President Aria is devoured by hungry birds:
Mr. Normal Resident seems amused by the carnage.
Akari, distraught at the loss of her friend, goes to a nearby petstore for a President-Aria-replacement: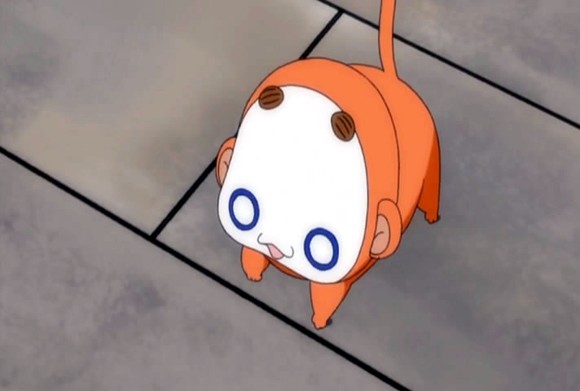 Unfortunately, there wasn't much to choose from. She buys a monkey, and has a nearby tailor stitch the dead face of President Aria onto it. The monkey later goes on a rampage and kills seven people, including Akari and Alicia. It is eventually cornered and put down.
Or... none of the above actually happens, and Akari just buys a "monkey suit" for President Aria. Take your pick.
Eventually, Akari winds up in her "secret place", looking out over the scenery of Neo-Venezia, warmly happy with her life, her friends, and just... well, everything: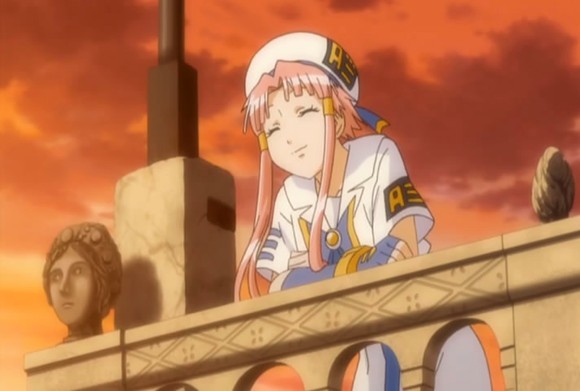 In other words, it's just like every other episode of
Aria
ever shown. Which makes it nigh on perfect in my world, and even better as it was a complete and total surprise. Akari wasn't the only person smiling when it was over: I was, too.
I might just have to rewatch it all now, just on general principles. Oh, and to get that warm fuzzy feeling, too.
Aria
really is unlike any other anime out there, y'know?
Posted by: Wonderduck at 08:36 PM | Comments (2) | Add Comment
Post contains 561 words, total size 4 kb.
1
I need to get that ASAP. And it makes me wait for the first season to come out in the US a little more. :3
Posted by: TheBigN at July 14, 2008 02:38 PM (lAmA6)
2
WonderDuck,
Thank you for finding this. I love when the creators of any good series go beyond to create extras to expand on the original creation.
Posted by: Civilis at July 14, 2008 07:52 PM (4OE1s)
Comments are disabled. Post is locked.
25kb generated in CPU 0.0177, elapsed 0.1483 seconds.
47 queries taking 0.1353 seconds, 278 records returned.
Powered by Minx 1.1.6c-pink.