January 26, 2008
It's Time For The VCAs!
Over at
AMV.org
, the 2007 Viewers Choice Award contest has begun. If you're a member of The Org, this is the best way to find all the great AMVs you might have missed during the year (I can count the number of amvs I've downloaded this year on two hands)... if you're not a member, you should become one, just because it's free and you get to d/l all you want.
The contest is in the 'nominations' phase (basically Round 1), where all qualifying videos are put to a general vote... the top vote getters move on to the actual contest itself.
Of course, yours truly
has an entry
in the VCAs this year: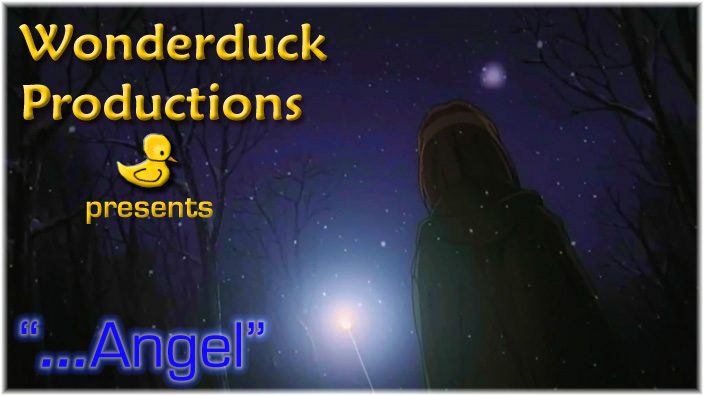 I'd particularly like to get a few votes in the "Best First Video" category, maybe make it into the contest itself. I don't expect to win, but weirder things have happened.
If you liked "...Angel", pop over and give it a vote, won't you? Heck, even if you DIDN'T like it...
Yes, I'm begging for your vote. Guilty.
Posted by: Wonderduck at 11:10 AM | Comments (6) | Add Comment
Post contains 177 words, total size 1 kb.
1
I don't have much to do with AMV.org nowadays, owing to the fact they keep demanding money from me (well, that and the fact I'm not really into the AMV scene anymore). I gave them a $100 donation years ago (aren't I generous), and they took it upon themselves to make it a yearly obligation. Every time I log in, there's a message telling me I owe them $500, and it grows by $100 each year. The check's in the mail, guys.
Anyway, this apparently disqualifies me from ever participating in the VCAs, but it looks like I can at least make nominations. Which I have.
Posted by: Jeff Lawson at January 26, 2008 06:39 PM (VgF1Y)
2
Nomination submitted. Any AMV that reminds me of how much I enjoyed Kanon deserves kudos.
Also, the shot you used for background of your "title card" above (and also incorporated into the video) sends shivers down my spine.
Posted by: Andrew F. at January 26, 2008 07:15 PM (sUicM)
3
Thirded. Doesn't hurt that you worked in both of the two scenes from this show that I cite when anyone asks me why I worship at the KyoAni altar of Art (the marble and the tear).
Posted by: ubu at January 27, 2008 12:24 AM (0Ojad)
Posted by: Wonderduck at January 27, 2008 12:34 AM (UdB9M)
5
I spent some time over there looking at other videos in various categories.
Most AMV makers are, I'm afraid, drooling idiots. (And I say this in full recognition that I can't make AMVs at all.) I wish this wasn't true, because when AMVs work,
at all,
they can be very moving, or lots of fun.
Yours has good music, good selection of clips consistent with the song, and of course you choose good material.
You get my vote.
Posted by: refugee at January 31, 2008 06:57 PM (8hipT)
6
Thank you very much, Refugee. On the whole, I agree with your assessment re: AMV makers. Anybody can take a Limp Bizkit song and throw clips from DBZ at it and make a music video... and it'll be just like a gazillion other AMVs out there (I exaggerate, but only slightly; there's currently 1335 Linkinball Z AMVs listed in The Org's database).
I'd like to think that "...Angel" is somewhat better than that.
Posted by: Wonderduck at January 31, 2008 09:57 PM (UdB9M)
Comments are disabled. Post is locked.
25kb generated in CPU 0.0108, elapsed 0.0642 seconds.
47 queries taking 0.0573 seconds, 282 records returned.
Powered by Minx 1.1.6c-pink.