April 30, 2013
Announcing The Next Episodic Review Series...
Now that I've finished
Vividred Operation
, I've sort of been at loose ends as far as what show I wanted to do next. Waiting until next season didn't really appeal to me, and currently airing series are so hit-and-miss anyway. Case in point:
Vividred Operation
. If I hadn't've been doing writeups for it, I would have let it go long before. the end. But something longtime reader Avatar said
in a comment
for the last episode writeup made me raise an eyebrow (metaphorically... I can't actually do that without duct tape or staples) and stroke my chin pensively. Then I realized that over in Japan, a particular movie was being released soon, and my course became clear. The next series I will be doing Episodic Reviews for is...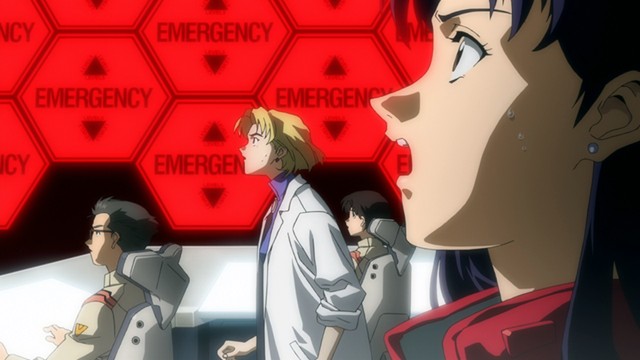 Evangelion
. Really, it's an obvious choice... a decent show that's more screwed up and broken and just begging for my gentle touch would probably be impossible to find. "But Wonderduck," I hear you say, which as usual I respond with "How did you get in here?" "But Wonderduck, what about the 'no 26 episode series' rule?" Simple... I'm going to do the movie version. The third film just came out on BD in Japan. If I break each film into three "episodes", that's nine writeups; I can also make do six, with two per movie if I feel like it. Depends on the flow of each one, I guess. I suspect fewer of my readers have seen the movies than the series anyway.
This is gonna be epic. So whaddya think?
Posted by: Wonderduck at 07:24 AM | Comments (9) | Add Comment
Post contains 265 words, total size 2 kb.
1
oooooo....that's gotta be a good one, WD.
JT votes "for"
Posted by: JT at April 30, 2013 10:25 AM (iStSI)
2
Movies 1.1 and 2.2 are actually pretty darn good, and make some effort to reduce and/or mitigate some of what made the TV series such a rich target for your attentions. But my understanding is that 3.3 more than makes up for it. You might end up doing 2/2/(n) write-ups, with n being a large number.
Posted by: David at April 30, 2013 10:49 AM (qw+UI)
3
Oh, yeah. Very much like.
Posted by: Ben at April 30, 2013 07:42 PM (/Mdmg)
4
It soundeth like unto a plan.
And yes, Evangelion is one of those shows which is really calling your name. I look forward to it.
Posted by: Suburbanbanshee at May 01, 2013 08:06 AM (cvXSV)
5
By the time I got to the end of the series, I thought they were selling perfume.
Posted by: Mauser at May 01, 2013 02:43 PM (cZPoz)
6
I understand that the story isn't over, and that there's supposed to be a fourth movie. Aren't you being premature?
Posted by: Steven Den Beste at May 01, 2013 07:33 PM (+rSRq)
7
Since the movies have been coming out roughly every three years, I'm not really interested in waiting for the last one. Who knows if The Pond will still be open for business then?
Posted by: Wonderduck at May 01, 2013 07:43 PM (9jITs)
8
Speaking of not being over, are you planning on covering
Death and Rebirth
,
Death(true)
,
Death(true)2
, and
End of Evangelion
?
Posted by: Ben at May 01, 2013 08:25 PM (/Mdmg)
9
No, just
Rebuild of Evangelion
.
Posted by: Wonderduck at May 01, 2013 08:30 PM (9jITs)
Comments are disabled.
23kb generated in CPU 0.0176, elapsed 0.1188 seconds.
47 queries taking 0.1104 seconds, 232 records returned.
Powered by Minx 1.1.6c-pink.