February 10, 2008
Anime Night: "Turn The Plant"
After a couple of weeks where life and illness got in the way, Anime Night resumed this past Thursday when The Librarian, bearing food from Panda Express, dropped by The Pond. If you remember, we had finished
Kanon '06
about a month ago, and attempted to begin
Uta~kata
the last time we'd met.
That last Anime Night, however, met with disaster when
Uta~kata
turned out to be one of those series that causes revulsion and disgust in ducks (anti-anadatae folks, take note) and DVD players alike. In fact, it proved to be the final nail in the coffin of The Pond's main DVD player, a seven-year old Samsung DVD/VCR combo (please note that the VCR portion still works fine). Unfortunately, the backup DVD player, an inexpensive Coby, didn't like the homemade disc much, either. By this time, it was too late to start anything new, so we watched a couple episodes of
CardCaptor Sakura
(still as good as it was way back when) and called it a night.
So this put us at the start of a new series. By our unofficial 'rules', The Librarian and I switch back and forth on choosing what show to watch; I had chosen
Kanon '06
, so it was her turn.
Uta~kata
was technically her choice, but the FAIL that had occurred was my fault, so it was still her turn. She had narrowed her picks down to three titles.
Full Metal Panic: Fumoffu!
,
Azumanga Daioh
, and
Noir
.
Any of these series would have been a-okay with me, with
AzuDaioh
of course being my favorite anime of all time. After dinner, her decision was made: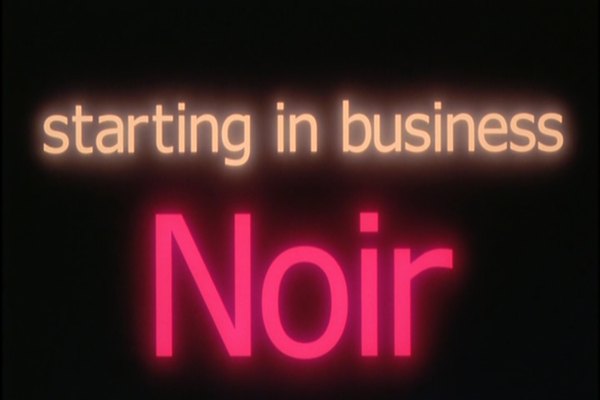 "...for all your Noir needs."
Yep, the stylish, almost completely blood-free story about two assassins and their 'pilgrimage to the past', and if the first disc is any indication, this one is going to be classic Anime Night fodder. Remember, the success of a series for Anime Night isn't just how good a show it is (and make no mistake,
Noir
is very good indeed), but the comments it elicits from The Librarian and The Wonderduck as the show runs, and either we were feeling really silly, or the show is just ripe for the picking.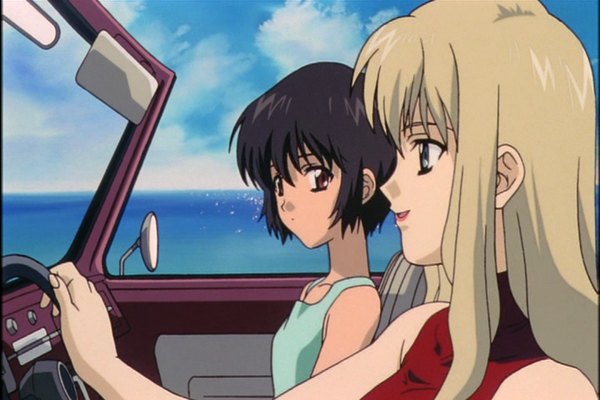 "
This is definitely Lower Wacker Drive! If my estimations are correct, we should be very close to the Honorable Richard J. Daley Plaza!
" "That's where they got the Picasso." "Yep."
Our heroines, Mirelle (the blonde) and Kirika (the not-blonde) have already provided us with more laughs than
Elfen Lied
and
Kanon '06
combined. We've already ascertained that there's a choir of nuns and/or monks in the bathroom and that we hate that damn pocket watch so very much.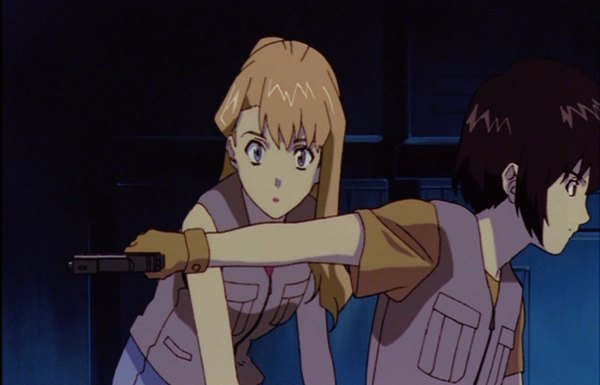 "Use of unnecessary violence in the apprehension of Noir has been approved..."


It's merely a bonus that
Noir
is quite a good show. Visually it has it's moments of pure awesomeness, the violence (and there's quite a bit) is stylized, almost sanitized, but never, EVER is it out of place. The plot is deep, twisty, and (as of the first five episodes) still to be revealed. There's rumors of some guy named "Les Soldats"
*
(wasn't he on
WKRP in Cincinnati
?) that knows something about Mirelle and Kirika's history, but we're still mostly in the dark.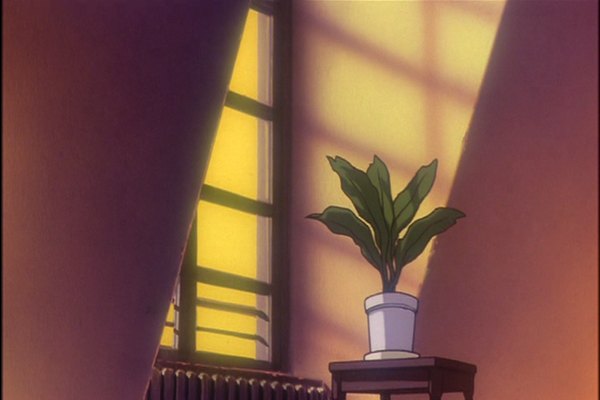 "Turn the plant. Turn the plant.

Turn the plant.

"

We've also figured out that the above pictured plant ("Is it a ficus?") is really the secret puppetmaster of the entire show. Seriously. Oh, you doubt us, but watch the show for yourself, then tell us we're wrong. And all because the plant wants to be turned.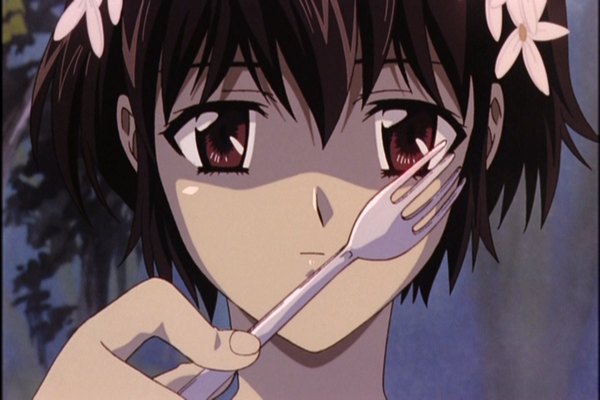 "I like her." -The Librarian after viewing this scene.
As a point of trivia, this scene appears to be the birth of an in-joke by BeeTrain. In at least two of their three related "girls with guns" series (
Noir
and
El Cazador de la Bruja;
I don't remember if it appears in
Madlax
), there's one shot where one of the main characters wields a fork as a weapon.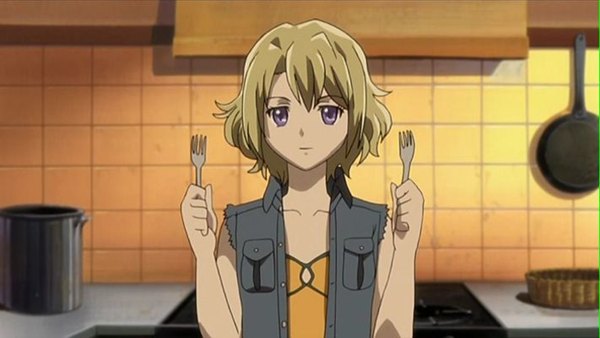 Or two, in Ellis' case.
* Yes, we know that "Les Soldats" isn't a person. We're silly, but we're not stupid. Much.
Posted by: Wonderduck at 10:30 PM | Comments (7) | Add Comment
Post contains 691 words, total size 7 kb.
1
Kirika does that twice in
Noir.
(One's the garden party. Let's see if you can remember the other one.)
Posted by: Steven Den Beste at February 10, 2008 11:53 PM (+rSRq)
Posted by: Steven Den Beste at February 10, 2008 11:55 PM (+rSRq)
3
It's been quite a while since I watched this, but from what I recall it's a very serious show with no lighter moments or comic relief to speak of. That's not a bad thing at all, but I can imagine the urge to make wisecracks is very strong when watching it with someone else, since you're not getting any laughs out of the show itself.
You mentioned the lack of blood, which was probably my biggest annoyance with the show. Yeah, I get that they didn't want to exaggerate or over-emphasize the violence, but I thought it was pretty well established that when people get shot, they
bleed
, dammit.
Posted by: Andrew F. at February 11, 2008 12:38 AM (JI1Qq)
4
Andrew, there was an interview I read with the director of
Noir
where he said that he made a specific decision to not have any blood in the show (except for one specific time), because the mass body counts would then detract from the story.
Consider the case of
Elfen Lied
, where the blood is all anybody talks about, ignoring the rather good storyline in the process, and it becomes clear that he made the right decision. After all, Kirika and Mirelle's bodycount is pretty darn high (I think the rooftop scene, for example, outpaces
EL
's opening, as far as corpses go). Could you imagine the "death by glasses" scene with blood? Eesh.
Steven, I know two of the fork scenes: the one pictured above (where she actually uses forks
twice
, though only one is shown), and
So I'm stumped on Fork 3. In my defense, the last time I watched this show was back in 2005, when I was ill and didn't realize it, leading up to The Incident.
Now that I think of it, that's where I first heard about
EL
... because I was in the hospital the night the Duck U. Anime Club was to meet, and I didn't bring Noir with me to work that morning. The Club wound up watching ADV screener discs that meeting, and
EL
was the feature on the newest.
Posted by: Wonderduck at February 11, 2008 12:57 AM (AW3EJ)
5
It's been a long time since I saw it, too, and yes you got all three.
Posted by: Steven Den Beste at February 11, 2008 01:46 AM (+rSRq)
6
I understand and sympathize with the director's intent, but the lack of blood itself became a distraction when I watched the show. I'm not looking for Elfen Lied levels of blood, or even Gunslinger Girl levels. Just enough to avoid breaking immersion, as it were.
It's funny, though, that I get hung up on stuff like that, yet can watch something like Full Metal Panic without caring a whit for verisimilitude.
Posted by: Andrew F. at February 11, 2008 06:50 PM (JI1Qq)
7
"Weapon!"
"Umm...."
"Two!"
It wasn't enough to make me keep watching El Cazador, but I did love that scene.
Posted by: Griffin at February 13, 2008 07:41 AM (txua7)
Comments are disabled. Post is locked.
29kb generated in CPU 0.0128, elapsed 0.092 seconds.
47 queries taking 0.0826 seconds, 230 records returned.
Powered by Minx 1.1.6c-pink.