August 17, 2020
15532 To Go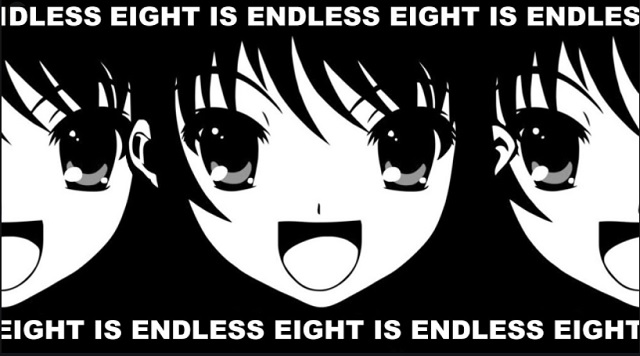 Today, August 17th, is the day the time loops of Endless 8 start. Just thought you'd like to know!
Posted by: Wonderduck at 08:22 PM | Comments (4) | Add Comment
Post contains 22 words, total size 1 kb.
1
Ah yes, the great big oaken stake right through the heart of rampant Haruhiism.
What's amusing to me about this now is that just yesterday I received and read through
Rascal Does Not Dream Of Petite Devil Kohai
, the 2nd LN installment of the
Bunny Girl Senpai
series. While the time loop in
Kohai
doesn't surpass even a dozen iterations, it feels like this story arc/loop owes a debt to Endless Eight nonetheless.
(I can't remember if you have taken in the
Bunny Girl Senpai
anime yet, but if not then I highly recommend. I know that at first glance it seems harem-y but it's so very not. Mai is always & forever best most awesome girl.)
Posted by: GreyDuck at August 18, 2020 08:21 AM (rKFiU)
2
Yeah.. Looping 2 weeks worth of 2020 15,000+ times is not on my Bucket List. Anywhere on that list. There are a few other time periods that might be interesting, but definitely not 2020.
Posted by: StargazerA5 at August 18, 2020 10:09 AM (qsUzh)
3
I like the Endless 8 storyline, but by far my favorite part is Kyon understanding instinctively that Nagato will know what's going on once he starts figuring out *something* is wrong.
Posted by: Ben at August 18, 2020 10:22 AM (F12Cs)
4
Thanks! I knew there was something important I'd forgotten yesterday!
Posted by: Ed Hering at August 18, 2020 05:01 PM (/cXdK)
23kb generated in CPU 0.0112, elapsed 0.0914 seconds.
49 queries taking 0.0833 seconds, 229 records returned.
Powered by Minx 1.1.6c-pink.