September 05, 2019
Ducks In Anime: Yes I Saw It
It started simply enough... an e-mail saying "Watch DanMachi2 Ep 05." Then a text message. Then
a comment here
on The Pond. Then
another
text message. Then
a post over at R's place
. Then
another
e-mail. And what heralded all this fooferraw?
-
Danjon ni Deai o Motomeru no wa Machigatteiru Daro ka
S02, Ep05
First, it was a duckie. A very nice duckie to be sure, don't get me wrong, but a single duckie. At which point, the producktion staff realized that while a single duckie is nice, many duckies are better. Much better. Much
much
better.
Even I had to admit, that was a lot of duckies... and they almost literally appeared out of nowhere. First one duckie, then many duckies flowed their way into the bath like they had been there all the time... which they hadn't, as an earlier establishing shot confirms.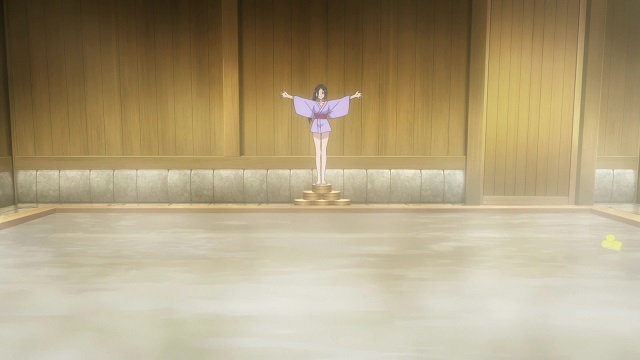 So where did all of these rubber duckies come from? Particularly considering this is a fantasy world of swords and magic and Hephaestus isn't a lame, misshapen, ugly man but a eye-wateringly hot redhead with an eyepatch... rubber duckies should, sadly, not be a thing. But yet, there they are!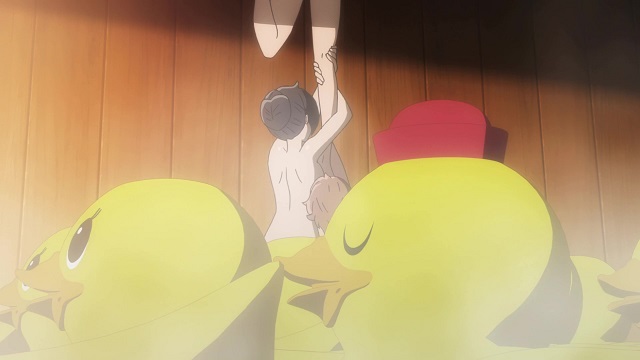 I am hardly one to complain about rubber duckies in anime. Heavens no! I don't even care about internal consistency when it comes to their appearance in a series... the more duckies the better, is what I say. Particularly when we all
really
know why they're here...
Yep. That's why. They're just doing their job.
Posted by: Wonderduck at 02:59 PM | Comments (3) | Add Comment
Post contains 257 words, total size 2 kb.
1
It's a thankless task, but it needs to be done.
Posted by: Mauser at September 05, 2019 10:06 PM (Ix1l6)
2
It's a hard-knock life for duckies.
Posted by: Karel P Kerezman at September 06, 2019 10:32 AM (yisPP)
Posted by: mtom at March 12, 2023 04:57 AM (wgcMy)
26kb generated in CPU 0.0359, elapsed 0.1433 seconds.
49 queries taking 0.1208 seconds, 281 records returned.
Powered by Minx 1.1.6c-pink.