October 31, 2008
F1 Practice: Brazil 2008!
In lieu of there being anything in particular that could be considered interesting on track today, we were instead regaled with the answer to two trivia bits asked here on The Pond recently!
First, regarding
Steven's wondering about the pitlane at Interlagos
, it turns out that it used to release into Turn 2, right where you would expect it to. It turns out that it also released cars directly into the racing line, and while I can't find any reference to an accident occurring because of that, it certainly would have happened sooner or later. I can't figure out exactly when the change took place, but it almost certainly happened in reaction to
the events at Imola, 1994
, directly or indirectly.
Second, regarding
the changing of liveries during a season raised by Pete
, the FIA does need to approve alt-liveries, but there's more to it than that. It turns out that the other teams on the grid ALSO need to approve the change unanimously. So, for example, if McLaren wanted to remove the Santander logo and replace it with "Ferrari Sucks!", it probably wouldn't be approved. However, in the case of DC'sC one-off livery, why wouldn't a team approve it? The same went for RedBull's
"innovative" charity livery at Silverstone in 2007
.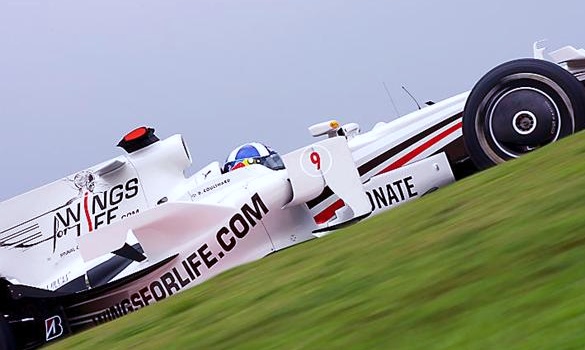 Y'know, I rather like that color scheme. It's a lot better than the regular RedBull livery, if you ask me.
And finally, something that I've been wondering about for the entire time I've been a F1 fan. We've been told that Formula 1 is the pinnacle of technology, that the cars are engineered within an inch of their lives, and there's nothing F1 can't do if they don't put their minds to it. So why the heck haven't they been able to put a camera on a driver's helmet so we can see what it looks like from the cockpit?
Today, they finally did it.
I guess it's fitting that The Chin, probably the most fan friendly of the drivers, got to debut the tiny camera today. From what the Legendary Announce Team (and myself) could figure, it appears to have been mounted just below the visor, so it's actually a little lower than the driver's eyes, but still, it gave us a great idea of what the driver goes through.
The buffeting they go through is amazing, as we know from the 5.0Gs figure we get to see when they slam on the brakes, but there's a difference in seeing the g-force gauge move and watching the view of the camera go from the above shot... to one that gives us a great look at the steering wheel as The Chin sank down into the cockpit under braking. Of course, that might have just been because The Chin itself has a pretty substantial gravitational pull. Interestingly, Jeff Gordon, NASCAR driver,
talked about that feeling
when he swapped cars with Juan Pablo (The Pope) Montoya back in 2003 on SPEED's "Tradin' Paint" program.
Oh, and it was drizzling off and on today, too, with t-storms expected for quals. Great! Take the single most important race of the season and make the weather bad so we wind up with a Force India on pole! Fun!
See ya after Quals.
Posted by: Wonderduck at 08:43 PM | Comments (1) | Add Comment
Post contains 544 words, total size 4 kb.
1
I guess that although it would be coming into the outside of turn 2, the cars would be swinging to the left side of the track almost immediately because of that long turn 3 to the left.
Where the entrance is now, the traffic coming out of turn 3 will be on the right side of the straight stretch, so traffic entering from the pit will have a safe merge.
Posted by: Steven Den Beste at October 31, 2008 09:11 PM (+rSRq)
Comments are disabled. Post is locked.
25kb generated in CPU 0.0139, elapsed 0.4466 seconds.
47 queries taking 0.437 seconds, 277 records returned.
Powered by Minx 1.1.6c-pink.