December 28, 2015
Your Weekly Asuka, the OVA... or 12.5, whichever.
It's been
quite some time
since we last visited the
Hibike! Euphonium
show, but a few days ago the long-awaited OVA came out. Considering how much I enjoyed the series, it shouldn't come as any surprise that I immediately watched it with one eye peeled for Asuka, the vice-president of the band club.
It should also come as no surprise that the Goofy Cute was being both goofy
and
cute... for the thirty seconds she was in the episode. Alas, KyoAni
stopped using her as a character
around Ep12 in the original run, so Asuka bringing the goofy was to be expected. Since that was her entire contribution to the story, it was a little bit disappointing.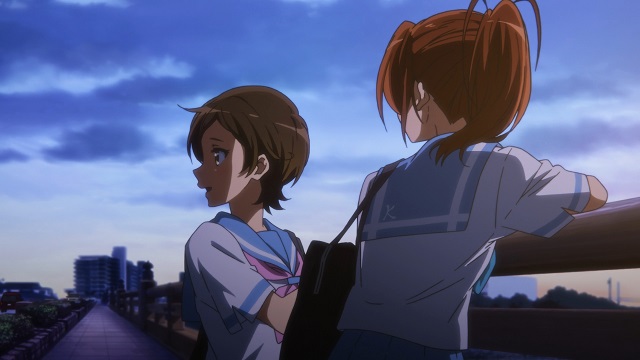 The rest of the OVA was quite entertaining, and it was really nice to be back with this bunch of characters that we came to love over the course of three months or so. As usual, it was outstanding visually, but it was really quite nice to focus on the "junior leads", as it were, instead of the main characters. Which is not to say I wouldn't have liked to see more of Asuka.
Since, y'know, that was kinda the whole point of this little series of mine in the first place. I guess we'll just have to wait for the second season... or maybe the recap movie will have a little bit more about her in it. Either way, it'll be good fun. Unless KyoAni doesn't expound upon her character, in which case I'll be quite grumpy.
Posted by: Wonderduck at 09:52 PM | No Comments | Add Comment
Post contains 263 words, total size 2 kb.
25kb generated in CPU 0.013, elapsed 0.1062 seconds.
47 queries taking 0.098 seconds, 277 records returned.
Powered by Minx 1.1.6c-pink.