December 11, 2017
I Had No Idea This Was A Thing...
...but I'm
really
glad it is! Back in the old days, one of the things that high-level railfans did was wrangle a cab ride from some friendly engineer, set up a video camera, and record the trip in such a way that the viewer could believe they were really really there. Often, these vids would end up being licensed by one company or another and sold out of the back of
Trains
or
Model Railroader
magazines. More recently, cable channels like RFD-TV will actually broadcast such things between bull roping, the farmer's weather report, and (my favorite) the Annual Classic Tractor Show and Parade. Such videos are much easier to make these days, and of course the visual quality is better to a stupid extent. It was while watching one of these detailing the London DLR run from
Lewisham to Bank
that a yootoob suggestion caught my eye... "Night Videowalk in East Shinjuku, Tokyo." Intrigued, I took a look.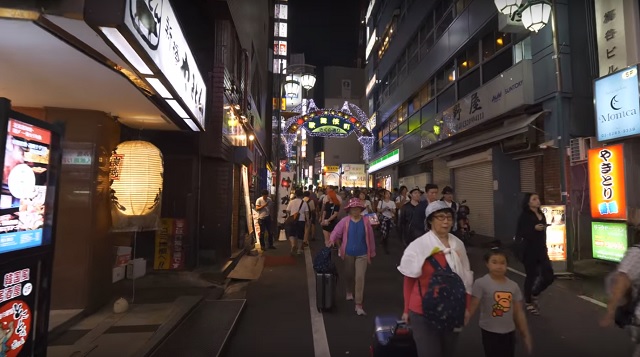 ...and it's exactly what it says on the tin: someone walking around in East Shinjuku with a 4K digital camera on a stabilizer-crane mount. That's all. And, much like
the Jackson Hole livecam
, it's wonderful to watch, in a voyeuristic way. Sometimes it's in a densely packed urban area, sometimes he's walking on Mt Fuji, or the Imperial Garden in Tokyo, or Comiket. And he doesn't ever say a word, so it's all natural sound. There are others doing similar things, but their videos aren't as long... Rambalac, the person I've been watching, makes his a hour long, more or less. And to bring it full circle, one of them is of
the JR Railway Museum in Saitama
. Sadly, that one isn't in 4K... but this one is:
Turns out there are plenty of other people out there doing similar things in other cities.
New York's Times Square
, or
Kolkata
, or even
Chicago
, for example. But yeah, I'm a geek... Japan for me! Amusingly, I already knew what some of the places looked like... thanks to
Go! Go! Nippon
, which blew my little mind. I mean, I'm never going to get to go to Japan, so... well, it's a poor second, of course, but it's better than nothing. And there's some startlingly beautiful scenes to boot. Pour yourself a drink, settle in, and give one a watch... you might be surprised at how much you enjoy yourself.
Posted by: Wonderduck at 09:16 PM | Comments (5) | Add Comment
Post contains 404 words, total size 3 kb.
Posted by: Rambalac at December 18, 2017 09:59 PM (X/P03)
Posted by: Wonderduck at December 19, 2017 02:08 AM (EVb8m)
Posted by: Rambalac at December 19, 2017 08:47 AM (X/P03)
Posted by: Wonderduck at December 19, 2017 08:56 AM (EVb8m)
Posted by: Pixy Misa at December 20, 2017 05:01 AM (2yngH)
26kb generated in CPU 0.05, elapsed 0.2445 seconds.
49 queries taking 0.2163 seconds, 245 records returned.
Powered by Minx 1.1.6c-pink.