February 27, 2012
That Was The Weirdest Thing I've Ever Seen On A Racetrack
On Lap 157 of tonight's Daytona 500, David Stremme blew an engine, bringing out the yellow flag. Debris from the engine covered the track near the entry to Turn 3, and a "JetDry" truck was called out to blow the garbage out of the turn. A JetDry truck is a pickup truck towing a helicopter jet engine behind it. It's usually used to, well, dry the asphalt after it rains. It carries around 200 gallons of jet fuel.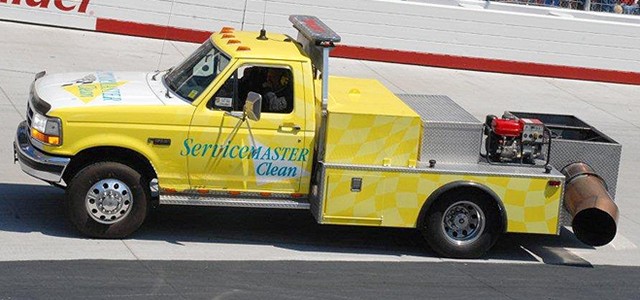 On Lap 160, still under the yellow flag, former F1 driver Juan Pablo (aka The Pope) Montoya came off of pit lane and brought himself up to speed to catch up with the rest of the field. As he approached Turn 3, something visibly broke on his car. Sparks spilled out from underneath, he got sideways, and he skidded directly into the back and side of the JetDry truck.
There was a sudden fireball, presumably from the #42 car as it had its front end completely destroyed, and both vehicles came to a halt. The JetDry truck was at the top of the banking, Montoya's car was burning merrily in the infield. Montoya quickly got out of his car and walked away. Meanwhile, a track worker ran up the banking to help the driver of the truck... and then we noticed the liquid pouring out the back of the truck. The track worker got the driver out of the truck, and they walked away from the truck. Then the inevitable occurred.
200 gallons of jet fuel and an oversized tank of diesel went up. The fire stretched all the way down the 31° banking. The emergency crews began to use fire extinguishers to try and contain the blaze, but they sure didn't do much. The explosion that followed threw up a fireball that was dramatic but pretty localized. Then the heavy equipment showed up, both on the infield and outside the catch fence.
That finally got the fire under control and extinguished. Montoya has been checked at the infield care center and released. The driver of the truck is at the local hospital for observation, but he's resting comfortably and is reportedly okay. Probably needs to change his shorts, though. There appears to be some damage to the asphalt on the circuit, but NASCAR is saying they'll be restarting the race eventually. As is, the 500 has been under a red flag for an hour or so as they try to get everything cleared up.
A video can be seen here
.
Posted by: Wonderduck at 10:04 PM | Comments (6) | Add Comment
Post contains 430 words, total size 3 kb.
1
It's hard to believe the surface of the track could be usable after something like that.
Posted by: Steven Den Beste at February 27, 2012 10:31 PM (+rSRq)
2
I agree. They spent a good 20 minutes spreading Bondo over the worst of the damage, and while it probably wouldn't be good enough for a full race, it might be okay for 40 laps. Maybe.
We'll see... they're just about to restart.
Posted by: Wonderduck at February 27, 2012 10:38 PM (O9XO8)
3
Wow. I'm really impressed that no-one was even seriously hurt.
And that track worker deserves a medal.
Posted by: Pixy Misa at February 27, 2012 11:08 PM (PiXy!)
4
"My name is Juanpablo Montoya. You killed my race car. Prepare to fry."
Dang! Definitely a contingency the race officials never thought of.
Posted by: Mauser at February 28, 2012 03:15 AM (cZPoz)
5
Definitely some kind of mechanical problem, not just sloppy driving (though I expect that NASCAR might have a couple words to say about "caution means CAUTION, people...")
The nasty wreck earlier was quite a mess, though. You hate to see these cars t-bone each other on the driver's side like that... amazing that nobody was hurt, and a testament to the safety engineers.
Posted by: Avatar_exADV at February 28, 2012 03:38 AM (GJQTS)
6
Totally OT, but for your amusement.
http://icanhaschzbrgr.livejournal.com/3566470.html (Duck related)
Posted by: Mauser at February 28, 2012 03:42 AM (cZPoz)
Comments are disabled. Post is locked.
26kb generated in CPU 0.0159, elapsed 0.0893 seconds.
47 queries taking 0.0788 seconds, 282 records returned.
Powered by Minx 1.1.6c-pink.