July 10, 2010
F1 Quals: Great Britian!
Hoo-boy, is this gonna be an ugly race tomorrow. Let's take a look at the grid:
Another RedBull one-two, but at least in the past someone has been able to challenge them a little bit. Not here, not today. Today, Seb Vettel and Mark Webber dominated Silverstone completely and utterly. When you have the only cars turning sub-1:30 laps and the nearest competitor is almost 3/4th of a second behind, you know you're doing something right. Nowhere on the circuit did the RB6 seem to have a weakness that somebody could possibly exploit for some momentary gain. The only thing that appears to be able to do them in on Sunday is mechanical difficulties, and while that may be a thin reed to cling to, you'd best believe that it's possible. During Saturday's final practice session, Vettel was having a routine lap when his nose fell off.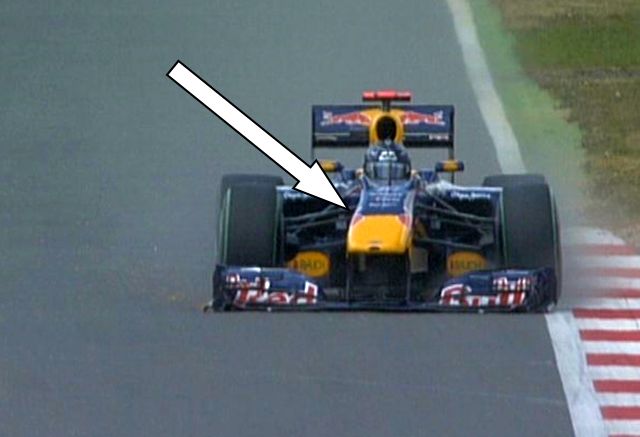 You can see that the wing is askew and actually dragging on the ground. It's hard to spot, but the nosecone of the car is actually separated from the chassis right where the arrow is pointing. The mounting points for the top of the nose failed, and while Red Bull have replaced both the mounting points and the mounting pins on Vettel's and Webber's cars, it can't be a big confidence boost for the drivers. Kind of like how Seb Buemi must have felt when the wheels
blew off his car
.
Behind, very far behind, the front row we find the usual suspects... except for one. Jenson Button doesn't much care for Silverstone. Certainly it's his home circuit, and yes indeed he likes driving here he says, but he's had a dog's luck at this place. "The car is undriveable," was the call over the radio, "there's no rear grip." The best the reigning World Driver's Champion could manage was 14th, and he may have been lucky with that.
Sharp-eyed readers might notice that Bruno Senna's name is missing from its usual place at the bottom of the timesheets. It appears that HRT is in something of desperate financial straits at the moment, if rumors are to be believed. Creditors are reportedly baying at their door, and in an attempt to get some fast cash they sold his seat for this race only to former SuperAguri driver Sakon "Admiral" Yamamoto. At least, that sure seems to be the way it looks; Senna is physically healthy, and other than his sponsors not paying their bill to the team, there's no obvious reason that he wouldn't be driving. I have a bad feeling about this.
Now, about the new "Arena" portion of the Silverstone Circuit. Reviews are mixed, all in all, with some drivers loving it, while others just can't stand it. What nobody likes is how slippery the new surface is, and how bumpy the tarmac is. Particularly bumpy is the spot where the old layout meets the new. What was supposed to be a fairly fast bend now has an incredibly rough patch right in the middle of it. Just watching cars cross it is scary enough, I can't imagine how it feels to be in the car when it goes over this washboard at speed... with an unsprung suspension, no less. The Legendary Announce Team's tech wonk, Steve Matchett, says that cars all up and down the pit lane have been suffering damage from the bumps, the track surface already has gouges taken out of it, and it seems quite possible that Vettel's amazing removable nose trick may have been aided by the vibrations caused. Should make for some interesting times tomorrw, all in all. We'll be here after the race with F1U! See you then.
Posted by: Wonderduck at 01:36 PM | Comments (7) | Add Comment
Post contains 776 words, total size 15 kb.
Comments are disabled. Post is locked.
39kb generated in CPU 0.06, elapsed 0.1805 seconds.
47 queries taking 0.1529 seconds, 272 records returned.
Powered by Minx 1.1.6c-pink.