June 21, 2010
F1 on TV: Europe 2010
Yes, that's right, we're coming up to the Grand Prix of Europe. The title of the race was created as a way to get two Grands Prix into one country without confusing the two. Perhaps not oddly, for quite some time the Grand Prix of Europe was in Germany... unsurprisingly, since the biggest star in the sport at the time was Slappy Schumacher. The title moved across the continent to Spain after HWMNBN became the cock of the walk, which is where we find it now, in Valencia! Let's look at the track map...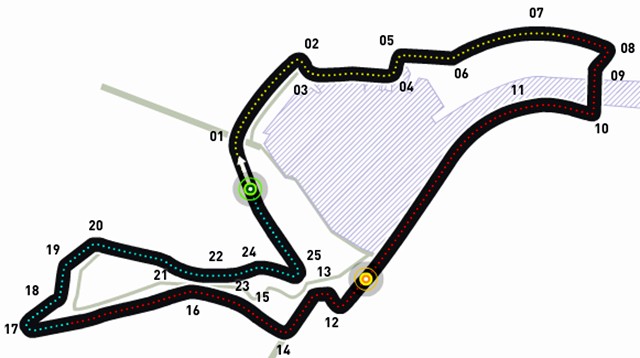 Back in
2008
when the layout was first used, we had such hopes for this circuit. It was a new street circuit, and those always prove interesting, right? Yes, well, not so much... it turned out to be another Hermann Tilke snoozefest. Unless, of course, you count
the death of a bird
as excitement. In
2009
, we had such hopes for the circuit, what with the new aero rules and all. Yes, well, not so much. It turned out that the Tilke ooze had stuck, and we got nothing but red-hot pit stop action.
So we should be expecting more of the same for 2010, right? Well, normally I'd say yes, but I have a little secret. You see, Duck U Vice President of Operations "The Screwdriver" was in Valencia one week ago, and he went on a little souvenir hunt for yours truly. He got to see the barriers being put in place around the "twisty bits" complex, which he found highly interesting, and his intent was to bring back a poster for me. He didn't get it however, as it was raining the entire time and the poster would have turned to soggy paper.
So we know that it's not impossible that we could get rain, and as we sit here on Monday the F1 website says it'll be foggy at racetime. Other weather-related websites are suggesting that it'll be clear and hot, but we'll go with F1's legendarily accurate (*snort*) weather forecasting for now. Because that's about the only way we'll got a non-snoozer of a race in Valencia.
Oh, it's not a bad layout, all things considered. It looks like it
should
be a winner, and visually it has its moments, like the bridge between Turns 9 and 10, but in reality? It's a dog. It's very wide for a street circuit, which should provide a lot of passing opportunities, but there just aren't many. In some ways, it's very much like Canada's Circuit Gilles Villeneuve, in that it's a high-speed layout (a high-speed street circuit?) with lots of very low-speed turns. The difference, of course, is that Canada doesn't have a technical section, whereas the "twisty bits" in Valencia definitely qualifies.
Bridgestone is sending the Supersoft and Medium compound tires along, just like Canada, and we all know how well
that
turned out. A big difference, though, will be the surface of the track. Where Canada was brand-new, Valencia has a well-used (though not by F1 cars), somewhat rough, asphalt. Combined with the higher air temperatures, that should make it easier for the tires to come up to a useful grip level. To counteract that, however, you get the oil and other crap dumped on the road by everyday traffic. Call it a wash, at least to start the weekend.
TV coverage of that weekend begins with SPEED's live broadcast of Friday's Second Practice, from 7a to 840a. Saturday brings us plausibly live coverage of Quals, from 7a to 830a.
Sunday, we'll see the 2010 Grand Prix of Europe from Valencia, Spain, on your local Fox affiliate, from 11a to 1p Central Pond time. That's about 4 hours worth of tape delay... aren't we lucky? To make matters better, Legendary Announce Team chief honcho, The Varsha, will not be participating in this weekend's activities, as he'll be anchoring SPEED's coverage of one of the Barrett-Jackson collector car auctions.
Of course, the F1U! team will be all over this race like a cheap suit... don't miss a syllable of it!
Posted by: Wonderduck at 08:24 PM | Comments (1) | Add Comment
Post contains 683 words, total size 4 kb.
1
Pretty cool that Duck U. had an official representative in Spain. :-)
Do ya suppose with the tape delay they'll do a better job with the editing? Naw, too much to ask.
Posted by: Mallory at June 22, 2010 09:43 AM (WJ2qy)
Comments are disabled. Post is locked.
25kb generated in CPU 0.04, elapsed 0.2412 seconds.
47 queries taking 0.2126 seconds, 266 records returned.
Powered by Minx 1.1.6c-pink.