August 20, 2015
Wonderduck's Pond: The Livejournal Of Anime Blogs
Before I get into what friend
Brickmuppet
calls "banality", I will give you all a chance to head for the hills. As a thank you for dropping by, even if you don't want to read about My Life, allow me to post some cheesecakey-like-product in
the style of SDB
: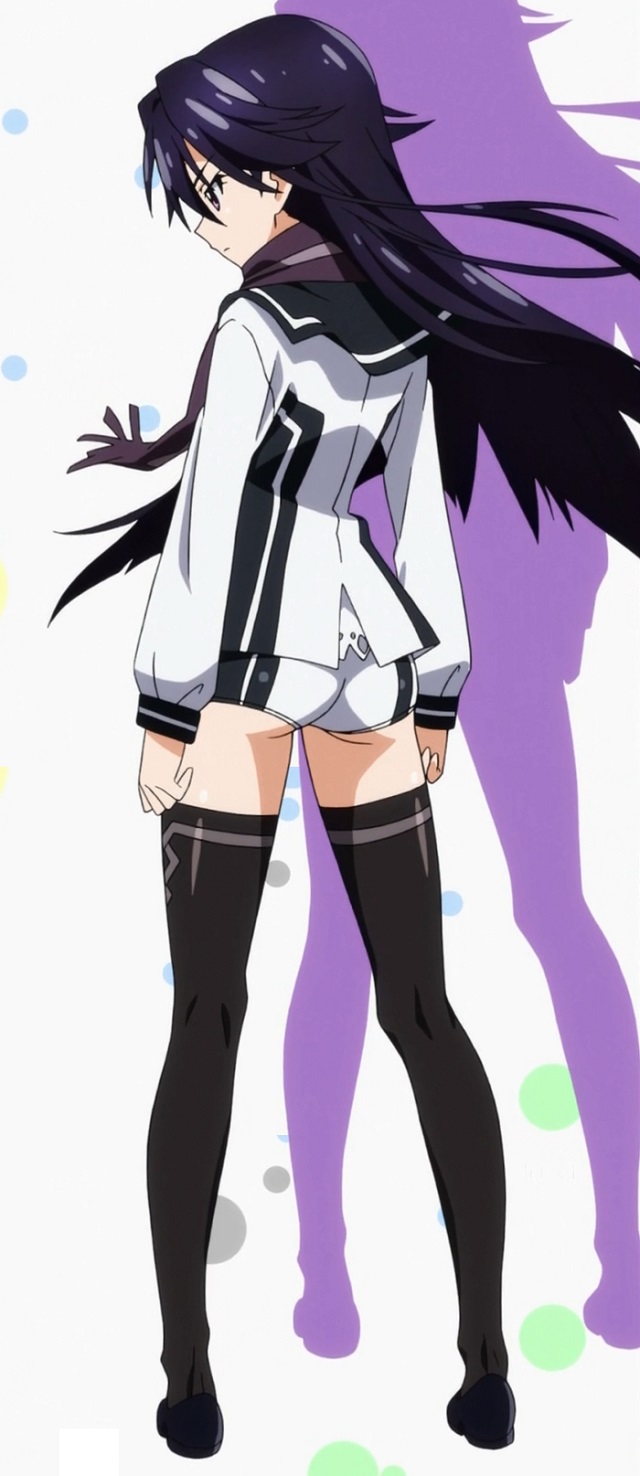 The real reason to watch
Vividred Operation
: Hot Dark Girl Rei and her kickarse scarf... and did I mention that, once upon a time,
I did an Episodic Writeup
of the show? I did, and you should go back and read them, because they're pretty good. Anyway, onto the banality!
Wednesday dawned with
my alarm
going off at
the usual time
, me doing my usual morning routine in
the usual way
, then heading off to work at 8am. As I walked to the DuckMobile, I said "Good morning, neighbor!" to the guy who lives in the apartment below me, out for his morning cigarette. His reply confused me: "Good morning! Off to school?" I stopped dead in my tracks, trying to figure out why he'd say such a thing... I look nothing like a college student, haven't been one since the early '90s. "No-o-ooo, I'm just going to work." And then he said it: "Yeah, you run the Duck U Bookstore, right? You helped my daughter get her books once... It's the first day of class!"
Oh.
After explaining that
I haven't worked there
for a year, I got in the car and started driving... and realized that I was weeping. Yep, it's been over 13 months since I had anything to do with the place, but be damned if it doesn't still have hooks in me. This'll be the first full school year since 2003 that Duck U will not have any trace of Wonderduck in the bookstore. "But Wonderduck," you say, "they fired you before the start of the year last year!" It's hard for me to argue that logic, since it's true and all. However! I had done
all
the work leading up to the start of school: getting textbook adoptions, placing orders, receiving, all that sort of stuff. I may not have been there physically, but my spoor was all over that semester. That might be one of the first times I've ever used "my spoor" in a sentence correctly. I guess I miss the damn place. Maybe not the job, but Duck U. itself. Surprise, huh? I was only there for a decade. After dinner with the folks, I came home and took a nap. I figured, it's 830p, I'll grab an hour-and-a-half, no problem... and then promptly slept through my alarm and woke up at 6am.
Whoops.
One bad thing about my job, or at least having a giant pulsating brain while having my job, is noticing the diagnosis codes. It's always sobering when you see a twelve-year-old being diagnosed with some terrible disease or malady... but I've found myself having a stronger reaction to some of the older patients of late. Or, more correctly... look, there's something very very sad about a place called "Elder Day Care Center." Particularly when you notice that random client is okay'd to be there for 10 hours a day, five days a week. I have this image of harried middle-aged-adult dropping off his-or-her elderly, wheelchair-bound, parent, saying "I'll be back after work," and zooming off. Jump-cut to image of elderly, wheelchair-bound, parent sitting alone in front of a window, staring at the outside world, alone. Breaks my heart, it does... maybe because I'm a helluva lot closer to that age than I'd like to be. There's also a touch of "what if that was Momzerduck?" in my thoughts... and my heart doesn't just break, but more like crumbles into dust and blows away, never to be seen again. Yup, it's that time of year again.
Banality. Sometimes, it really really sucks.
And yes, I do feel badly about the state The Pond has fallen into.
Posted by: Wonderduck at 11:59 PM | Comments (6) | Add Comment
Post contains 664 words, total size 4 kb.
1
But hey, you gave us a great cheesecake HDGR pic, so The Pond's doing okay in MY book...
Man, I'm in no position to judge the state of your site. I update, what, once a month now? (And the most recent life events I could write about are... more grim than I want to go into on a blog post.)
I understand missing the workplace if not the job. A few weeks ago I was hauled out on a "press the flesh, fix a few problems" tour of a relatively new client. Address is along SW Macadam, okay, fine. No, no, turns out it's an office complex
right next to
the radio station. I spent a lot of time going, "How many times have I walked along that path in search of lunch...?" Le sigh.
Posted by: GreyDuck at August 21, 2015 07:47 AM (/zxpg)
Posted by: Ben at August 21, 2015 02:33 PM (DRaH+)
3
You even make banality sound like a good thing. I'll keep reading. After all, it's a blog first, right?
Posted by: skyhack at August 22, 2015 11:03 AM (wa1Z/)
4
@Gray Duck: Made my day.
Posted by: skyhack at August 22, 2015 11:04 AM (wa1Z/)
5
Well, I'd like to hope it's
entertaining
first...
Posted by: Wonderduck at August 22, 2015 12:24 PM (jGQR+)
6
I keep my livejournal stuff on my livejournal, where nobody will ever see it. My writing stuff goes on my writing WordPress, where nobody will ever see it. Then I keep my anime blogging on my mee.nu blog, where nobody will ever see it.
It's all about the compartmentalization.
Posted by: Mauser at August 23, 2015 03:58 AM (TJ7ih)
30kb generated in CPU 0.0139, elapsed 0.2821 seconds.
49 queries taking 0.2743 seconds, 284 records returned.
Powered by Minx 1.1.6c-pink.