March 20, 2012
The F1U! Nicknames
Earlier tonight, I was having dinner with Ph.Duck and his new bride (for whom a duckish appellation has yet to be assigned), and while we waited for the food to be brought to the table by the fine staff of
ImperialMandarinPalaceGardens
(try the orange chicken, yum yum!) we discussed Formula 1. This conversation bored the newbie at the table to tears, but Ph.Duck and I gabbed away semi-obliviously. As I blathered on, after a while I noticed that he had a strange look on his face.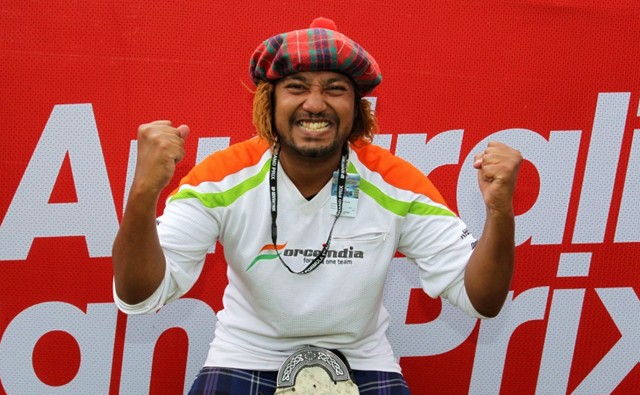 After inquiring politely if he had gas, he explained that he didn't understand one of the nicknames I had just used. As I tried to define just why that particular nickname was stuck on that particular driver, I realized that it's been a long time since I've defined the nicknames used in the F1 Update! features here on The Pond. So let's get cracking!
Vitaly "The Red Menace" Petrov:
he's Russian and when he first got to F1 it was never a question of IF he'd crash, but WHEN... and how many others he'd take out with him. Believe me folks, that's about as deep as most of these get.
Michael "Slappy" Schumacher
: During the 2005 Belgian Grand Prix, F1U! favorite Takuma "Suicide" Sato made one of his patented close-your-eyes-and-pray attempts at a pass. As was often the case, it didn't come off. As was also often the case, he collected another driver in the process. This time around, it was seven-time world champion Michael Schumacher, who was not exactly what you would call pleased. He got out of the wreckage of his Ferrari, stalked over to Sato (who was still sitting in his Honda), leaned over, said some words, then...
slapped the young Japanese driver across the helmet
. And a nickname was born. For a short time, he was also called "Parky", due to
an incident at the 2006 Monaco Grand Prix
, where he (ahem) accidentally blew a turn (on the narrowest part of the track) and stalled his car. Coincidentally, this was during the last moments of Quals, he was on pole, but HWMNBN (see below) was coming up fast. Stalled car = yellow flag = nobody could outqualify Schumacher.
HWMNBN
: Standing for "He Who Must Not Be Named," this nickname belongs to the Spaniard who currently drives for Ferrari. We here at F1U! recognize his immense talent and ability. We also realize that he's quite possibly the largest tw*twaffle on the grid, if not all of motorsports. It all started during his year with McLaren in 2007, when Lewis Hamilton was a rookie... and was doing a pretty good job of making HWMNBN look like an amateur. So HWMNBN went to the head of McLaren and whined and moaned and demanded that he be named the #1 Driver for the team, and that Hamilton should bow and scrape to him. This was rejected. Then came
the incident at Hungary
. Then came
Stepneygate
, HWMNBN's role in which cost the team roughly $100 million. Then came
Crashgate
with Renault. Then there was the Ferrari Fiasco at the German Grand Prix, where Felipe Massa was ordered to let him by ("(HWMNBN) is ...faster than you. Do you understand this message?") All of this, despite his immense skill behind the wheel. Damn shame he's such an unpleasant human being.
Romain "Lettuce" Grosjean
:
Romaine
is a type of lettuce.
Romain
is only one letter different. And that's how nicknames are born.
Jerome "Custard" D'Ambrosio
: Though he's currently the test driver for
Renault
Lotus, we here at F1U! stole this nickname directly from the team he drove for in 2011, Virgin. It seems that there's
a brand of custard
in Britain called "Ambrosia"... and a nickname was born.
Charles "Tooth" Pic
: It's pronounced "Sharles Peek." He's French. If he ever gets good, we'll take to calling him "The Hammer", in a nod to Charles Martel. We probably won't wind up calling him that. As to why he's called "Tooth"? C'mon, do we
really
need to explain it?
Kamui "Gandalf" Kobayashi
: One race can make you in this business. For Japanese rookie Kamui Kobayashi, that race was the
2010 European Grand Prix at Valencia
. For 39 laps he kept three faster, immensely more experienced, drivers behind him... as his tires became more and more lousy. The image of him in the cockpit, screaming "You shall not pass!" leaped to mind immediately. Oh, just read the link... it's funnier there.
Jean-Eric "Jules" Vergne
: Literary allusions FTW!
Timo "Tim O'Glockenspiel" Glock
: THREE different nicknames in one! Originally, he was Timo Glock, son of famed weaponsmaker Mr Colt. Then came "Glockenspiel," because it's obvious and we here at F1U! embrace the easy whenever possible. Then came the
Top Gear

episode
where the guys went to Monaco on race weekend and got to drive the track... okay, yes, it was in hatchbacks, but still, how cool is that? Anyway, Hamster and Captain Slow spoke to a very nice F1 driver named "Tim O'Glock." Combine the two, and voila.
Pastor "

XXXX

" Maldonado
: Not so much of a nickname as a running gag. For most, if not all, of last year, in the interest of religious equality and the desire for an all-inclusive blog, I changed the name "Pastor". One week it may have been "Imam," the next "Rabbi," then "Predicant", then "Bishop," then... every session it changed to a different religious title. Nobody mentioned it. We were bummed.
"Grizzly" Nick Heidfeld
: Many years ago, Nick Heidfeld was clean shaven. Then he grew a beard. It was ugly. The end.
Heikki Kovalainen
: He's usually called "Kovalinninninnie" here on F1U! Do you have any idea how hard it is to spell "Kovalainen"? We had to look it up. If we're lucky, we even got it right.
Narain "Kittylitter" Karthekeyan
: Almost as hard to spell as Kovalainen. Fortunately, the first Indian driver in F1 history tended to put his car in the graveltraps with startling regularity back in the day. Has actually been fairly successful in every format he's driven in... except F1.
Kimi "Mumbles" Raikkonen
: It is not uncommon for foreign speakers of English to have problems with inflection, putting emphasis on the wrong syllables of a word, that sort of thing. Kimi ignores such things by not putting
any emphasis on any word
at any time.
Zsolt Baumgartner
: That's his real name. Seriously.
I'm sure I'm missing a good gazillion others, but that should be enough to get people up to speed for the season... if not, let us know so we can
point and laugh at you!
clarify matters.
Posted by: Wonderduck at 09:42 PM | Comments (5) | Add Comment
Post contains 1103 words, total size 9 kb.
1
"Kovalinninninnie" puts me in mind of "Ararararararararagi" in
Bakemonogatari
, really.
Thanks for the reference guide! Some of them I'd sussed out, but a few remained puzzling to this day...
Posted by: GreyDuck at March 20, 2012 11:28 PM (eHm8o)
Posted by: Wonderduck at March 21, 2012 06:20 AM (m2u2C)
3
What about those no longer active this year?
I remember being stumped by "NKOTT" for a long time. Alguersuari, right?
Also, I found the Pastor racing gag quite funny (and instructive!). Had I known you'd be bummed, I'd have mentioned it.
Posted by: EcureuilMatrix at March 21, 2012 06:18 PM (Z5TzX)
4
NKOTT = New Kid On The Track. It was indeed Jaime Alguersuari, before he became
DJ Squire
.
In truth, there are probably a few nicknames along the way that I've forgotten... or misplaced. Like Guido & Ethel Minardi... flat-out, my favorite running gag, and it went away when Minardi F1 was sold and turned into Toro Rosso. Damned shame, that.
Posted by: Wonderduck at March 21, 2012 08:18 PM (AzTWp)
5
Jack NewHouse was always one of my favorites. Mostly because I was thinking it before you used it, and then one of the members of the LAT used it. Still makes me smile.
Posted by: Buttons at March 25, 2012 06:36 PM (pgDk3)
Comments are disabled. Post is locked.
31kb generated in CPU 0.0187, elapsed 0.5011 seconds.
47 queries taking 0.4907 seconds, 281 records returned.
Powered by Minx 1.1.6c-pink.