January 29, 2014
Rush: The Review
Keeping with the general F1 theme around these here parts this week, here's my official review of
Rush
, the recent movie by Ron Howard about the 1976 F1 season:
See it.
Oh, you want more?
Rush
is the story of the 1976 Formula 1 Grand Prix season, except not really. In truth, it's the story of Niki Lauda and James Hunt, rivals on the track and complete opposites off it. In 1976, Lauda was the reigning World Champion, driving for Ferrari. Hunt's first team, Hesketh, had died a miserable death at the end of the '75 season, but he had been picked up by McLaren. A massive showdown was in the making: Hunt was the quick daredevil risk taker, Lauda the master of setups and mechanical sympathy. The two were dead even on the circuit, two different styles of drivers, two different styles of men. Lauda was leading the championship midway through the season, and looked set for his second in a row.
And then came the accident.
For those who don't know the story, Lauda wrecked at the last F1 race at the Green Hell, the Nurburgring's Nordschleiffe. His car caught fire, then was hit by other racers. In all, four drivers came to his aid, getting out of their cars to pull him from the flames. However, his helmet had come off in the accident, and the fire had gotten to him: he suffered massive burns to his face, scalp and eyelids, as well as inhaling hot gasses, damaging his lungs. His right ear was essentially burned off. By any sane measure, he was out of F1 for the season, and probably forever. Before the start, he had tried to have the race cancelled due to safety concerns.
Six weeks later, he was back in the car, finishing an astounding fourth at Monza. This despite having to wear a modified helmet to minimize the pain of the healing burns on his head; every time he took his helmet off, the bandages underneath were blood-soaked. Hunt had not rested while Lauda was gone, pulling to within three points in the championship.
It wasn't until the final rainsoaked race in Japan that the season was decided. Lauda retired after two laps, stating that the weather made the track too dangerous. Hunt finished a dramatic third, winning the drivers' championship.
It's an amazing story, made all the better by it being true. Making it into a movie, however, could have very easily been a case of peeing the whole thing down the leg of the director's firesuit... even a director as skilled as Ron Howard. I know most F1 fans went into the movie hoping for detailed examinations of each race, and all the hardware that goes into a car and all that sort of thing.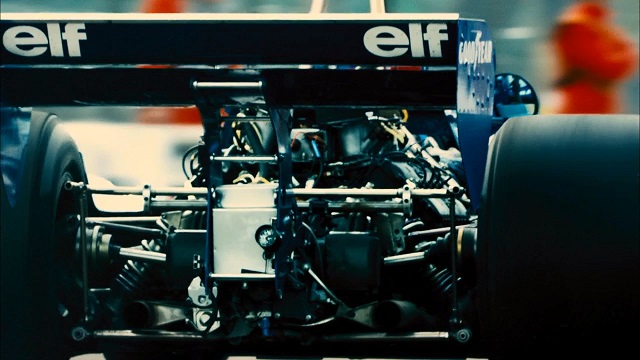 Fortunately, Ron Howard was not a F1 fan before making
Rush
, so instead of alienating most of the potential viewers of the movie, he decided to concentrate on the personalities involved. Surprisingly, the whole F1 part of the storyline becomes secondary, merely a framework to hang the characters upon. Thus, this entire film rests upon the shoulders of two men.
Chris Hemsworth
, best known for playing Thor in the
MCU
movies, plays James Hunt, the hard-drinking, hard-partying, cavalier playboy, both off track and on. He loves to race, but he also loves the benefits that come from being successful at it. Hemsworth's performance as Hunt is quite believable, and he's solid in the role. On the other hand...
...Daniel Bruhl's Nicki Lauda is pure genius. I'm sure it helped that Lauda is still alive, and thus Bruhl was able to "get inside the man". Having said that, it doesn't matter how much you can reference the source material... if you can't act, it'll show. For the two hours of
Rush
, I
believed
that Daniel Bruhl
was
Niki Lauda. He clearly steals the movie, and it was a travesty that he was not nominated for either a Best Actor or a Best Supporting Actor Oscar.
There are moments in the film that are simply breathtaking, cinematically. While there are moments that must have been CGI, a documentary I saw on the making of the movie went into great detail about how much of what's on screen was captured straight from the camera. Make no mistake,
Rush
has a certain look that's surely been modified by computers, but all in all, it's not obtrusive at all. Indeed, there are moments in the movie that are painful to watch because it looks so real. If you are at all squeamish, close your eyes during the lung vacuuming sequence.
This is not a perfect movie, for either the F1 fan or the general moviegoer. For the F1 fan, there isn't enough
racing
. There's only two extended on-track sequences (The Accident and Japan). Otherwise, we get a few seconds here and there to remind us, oh yeah, that this is a movie about Formula 1. For the general moviegoer, there's racing to deal with, and really, who wants to see that? Oh, and there's subtitles, too. Fortunately, there's very little of the "slam-the-gearshift-up-violently-to-pass" cliche in any of the scenes, and all of the drivers do an excellent job of duplicating the actual moves performed in the races. If you see Hunt pass someone on the outside in the wet in Japan, rest assured it happened that way in the real race... they paid a phenomenal amount of attention to things like that.
I'll be blunt: this is easily the best movie about F1, and perhaps racing in general, ever made (not including documentaries). It should appeal to everybody in some way, though I won't go so far as to say everybody will like it. But yeah, if you're reading this review here at The Pond, you've got to see
Rush
.
It's even better because it really happened.
Posted by: Wonderduck at 10:00 PM | Comments (8) | Add Comment
Post contains 980 words, total size 7 kb.
1
In that last picture, which one is which?
Posted by: Steven Den Beste at January 30, 2014 12:35 AM (+rSRq)
2
I answer my own question: Hunt, on the left, Lauda, on the right.
Posted by: Steven Den Beste at January 30, 2014 12:41 AM (+rSRq)
Posted by: JT at January 30, 2014 08:44 AM (iStSI)
4
It's a great movie, even without all the fast car fun. Have you seen the
preview for "1"
? I just ordered the Blu-ray today!
Posted by: SF John at January 30, 2014 09:00 PM (XeZLN)
5
SF John (it's about damn time you wandered by here!), I've actually seen the entirety of
1
. It's interesting stuff, particularly the bit with Professor Sid Watkins, recorded
just days before he died
.
Posted by: Wonderduck at January 30, 2014 10:05 PM (OcKnz)
6
Of course you have. And I assume
C'etait un Rendezvous
as well. Was there some of that Watkins interview in
Senna
? I remember your post about him. Keep up the good work, and know that your readership is out there, lurking quietly and always waiting for the next missive.
Posted by: SF John at January 31, 2014 01:08 AM (XeZLN)
7
SFJ, I believe that the Watkins interview in
1
is different than the one in
Senna
, but it's certainly from the same time period and could easily be wrong.
And our mutual friend, Vaucaunson's Duck, introduced me to
Rendezvous
a good while ago... he probably got it from you, if I don't miss my guess!
Posted by: Wonderduck at January 31, 2014 07:16 AM (OcKnz)
8
Wduck - It was SFJohn's copy of Rendezvous we saw. I didn't return it for months, and watched it many times.
Posted by: Vaucanson's Duck at February 03, 2014 09:54 PM (G6R3M)
Comments are disabled. Post is locked.
30kb generated in CPU 0.0132, elapsed 0.3459 seconds.
47 queries taking 0.3373 seconds, 284 records returned.
Powered by Minx 1.1.6c-pink.