December 10, 2008
Ikkitousen Great Guardians OVA 3
Our
continuing quest
to
discover
if the
Ikkitousen Great Guardians
series of OVAs can out-perv the
Dragon Destiny
OVAs, our friends at Studio ARMS have brought us the newest in the "sexy cosplay" contests...
And who is our lucky contestant this time around?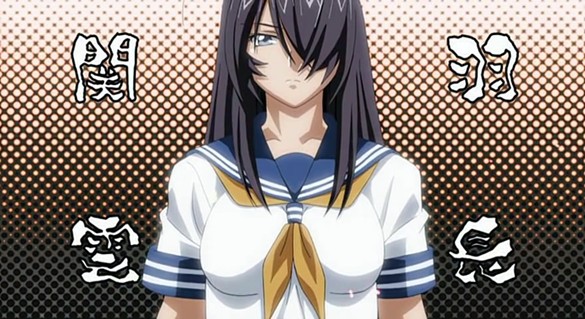 I could hear Steven's nose start bleeding from here.

None other than Kan-u Unchou herself! This has possibilities...


It appears that Kan-u is working part-time in a lingerie shop! I could think of worse things to see in your average shopping mall. But wait! A challenger approaches!
Did you know that "how about I make you wear hot black panties"
was a traditional samurai challenge?

Kakouen Myousai! You just
know
what's coming, right?
Of course she does. If she didn't, this wouldn't be much of an

I:GG

OVA, now would it?
Let the games begin!
Okay, I'll admit it: really stupid, but really fun to watch. For the blog! I'm doing it for the blog! Really! I am! Yes, that's the ticket!
Next time: who knows what depths they'll plumb?
Posted by: Wonderduck at 10:17 PM | Comments (5) | Add Comment
Post contains 181 words, total size 4 kb.
Comments are disabled.
26kb generated in CPU 0.0314, elapsed 0.1254 seconds.
47 queries taking 0.1038 seconds, 281 records returned.
Powered by Minx 1.1.6c-pink.