October 01, 2008
Ikkitousen Great Guardians OVA 1
So now we come to the most important part of
Ikkitousen Great Guardians
: the obligatory OVAs. The question is, of course, how will they be able to top the OVAs for
Ikkitousen Dragon Destiny
? They didn't quite hit "hentai" with those, but they couldn't come much closer. Will they go completely bugnutty this time? Let's find out!
Why am I thinking "Bergman" right now?

We start with most of the female cast gathered around a table... ooh! Strip poker, maybe? For this series, that'd be different, and sure would seem like it'd hold a lot of promise.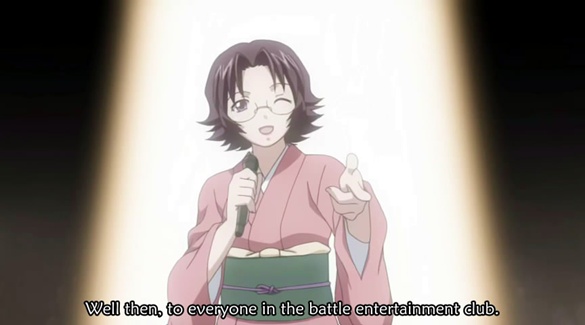 I suspect that I AM going to be "entertained".
Hakufu's mom as MC? This bodes well... or ill, depending on your point of view. But
what
is the "Battle Entertainment Club", and just what the heck does it do?
Why did the ice in my glass just melt?
Oh. Oh my. Better than strip poker.


Our first victim of "Sexy Cosplay"?
Who else but the blond haired ditz herself? It appears that Hakufu has a summer job, as a lifeguard (god help all the swimmers)... and she hates it.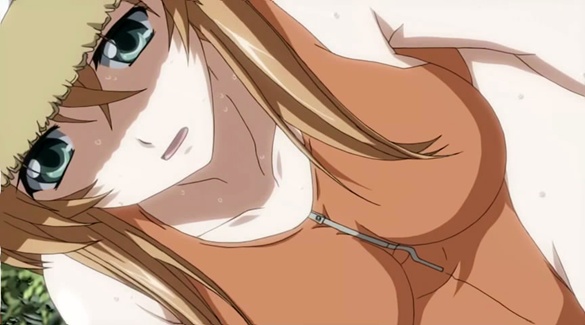 "A life-threatening job."
It's much too hot, and she's sweating a lot. No wonder she hates it so much.
But by all appearances, it was much better than her other job, that of... WAITRESS!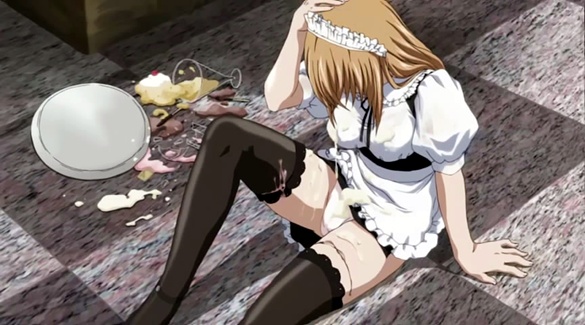 No, no symbolism there at all.
'Cause y'see, she's clumsy. The most powerful toushi in Japan, who can practically fly and jump over buildings, then destroy them with a single kick, can't carry a tray of ice cream? Yes, my friends, it's
Ikkitousen
Logic!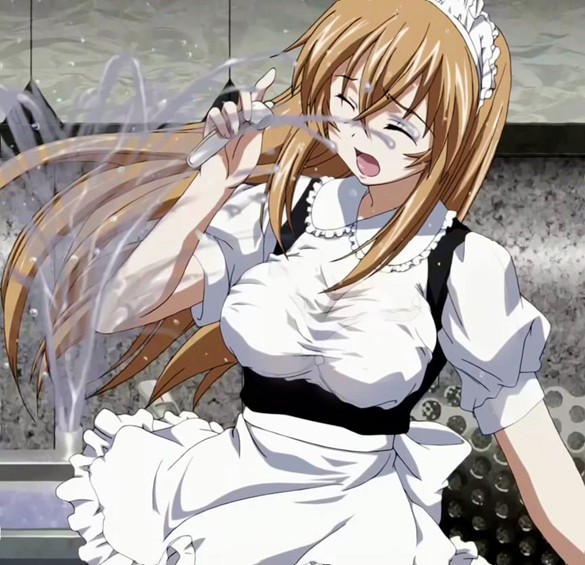 Can they be more blatant? If the answer is no, then why not?
Please answer in essay form, and yes, spelling will count.

The amazing thing is that, quite honestly, the animation in this OVA stinks on ice. The "cosplay" parts are simply still-shots, panned over by the camera. Even when the characters are speaking, the camera tries as much as possible to move AWAY from the faces, so they don't have to animate the mouth moving.
But wait! There's still one chance left to save this OVA... throw in an onsen!!!
To be honest, the OVA doesn't do anything the series doesn't, it just does it for a longer time... 15 or 20 seconds at a shot, as opposed to five seconds or so in the series.
So far, the first OVA for
Great Guardians
just doesn't measure up to the
Dragon Destiny
OVAs. However, I'll make sure to keep watching, just to make sure, then I'll keep my readers abreast
*
of any developments.
*

"Abreast." See? I made a pun.
Posted by: Wonderduck at 10:47 PM | Comments (4) | Add Comment
Post contains 292 words, total size 5 kb.
Posted by: Steven Den Beste at October 02, 2008 11:19 PM (+rSRq)
Posted by: Ton at November 23, 2008 04:39 AM (Y+ABp)
Posted by: Wonderduck at November 23, 2008 12:02 PM (hplPV)
Posted by: Steven Den Beste at November 23, 2008 12:04 PM (+rSRq)
Comments are disabled.
28kb generated in CPU 0.0296, elapsed 0.2256 seconds.
47 queries taking 0.2168 seconds, 280 records returned.
Powered by Minx 1.1.6c-pink.