April 22, 2011
Finally, A Gem For The Spring 2011 Season
A few days ago,
I bemoaned how the Spring 2011 season was doing nothing for me
. To be sure, there were a few series that had potential, but nothing had grabbed my attention and made me excited as of yet. Shows like
Nichijou
or
A Channel
, though they should have waist-high batting practice fastballs right down the center of the plate for me, had just failed to engage my interest.
Well, as of last night, that's changed. There is
one
show that was so entertaining that it made me I watched not one, not two, but
three
episodes back to back and make me immediately wish for more. That show is
Hanasaku Iroha
.
At its heart,
HanaIro
is a classic fish-out-of-water story. Ohana is sent to live with her grandmother by her dissolute mother. Grandma runs a old-fashioned hot springs inn out in the country, and has been estranged from Ohana's mother for some years. When Ohana arrives she's told that she's not a guest, she's going to have to work for her room and board. Our Heroine, a noisy city girl, immediately alienates the other employees with her graceless words and actions. Slowly coming to the realization that she has to make the best of the situation, she sets about making things right. Hijinks (and some Japanese rope bondage) ensue.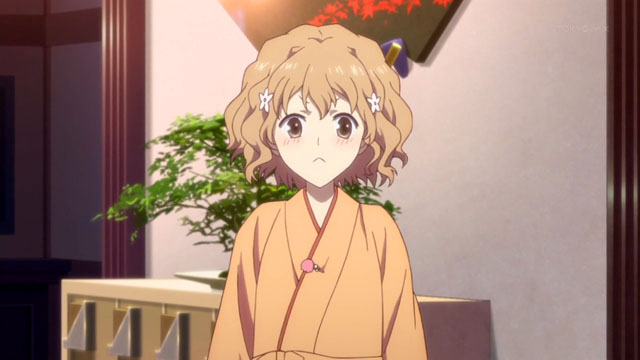 Obviously Ohana is the straw that stirs the drink, but unless her character has something to work off of, it doesn't much matter how engaging she is. Fortunately,
HanaIro
has secondary characters that are the equal to Our Heroine. An apprentice chef that seriously wants Ohana to die, a quiet waitress that thinks Our Heroine is scary, a martinet Grandmother, a prying head waitress, the heir to the inn (Ohana's uncle), the stoic head chef and his energetic assistant, even the required ancient handyman. Oh, and the guest that's a failed writer trying to make ends meet via erotic fiction, can't forget about him.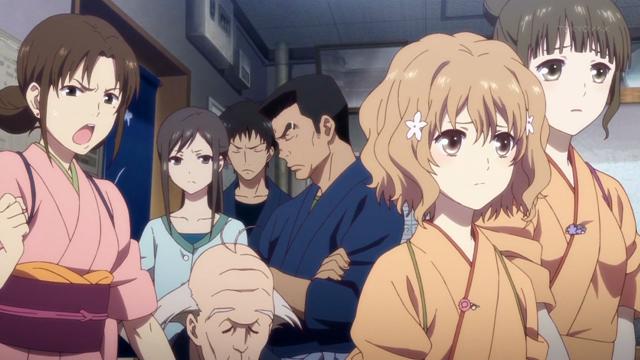 l to r: prying head waitress, apprentice chef, ancient handyman, energetic assistant, stoic head chef,
Our Heroine, quiet waitress. Not shown: martinet grandmother, uncle, perverted writer.

Everybody can keep up, character-wise, with Ohana, a tribute to this effort by PA Works. Maybe the show as a whole won't be able to stay at the energy level its been at for the first three episodes, but it's gonna be a blast finding out. Heck, it made it me laugh out loud a couple of times, is what I'm saying. Highly recommended.
Posted by: Wonderduck at 07:46 PM | Comments (4) | Add Comment
Post contains 423 words, total size 3 kb.
1
I'm glad you've found a new show to watch. Actually, I'm happy for anything to distract you writing your final review of
That Which Must Not Be Named
. Names have power, and to invoke the name of a thing to risk summoning it forth from the abyss...
Posted by: Siergen at April 22, 2011 08:13 PM (jh6XC)
2
I still await your attention.
Posted by: Episode 3 at April 23, 2011 02:57 AM (EJaOX)
3
This show represents my extremely belated entry into the world of Crunchyroll. God, I'm going to miss torrenting, the stuttering and dropouts are infuriating. It's a hell of a trade-off. I guess I can watch new shows before work when the bandwidth load is lighter...
It's cute, although I think how people respond to it depends on how they deal with characters like Ohana. She's not quite a Aspberger Sue, but there's something "off" about her. She's not quite built like normal people, which means that she throws both the characters and the audience off-balance - when they reach out to press her buttons, there's just nothing there where it ought to be, and stuff elsewhere where it oughtn't be.
Posted by: Mitch H. at April 23, 2011 04:55 AM (nbTGU)
4
Re Crunchyroll: When the screen says "Exclusive stream for ...," pause the video and do something else for a few minutes while the buffer loads. If the video still stutters, grit your teeth and try watching the show at a lower resolution. Streaming is a lousy solution to the problem of making anime available legally.
Posted by: Don at April 24, 2011 12:09 PM (ho4Dc)
Comments are disabled. Post is locked.
26kb generated in CPU 0.0165, elapsed 0.7321 seconds.
47 queries taking 0.7215 seconds, 280 records returned.
Powered by Minx 1.1.6c-pink.