October 17, 2009
F1 Quals: Brazil 2009
So it rained a little bit at Interlagos today during Quals.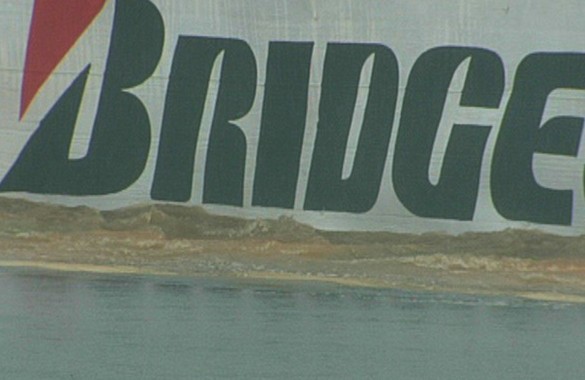 Yes, just a wee tad.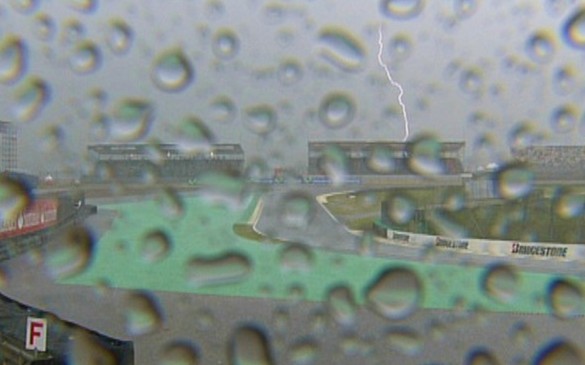 It took nearly
three hours
to get all three qualy sessions in because of the rain. The medical car, subbing for the safety car today, turned many,
many
more laps checking the track than any racer actually put on the cars. Unfortunately, I only set the VCR to run for two hours. As a result, I have yet to actually see Q2 or Q3... after Vitantonio Liuzzi ripped the back of his Force India off after hydroplaning and spinning on the front straight at the very start of Q2, a red flag stopped the session until the weather improved.
You don't usually see the axle severed from the car like that...
90 minutes later, the tape ran out before they restarted. But restart they did, despite Mark Webber, the president of the Grand Prix Driver's Association, saying
"
I don't think it was the right thing to probably start in those conditions, every driver I spoke to was of the same opinion, fortunately the right decision was made in the end, but TV drives things and we have to start
."
Here's the provisional grid:
Vettel, Heikki and Lewis are all reported to have a dry weather setup, gambling on there being no rain tomorrow. Unfortunately for Vettel, he's GOT to win to have any real chance for the driver's championship, and starting sixteenth ain't gonna make that easy for him.
To be honest, they never should have run this Quals today. There is plenty of precedent to have quals on Sunday before the race, and if there has ever been a weather-related reason to delay them, this was it.
Still, you race with what you got, and this is what they got.
See you Sunday.
Posted by: Wonderduck at 06:30 PM | Comments (3) | Add Comment
Post contains 436 words, total size 13 kb.
1
Do you have Vettel and Barrichello mixed up? Vettel has a 14 point lead going into this race.
Posted by: Steven Den Beste at October 17, 2009 11:18 PM (+rSRq)
2
Nope. Jenson Button has 85 points; Barrichello is 14 points adrift of him, and Vettel is two points behind Rubens.
If Vettel is to have any realistic chance of winning the Driver's Championship, he needs to win both here and in Abu Dhabi, and Button must DNF or score no points in at least one of the races. The same situation applies to Rubens.
Really, it all comes down to what Button does. If he DNFs, then we've got a race in Abu Dhabi. If he finishes third or better in Brazil, it doesn't matter what the other guys do, he wins the championship.
If there's a tie in points at the end, Button wins the championship on the first tiebreaker: race wins for the season. Button has six, the most Vettel can get is five (if he wins both Brazil and Abu Dhabi), and Rubens can max out at four. And please note, if we had
that stupid "Medals" plan
that Bernie Ecclestone tried to force down out throats at the beginning of the season, Button would have won the Driver's Championship at Singapore.
Posted by: Wonderduck at October 18, 2009 12:19 AM (ZgXc1)
3
You're right. I had Vettel and Button confused. (I'm an idiot.)
Posted by: Steven Den Beste at October 18, 2009 01:14 AM (+rSRq)
Comments are disabled. Post is locked.
35kb generated in CPU 0.03, elapsed 0.1414 seconds.
53 queries taking 0.1164 seconds, 275 records returned.
Powered by Minx 1.1.6c-pink.