April 15, 2011
F1 Practice: China 2011
In the past, whenever there's been a Grand Prix approaching in Shanghai, the Chinese authorities have made the various factories in the area shut down. This year, that didn't happen.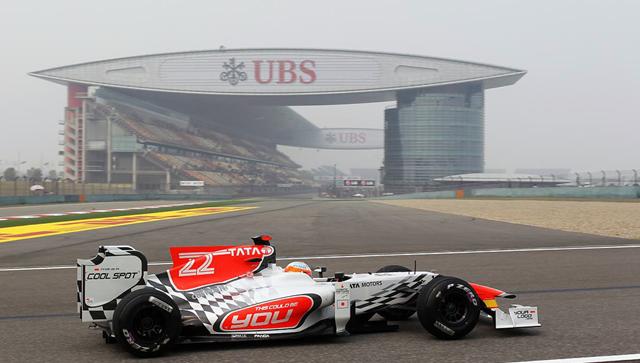 That's not fog making things in the distance look all hazy and indistinct, it's air pollution. I can only imagine what it'd be like to breathe that when you're pulling 5Gs around a track... and what about the engines? They're normally aspirated, I'd assume that there's some small loss of performance involved.
Pray for rain, ere Vettel run away again. In P1, he was a half-second faster than his teammate Mark Webber... and
two seconds
faster than anybody else. In P2, he was only a couple of tenths faster than the McLarens.
I don't have a whole lot to say about the practice sessions, truth be told. Cars drove around, Grizzly Nick Heidfeld crashed his Renault twice (once each session), the tires look to be failing even faster than they did in Malaysia, and the smog makes it look like the racetrack was built on a moor.
Oh wait, it was. Well, swampland at least. As we've learned from tracks like Interlagos, when you build on or near water (i.e., filled swamp), you have problems with the track surface. I gather that they had some problems with subsidence over the past year, as there are new sections of asphalt scattered all over the circuit. Didn't seem to be causing any problems, though.
The tires seem to have picked up a new, unpleasant, trait: the rears seem to work great... right up until the point where they lose grip and snap the cars in random directions. We were seeing that all day; it looked like the drivers had no idea if or when they were pushing too hard. The first indication they had was when the car suddenly was pointing against the direction of traffic. Yeek. And, like in Malaysia, the soft tires may as well just be jelly-donuts after a couple of laps. The hard tires aren't much better. I suspect that Pirelli is gonna be hearing even more complaints right quickly.
Quals tomorrow.
Posted by: Wonderduck at 09:18 PM | No Comments | Add Comment
Post contains 358 words, total size 2 kb.
Comments are disabled. Post is locked.
22kb generated in CPU 0.0111, elapsed 0.5028 seconds.
45 queries taking 0.4958 seconds, 275 records returned.
Powered by Minx 1.1.6c-pink.