February 02, 2013
F1 Pr0n: Sauber C32
I'll admit a certain affection for Team Sauber. As one of the last of the true privateer teams, they were a throwback to the old times of F1, where corporate sponsorship was not a guarantee of success and a man in a shed could build a race-winning machine. Team namesake Peter Sauber was one of the true gentlemen of motor sports as well. He sold his team to BMW in 2005, who ran it until 2009 before deciding to get out of F1. The team looked like it was dead, but Sauber bought it back from BMW because he could not stand to see "his" employees lose their jobs like that. That's class, and that's reportedly the way that Team Sauber operates every day. It was thus with some sadness that the F1 world received the news last season that Peter Sauber had decided to retire (again), handing the keys to his team to Monisha Kaltenborn, the first female team principle in the sport. In the recent past, Sauber cars have been mostly white, as befitting the nice guy image of the team.
This ain't Peter Sauber's team anymore. It's also no longer
the C31
, and it's the first car this season to have some serious changes made to it. It's gone on a serious weight reduction program, with changed air intakes, and much, much smaller sidepods.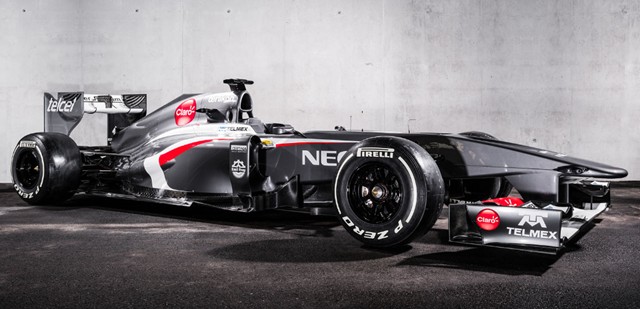 Forward of the cockpit, there's not much change. Everything aft of there, though... Apparently, when then-Sauber driver Sergio Perez had
his serious accident at Monaco in 2011
, one of the car's sidepods was heavily squashed. Car designer Matt Morris took a look at the result and said "I wonder if we can do that for real?" Here's the result. Slimmer sidepods, with the McLaren-style exhaust pipe exiting from the side of the pod. A much more compact rear end, with better aerodynamics around the rear suspension. Considering that there's nothing on the design that'll be able to be carried over to 2014, it's a remarkable job of design... makes me wonder when they started work on it?
And dear merciful heavens, that livery! I'm sorry, but Peter's Saubers all looked friendly in their white schemes, but Monisha's? That's one badass-looking car! Menacing... not something I'd want to see coming up behind me. Maybe we'll see some movement in the standings from Sauber this year... I hope.
Red Bull are up on Sunday.
Posted by: Wonderduck at 10:48 PM | No Comments | Add Comment
Post contains 403 words, total size 3 kb.
Comments are disabled. Post is locked.
23kb generated in CPU 0.0382, elapsed 0.1124 seconds.
45 queries taking 0.1046 seconds, 275 records returned.
Powered by Minx 1.1.6c-pink.