January 31, 2011
F1 Pr0n: Sauber C30
Of the three rollouts today, only Sauber released studio glamour shots of their steed, so let's give them the attention they richly deserve!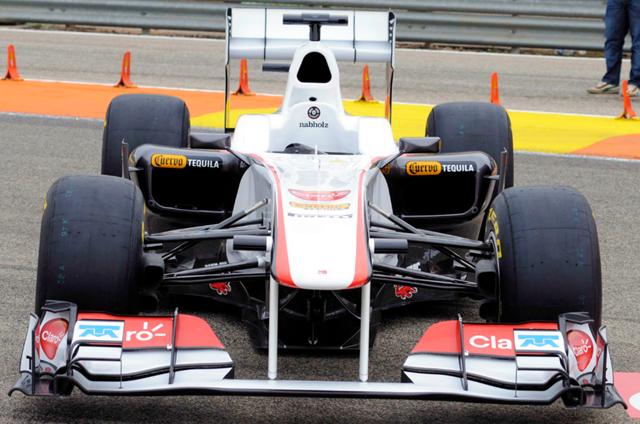 Yes I know, that's not a studio shot. Well, they didn't do a studio shot of the nose. We take what we can get 'round these parts. Again, let's
compare to last year's car
. Unlike the Ferrari, the sidepod intakes sure look larger than on the C29... in fact, the sidepods as a whole seem bulkier, at least from the front. It's a high nose, but that's more of a carryover from the 2010 chassis than a copy of the Red Bull. However...
...it has more of a droop than the C29. Maybe it's an optical illusion, but the nose seems more pointy than last year's. The shark's fin stretching to the rear wing is gone as well. After looking at the side view, I'm pretty sure the
sidepods
are bulkier. That can mean one of two things: one, the KERS unit takes up more space than I expected, or two, they expect to have cooling problems, leading to bigger radiator units (ergo, the larger inlets). Or something else altogether... it's so hard to tell with a F1 car. It might be simple aerodynamics, too.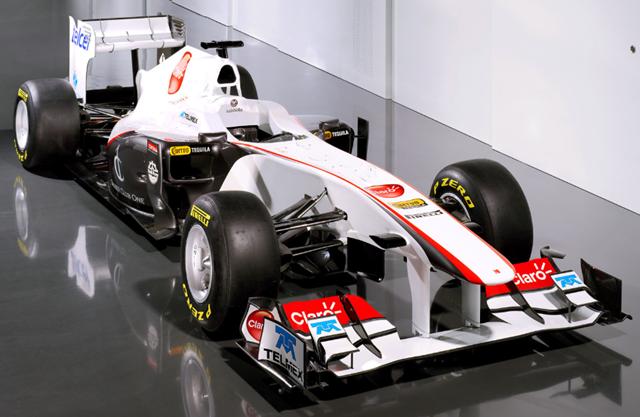 I dunno... I think I prefer the looks of the C30 over Ferrari's F150. I'm just not sure if that's because it's really a better looking car, or if it's because I despise Ferrari so much. The addition of sponsor logos is welcome; it might let Sauber actually advance the design during the season. I was going to comment on the proliferation of Mexican-based business logos (Cuervo tequila, Telmex, Telcel, Claro), until I remembered that Sergio Perez is driving for Sauber this season. The addition of some color to the livery helps the looks, too.
Of course, looks don't win races... if they did, Lotus would have won every race last year.
Posted by: Wonderduck at 09:39 PM | Comments (4) | Add Comment
Post contains 324 words, total size 2 kb.
Posted by: Steven Den Beste at February 01, 2011 12:49 AM (+rSRq)
Posted by: Mallory at February 01, 2011 04:12 PM (WJ2qy)
Posted by: Wonderduck at February 01, 2011 04:13 PM (W8Men)
Posted by: Tony von Krag at February 01, 2011 09:47 PM (VGXAE)
Comments are disabled. Post is locked.
23kb generated in CPU 0.04, elapsed 0.2281 seconds.
47 queries taking 0.203 seconds, 263 records returned.
Powered by Minx 1.1.6c-pink.