January 07, 2008
F1 Pr0n: MP4-23!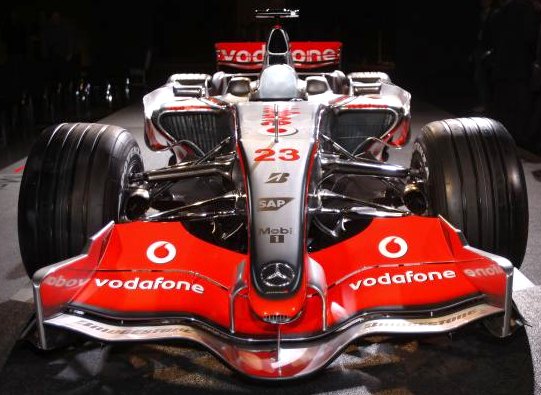 Ohhhh-
boy!
Remember what I said earlier, that Ferrari does build 'em purty? Well, they ain't got
NUTHIN
' on McLaren. Their 2008 charger, the MP4-23, debuted earlier today, and to be honest, it looks pretty much like the MP4-22... without the flyover bridge nose wing, though.
But who cares? Let's get to the pr0n!
Unlike Ferrari, it appears that McLaren doesn't believe in "glamour shots", instead rolling their cars out onto the stage and letting photographers go at it. As a result, it's a bit harder this year to see any difference in bodywork. The bargeboards seem a little smaller, and it might be telling that there's no advertising on the nosewing endplates... sponsor flight? Maybe.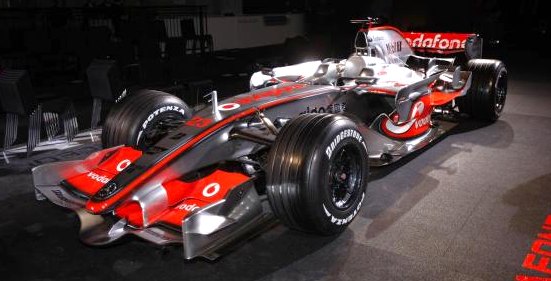 Having said that the team doesn't go in for glamour shots, they sure did manage to get the
homina-homina-homina
factor going with these. Sad that the number on the car is 23, though. Y'know, back a few years ago, I didn't think that I'd like the new "glare on wheels" paint scheme for McLaren. Now, though, I gotta say that it's probably the most stunning car on the track... followed closely by the Ferrari. I don't like Ferrari; that's no secret. But the red car is iconic, and probably the most recognizable racer in the world... even to non-F1 fans.
If those earlier photos were cheesecake, though, here's the centerfold:
...I can't even see the staples.
Posted by: Wonderduck at 09:16 PM | Comments (5) | Add Comment
Post contains 234 words, total size 2 kb.
Posted by: madmike at January 08, 2008 09:38 AM (xwTH1)
Posted by: Will at January 08, 2008 01:00 PM (WnBa/)
Posted by: Steven Den Beste at January 08, 2008 03:57 PM (+rSRq)
Posted by: Will at January 08, 2008 10:12 PM (E3UGR)
Posted by: Buttons at January 11, 2008 10:16 AM (VjS5e)
Comments are disabled. Post is locked.
25kb generated in CPU 0.04, elapsed 0.1225 seconds.
53 queries taking 0.1006 seconds, 275 records returned.
Powered by Minx 1.1.6c-pink.