February 04, 2013
F1 Pr0n: Mercedes W04
If Force India isn't the most disappointing team in Formula 1, Mercedes is. Taking over BrawnGP after that team's one and only season, in which they won both Championships, Mercedes then brought Slappy Schumacher out of retirement to lead their team. They promptly peed the first two seasons down the leg of their firesuits. Last year, they got their first win behind Nico Rosberg, sent Slappy back to retirement, and threw their wallets at Shiv Hamilton to lure him away from McLaren. I've heard this described as a mere marketing ploy, and there certainly is some of that involved, but it will prove important in other ways. For one, Shiv is a much better driver than Slappy, which should show on-track. For another, Hamilton can actually spend time in the simulator without getting sick all over everything, unlike Schumacher. Back in his old Ferrari days, when teams had unlimited testing, Slappy was a legend, pounding out lap after lap after endless lap, and giving back immense amounts of technical feedback for the engineers to work with. Now that teams can't do that, they rely on simulators... and Slappy gets sim-sick. So now they'll get better simulator results from two good drivers. But will the car underneath Rosberg and Hamilton be any good? Here's our first look at the Mercedes F1 W04...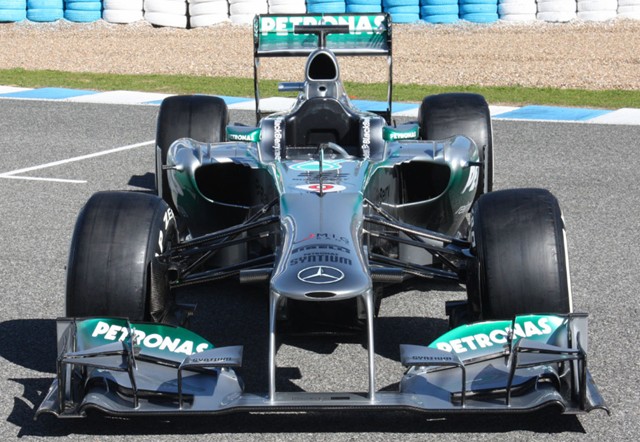 It's already being called the "ducknose." While it IS an improvement, cosmetically, over the
W03
, that's not exactly saying a whole lot as that chassis was monumentally ugly, even in a season where most of the cars were homely. There's a bunch of little changes from last year's car visible in this shot. For example, the outside edge of the sidepods are now turned up, better to shovel air towards the rear of the car. The airbox over the driver's head is now just a single piece, instead of having a main intake and then a smaller one behind it. The radiator inlets are smaller and mounted higher in the sidepod. There's even new mirrors.
As with most everybody else, Mercedes seems to be copying the Red Bull style of sidepods/exhaust on the W04. Again, if you're gonna steal, may as well be from the best. The nose has the modesty panel in place, and it still looks hideous from this angle.

However, if it wins races, it'll be beautiful in no time. I think part of the cosmetic problem is that it's a rounded nosecone joining to an essentially square fuselage. Just by definition, that's gonna be awkward. The technical websites out there are all saying that the W04 is a step back from the overly complex W03 (that ate tires like ducks eat bread) to something more aerodynamically clean. The front wing is the same one that was run at the end of 2012, so expect something new there.
Okay, it's hideous. Will the addition of Hamilton make it pretty? We'll see soon enough!
Toro Rosso rolled out today as well; I'm moving them to a F1 MegaPr0n tomorrow along with Caterham and Marussia. See ya then!
Posted by: Wonderduck at 11:24 PM | Comments (4) | Add Comment
Post contains 514 words, total size 3 kb.
Posted by: Ben at February 05, 2013 09:57 AM (/Mdmg)
Posted by: Tom Tjarks at February 05, 2013 12:04 PM (T5fuR)
Posted by: Wonderduck at February 05, 2013 12:17 PM (OS+Cr)
Posted by: Tom Tjarks at February 05, 2013 12:30 PM (T5fuR)
Comments are disabled. Post is locked.
25kb generated in CPU 0.05, elapsed 0.1845 seconds.
47 queries taking 0.1606 seconds, 262 records returned.
Powered by Minx 1.1.6c-pink.