February 21, 2012
F1 Pr0n: Mercedes W03
The last of the heavy hitters is late to the party, but at least they've finally showed up. Ladies and Gentlemen, might I introduce the Mercedes W03!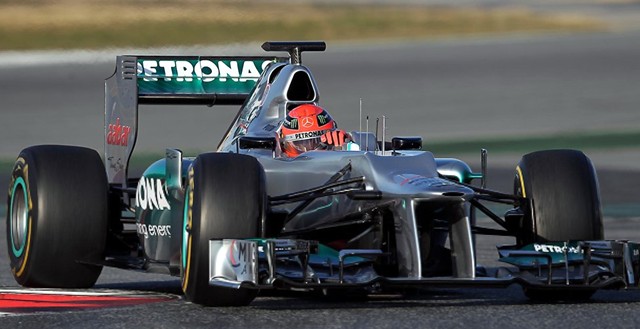 Apparently, Merc is kinda cheating just a little bit on the platypus. Only the outside edges of the bump are at the legal height... which fits the letter of the law, if perhaps not the spirit. Since this is F1, it's already been declared legal.
Small sidepods, small radiator intakes, not much of an undercut, a pair of extra intakes just behind the airbox... and oh my gawd the platypus looks completely hideous on the W03. Ross Brawn hisownself came out and said that the nose design "is certainly an acquired taste." So is the barrel of a shotgun.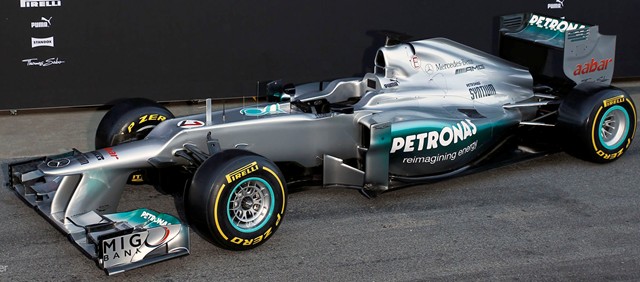 The team says that there's 4500 parts to the W03, up 200 from last year's car. They say that like it's a good thing, but isn't that 200 more things that can go wrong? I dunno; Merc is saying that they're going to make a run at the championship this year, and more power to them. But I just don't see it happening. They've been 4th the past two years, and while I'd love to see them jump Ferrari, McLaren and Red Bull, it seems like a stretch.
But then, they were once known as Brawn GP... and we all know what happened there.
Posted by: Wonderduck at 08:14 PM | Comments (1) | Add Comment
Post contains 234 words, total size 2 kb.
1
I wonder if you could legally spread the "bump" part of the nose out to the sides and leave the middle part low, forming a "V" shape. It might make some aerodynamic sense, and would certainly LOOK much better, while still serving the purpose of having a high nose for safety purposes.
The "W-duct" that Mercedes is playing with certainly looks interesting. Apparently they've got ducts going from that hole in the nose and running out to various points all over the forward wing. There's also apparently a redirector of some sort in the nose behind the vent that manages how much air goes out which duct depending on whether the car is going straight, right, or left. It doesn't seem like you'd get enough intake air for it to make a difference, but presumably they've tested it and think it's worth the effort.
Posted by: David at February 21, 2012 09:27 PM (Kn54v)
Comments are disabled. Post is locked.
23kb generated in CPU 0.0354, elapsed 0.1544 seconds.
47 queries taking 0.1306 seconds, 277 records returned.
Powered by Minx 1.1.6c-pink.