March 11, 2011
F1 Pr0n: HRT F111
Last season, HRT missed being the worst team on the grid by virtue of finishing 14th three times to Virgin Racing's two. Despite this unlikely fact, the F1Update! team universally considers them to have been the worst. This psychological block is probably caused by two things. First, they did a grand total amount of
zero
pre-season testing last year. Their 2010 car didn't turn a single lap until the practice sessions of the opening race of the year, and that was only one car for 20 laps. Hard to make an impression when that's the limit of your experience, y'know? The second reason was that their car, the
HRT HRT
, which they later retconned to F110, was the flat-out
ugliest
beast out there. Mud-brown and orange, it just hurt to look at the thing.
Well, no longer. This year, they're going to get their car on-track for one day's worth of preseason testing (
UPDATE: see below
). And this year, the car looks oh-so-
fine
.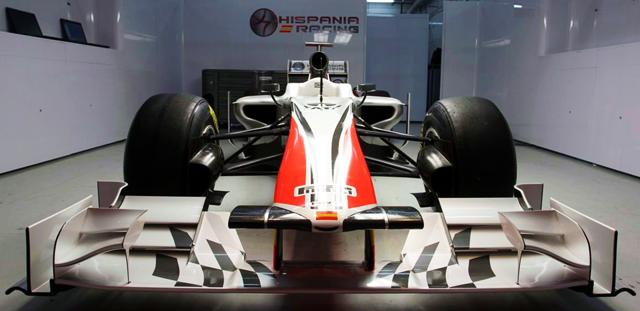 When HRT released renderings of the F111, I asked for a good nose-on shot. Now that we've gotten one, I have no idea exactly
why
I wanted it. It's definitely the steepest nose-droop out there. The brake ducts are large enough to swallow a track marshal, just like last year. Sidepod intakes are basically the same as everybody else, more or less. One thing of note is that the nose incorporates the FIA-mandated camera mounts (the black horizontal structures to either side of the Spanish flag) into the actual design, where everybody else just mounts them to the side. They're supposed to be aerodynamically neutral, but I can't help but think that doing this is to the F111's advantage. The front wing is much more complex than I expected to see from the team.
From the side, the most striking thing about the car is the livery. I said it earlier and I'll say it again: this is how a race car should look. The eye-catching graphics appeal to the eight-year-old in me, I admit it. The sponsorship begging is a bit of a turn-off, but hey, they need the money and they've got the space, why not? Other than the low, droopy nose and the paintjob though, the rest of the car looks pretty average. It looks like a F1 car, and that's not a bad thing at all.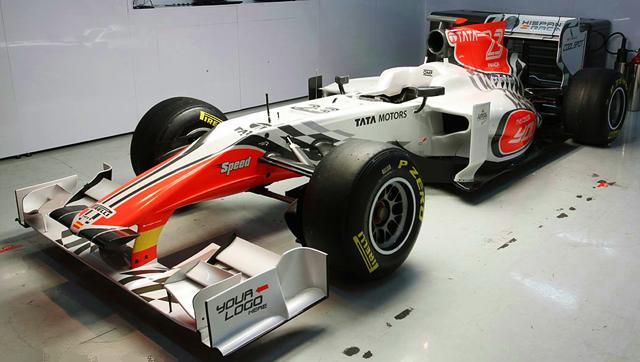 Team boss Colin Kolles claims that the car will be "significantly faster" than last year's charger. They've got the same powertrain that the Williams team is using, and we know how that worked last year; in theory they could be a surprise. My guess? They might get a point or two for the entire year, if they last that long. Let's hope they do.
UPDATE
: Late news from Spain is that HRT will
not
be participating in Saturday's testing session. They have important parts of their car held up in customs, and nothing they've been able to do have managed to get Spanish officials to release them. That can't be a good thing. Even one day of testing would have been a boon beyond measure for the team.
Posted by: Wonderduck at 09:19 PM | No Comments | Add Comment
Post contains 525 words, total size 4 kb.
Comments are disabled. Post is locked.
24kb generated in CPU 0.0178, elapsed 0.4472 seconds.
45 queries taking 0.4383 seconds, 275 records returned.
Powered by Minx 1.1.6c-pink.