July 19, 2011
F1 on TV!: Germany 2011
Once upon a time, there was a track called "The Green Hell." 12.9 miles long, with 154 turns, it was the
ne plus ultra
of the racing world. The toughest, most demanding purpose-built track in the world, and quite possibly the most dangerous as well. If you could win a race here, you had done something truly special. It was more correctly known as The Nurburgring, and despite the similar name it is
not
where the 2011 Grand Prix of Germany is being held. Let's take a look at the Nurburgring track map where we'll be racing this weekend: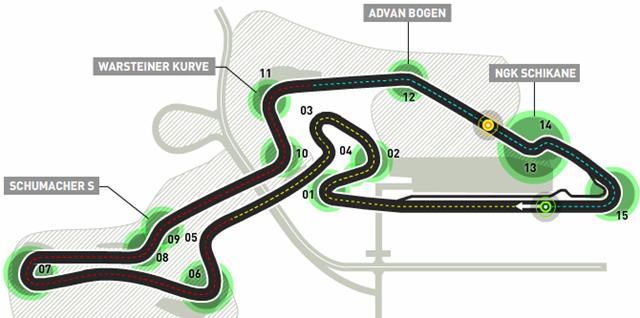 Correctly known as the Nurburgring GP-Strecke, I prefer to call it "Nurb Jr.", though a local nickname, "Ersatzring", is pleasing as well. It's shorter, less challenging (though trying to thread a needle while driving a F1 car would also be less challenging), and infinitely safer. It's a high-downforce circuit, with a generic level of tire wear. It also alternates with Hockenheim on the F1 calendar, so the last time we were here, BrawnGP and Jenson Button were winning everything in sight. Of course, that means that such things as the quick-wearing Pirelli tires, DRS-enabled rear wings, blown diffusers and constant-flow throttle, and the crazy-go-nuts Red Bull chassis haven't been here, so it'll all be new and fresh.
"But wait just a minute Wonderduck," I hear you saying. "You've wasted hundreds of words over the past few races trying to describe what effect the removal of the constant-flow throttle and blown diffuser would have. It's gone, the FIA took it off the cars!" Smugly, you sit back, sure that you've caught the head of F1U! in a mistake.
Yes, well, the FIA apparently had their fingers crossed when they said all that about things being taken off the cars. Effective immediately, teams can go back to "Valencia"-spec setups... including the blown diffusers.
T'anks
, FIA! In 2012, though, all that stuff'll be gone again.
But we've still got this race weekend to get through, and as usual, the Legendary Announce Team will be there to call all the action. As I'm saying the same thing every race, I'm just going to list the times now.
Friday - Practice 1: 3a-430a (streaming), Practice 2: 7a - 840a (live on SPEED)
Saturday - Practice 3: 4a - 5a (streaming), Quals: 7a - 830a (live, SPEED)
Sunday - GP of Germany: 11a - 1p (tape delay, FOX)
This is the last race of the year on FOX... hurray! We'll see you then!
Posted by: Wonderduck at 08:12 PM | Comments (7) | Add Comment
Post contains 421 words, total size 3 kb.
Posted by: von Krag at July 20, 2011 12:29 PM (VGXAE)
Posted by: Wonderduck at July 20, 2011 09:23 PM (3tp4g)
Posted by: Steven Den Beste at July 20, 2011 10:52 PM (+rSRq)
Posted by: Peter the Not-so-Great at July 21, 2011 06:51 PM (wL7w9)
Posted by: Steven Den Beste at July 21, 2011 07:09 PM (+rSRq)
Posted by: Wonderduck at July 21, 2011 07:17 PM (3tp4g)
Posted by: Steven Den Beste at July 21, 2011 11:14 PM (+rSRq)
Comments are disabled. Post is locked.
26kb generated in CPU 0.04, elapsed 0.0985 seconds.
53 queries taking 0.0793 seconds, 276 records returned.
Powered by Minx 1.1.6c-pink.