May 10, 2010
F1 on SPEED!: Monte Carlo 2010
Leaving the most average circuit on the calendar, the F1 Circus trundles up the coast about 300 miles to what is probably its most unique track: Monte Carlo. Nowhere in the world will you find a layout like the Circuit de Monaco, with the slowest turn in F1 as well as one of the fastest. No other F1 track has a tunnel as part of the racing surface (Yas Marina in Abu Dhabi has one, but as part of the pit lane), and very few tracks anywhere in any marque. Narrow and dangerous, it's only on the schedule because it's
always
been on the schedule, and like as not it always will be... because Monaco is the spiritual home of Formula 1. Let's take a look at the map...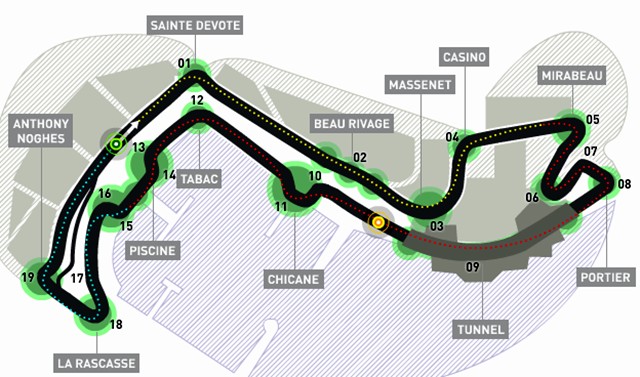 One goes uphill from Ste Devote to right around Beau Rivage, then downhill from just past Casino down to Portier; probably the largest elevation change in the shortest distance in F1 (Spa's elevation change is likely greater, but over a longer stretch of track). Of course, in that downhill stretch is the Loew's Hairpin, noted as Turn 6 on the map (I don't care what it's called these days, it'll always be Loew's to me). A more-than-180° turn if you follow the racing line, it's taken at around 30mph and teams usually have to modify the front suspension on their cars just to be able to make the turn at all. That modified suspension is what allows the cars to make the nearly-180º turn at La Rascasse, home of Slappy Schumacher's infamous
"Parky" incident in 2006
. There's only just enough room on the track to get two modern F1 cars side-by-side, but barely. Of course, the layout is surrounded by Armco barriers and concrete walls (in the tunnel), with precious little runoff area anywhere: Ste Devote and Turn 13 have some, but that's about it. Heck, Ste Devote's runoff area leads directly to the steps of the church located there. I don't know if anybody has ever made it that far, but it's not impossible.
The track, of course, is made up of city streets. For drainage purposes, the streets are crowned in the middle, making it even more difficult to drive a F1 car on. Throw in the oil left behind by everyday use, and Monaco might be the dirtiest, most slippery circuit you'll ever come across. If you can win here, you've accomplished something described as like "riding a bicycle in a phone booth," and your name will go down in the history books as having won F1's Crown Jewel.
F1's Crown Jewel, one of the three races that make up the (unofficial) Triple Crown of Motorsport (along with the Indy 500 and the 24 Hours of LeMans). Only
Graham Hill
has accomplished this feat, but Juan Pablo (The Pope) Montoya is still eligible, needing only LeMans. Of course, he's driving in NASCAR these days, which conflicts with the 24 Hours, but it's still possible.
So who will take that first step to immortality? We'll find out starting on Thursday morning, from 7am to 840am, with live coverage of the 2nd Practice session. Yes, Thursday: Friday in Monaco is reserved for the Monagasts returning home... just another of the quirks of the Grand Prix of Monte Carlo. Saturday morning, from 7am to 830am, is almost live coverage of Quals. It's nearly as important to be on pole here as it is in Spain, so being first on Saturday means you've a good shot to be first on Sunday.
The race begins on the aforementioned Sunday at 630am, and goes until 9am. There appears to be no replay scheduled as of yet. Of course, we of F1 Update! will be here for our usual coverage of the race (even though we're working Sunday morning), so we'll see you then!
Posted by: Wonderduck at 09:23 PM | Comments (3) | Add Comment
Post contains 645 words, total size 4 kb.
1
Just to cross everyone up, they ought to run the course the opposite direction some year.
Posted by: Steven Den Beste at May 11, 2010 11:09 AM (+rSRq)
2
I camped out in a Monaco courtyard circa 1970 to see the race. I wasn't disappointed. http://www.grandprix.com/gpe/rr187.html has a great overview but I wish I could let you see what I saw through my then 20 yr old eyes.
Posted by: vonKrag at May 11, 2010 11:43 AM (VGXAE)
3
40 years ago the race, and the cars, were a
lot
different!
Posted by: Steven Den Beste at May 11, 2010 01:38 PM (+rSRq)
Comments are disabled. Post is locked.
22kb generated in CPU 0.03, elapsed 0.0873 seconds.
53 queries taking 0.0702 seconds, 220 records returned.
Powered by Minx 1.1.6c-pink.