September 29, 2009
F1 on SPEED!: Japan 2009!
Three races left, and the F1 circus comes to the Land of the Rising Sun. But NOT the same track we've seen
the past
two years
! No more
Pole Position
jokes.
But that's okay, because the Grand Prix of Japan is returning to Suzuka!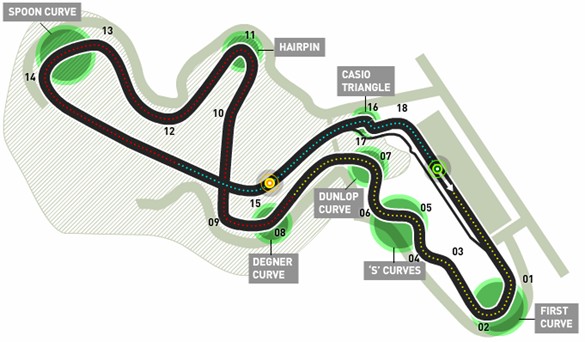 Understand, this is kinda like trading the Hungaroring and getting Spa in return. The Mt Fuji circuit is nice, but Suzuka is the one track that
every
driver loves. The only figure-of-eight layout on the calendar, it might have the best balance between manueverability and speed as well. The turns are challenging, but they're placed just right so they
don't
mickey-mouse the track.
Which is not to say the circuit is perfect. No, the powers-that-be took the Legendary Turn known as 130R and mangled it into Turn
14
15, now a double-apex left-hander. 130R (so-called for its radius of 130 meters) used to be, like Eau Rouge, a test of a driver's manhood: only the bravest could take it flat-out. In 2003, however, it was broken up into two separate turns for safety's sake, as it had been extremely dangerous.
Allan McNish's crash in 2002
turned out to be the final straw. While he walked away with minor injuries, everybody concerned knew that it was only luck that he wasn't killed. In a cruel twist of fate, motorcycle racer Daijiro Kato was killed in the reprofiled turn in 2003.
As a high-speed circuit, don't be surprised if we see a return to prominence by the Force India cars, by the way. While manueverability is important at Suzuka, it's high-speed manueverability we're talking about (unlike, say, Singapore or Monaco), and FI has shown that it can do that.
There's plenty of elevation changes through the length of the track, so the drivers feel like they're actually going somewhere, too. Downforce levels are expected to be medium-to-high.
SPEED'll be bringing us all the usual action, but NOT at the usual times. Yes, Japan is one of the few races we here in the US can actually watch live without waking up waaaaaaaay too early! Practice 2 comes to us from midnight to 140am Friday morning, with Quals starting at the same time and going until 130am on Saturday morning.
For the race, however, SPEED is pulling out all (well, most) of the stops. From 10p to 11p on Saturday night, we get to see "F1 Rocks!", a three-night concert during the Singapore GP. From 11p to 1130p, they'll show us "Inside Grand Prix," the promo show brought to us by Allianz ("Doing stuff with other people's money: Allianz") and Mr Snooty-Voiced Guy. Finally the race coverage proper begins at 1130pm and goes until 2am.
There'll be a replay from 9pm to 1130pm Sunday night. All times are, of course, Pond Central time. Add one hour for Eastern, subtract two hours for San Francisco time (you listening, Vauc? Maybe find a sports bar or something!), and minus several million hours if you're a time traveler.
This time around, I expect to provide my usual coverage, so we'll see you here!
Posted by: Wonderduck at 09:15 PM | Comments (3) | Add Comment
Post contains 516 words, total size 4 kb.
1
You know, for all the complaining we've been doing about the way that F1 jiggered the construction rules this year, and about how it is "Bizarro season", this has been a hell of a lot more interesting than last year or the year before, when the only question was whether McLaren or Ferrari was going to be the winner. It's been a lot more interesting when literally any team can win it.
Proved by your comments in this post about Force India. Routinely at the bottom in years past, and a rolling joke, in this season even they are competitive.
And while I'm glad that McLaren finally got their cars straightened out and Hamilton is beginning to perform, it's rather nice that he hasn't been winning every race so that there's room for someone else on the podium.
I took a look on Google Maps at the Suzuka race track, and half of it is covered by a big white cloud! But turns 13 and 14 were clear, and I was trying to figure out where the track used to run. It looks to me like they widened it. It looks like the track used to run inside where it is now. Is that right?
Posted by: Steven Den Beste at September 30, 2009 12:36 PM (+rSRq)
2
I believe that's the case, yes. I'm not sure if the barrier that's visible on the googlemap to the inside of the track is the inside of the original turn or not, though.
Posted by: Wonderduck at September 30, 2009 04:07 PM (/O6qY)
3
Yay! I love that Saturday night line-up. That and a pot of coffee will be just the thing to stay awake for the race (I'm not a night owl - lol).
Posted by: Mallory at October 01, 2009 07:15 AM (WJ2qy)
Comments are disabled. Post is locked.
26kb generated in CPU 0.0142, elapsed 0.1518 seconds.
47 queries taking 0.1418 seconds, 279 records returned.
Powered by Minx 1.1.6c-pink.