April 21, 2009
F1 On SPEED!: Bahrain 2009!
After two very wet races, we find ourselves headed to the island kingdom of Bahrain, home of the Bahrain International Circuit. Situated in the middle of a desert, at one point there were fears that blowing sand would disrupt any race scheduled there. This problem has mostly been solved by the application of an adhesive over the desert in the vicinity of the track beforehand.
I say
mostly
since a rogue sandstorm or two can cause havoc, as
we saw during off-season testing
. Still, while nothing will prevent some sand from getting on the circuit, generally it's not much of a problem anymore. Let us take a look at the course, shall we?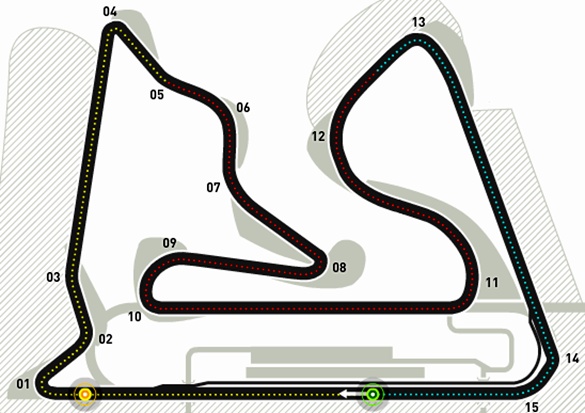 Yep, it's another Hermann Tilke circuit, the third in a row. This one, though, isn't quite as bad as the others for passing. It's still not good, mind you, but it's not bad. It IS the safest circuit on the calendar, due to the huge run-off areas (building in a desert does have some advantages... and natural sand traps, too!) and an ultramodern medical station to boot. Like other Tilke designs, there are distinct differences between the high-speed and "technical" sectors, though they aren't quite as dramatic as at his other designs. In fact, if there was ever a course where KERS will make a difference, it's this one. There's enough room between turns in sector two (red) to allow a driver to have free rein over where he can use the boost button.
All in all, a less-bland modern circuit than some others. Assuming we don't have rain (ahem) or sand, I'd expect the Brawns to show their... um... brawn on this track, with the Toyotas and Red Bull not out of the picture.
Still and all, there's every chance in the world that some other team will pop up and make a move this year. That's why they actually hold the race, and why SPEED will be bringing it to us live as usual!
Coverage begins on Friday, April 24th, from 6am to 740am, with live coverage of Practice 2. Saturday brings us Quals from 6am to 730am. Sunday, from 630am to 9am, is the actual Grand Prix of Bahrain, with no replay scheduled. At least it's at a time that, theoretically, one could wake up and catch it live.
Not me, though. F1 Update! will be watching the race via the miracle of a VCR. See you Sunday!
Posted by: Wonderduck at 09:28 PM | Comments (1) | Add Comment
Post contains 409 words, total size 3 kb.
1
YAY, no getting up in the middle of the night for this race.
Now, if the sand will just behave itself. ;-)
Posted by: Mallory at April 22, 2009 05:53 PM (WJ2qy)
Comments are disabled. Post is locked.
21kb generated in CPU 0.16, elapsed 0.2606 seconds.
47 queries taking 0.2247 seconds, 240 records returned.
Powered by Minx 1.1.6c-pink.