November 17, 2014
F1 on NBCSN: Abu Dhabi 2014
So it comes down to this. The season which first saw the lights go out in Melbourne will see the checkered flag flown in Abu Dhabi. From the land where everything is trying to kill you, to a small island that holds nearly 10% of the world's oil reserves, and thus has a ridiculous amount of money lying around... a perfect atmosphere for Formula 1. Let's take a look at the track map for the 2014 Grand Prix of Abu Dhabi, shall we?
The Yas Marina circuit is probably the richest, most expensive purpose-built racing circuit, not just in F1 but perhaps in the world. At least as far as a "how to" guide to build an entire racing area, Abu Dhabi is probably THE place to go. The circuit itself, eh, not so good thanks to the influence of Hermann Tilke. Remember, this is the place that has the pit exit that runs underground and crosses under the circuit. It
also
has what is probably the single most ridiculous hotel you could ever hope to stay at, the Yas Viceroy... that's the dark gray handheld razor-shaped thing between Turns 18 and 19. 499 rooms, and while it's currently sold out for the race weekend, you can get a Marina Deluxe King room for about $230/night normally. If you want to be a plebe about it, that is. For something higher end, there's the Presidential Suite... 400m
2
, two floors, private lap pool, terrace overlooking the track, touch panels for the whole-suite ambient lighting, the works... all this can be yours for a mere $5200/night normally. I'd be fascinated to see what it'd cost during race weekend.
Dear god.
Unfortunately, the track itself isn't nearly as spectacular an experience. Like every other Tilke track, it's a weird conglomerate of long straights connected by right-angle turns that ruin any flow the place has for racing. It does have perhaps the best asphalt in F1, however, grippy without being particularly abrasive, a neat trick if you can pull it off. Probably has something to do with the ambient air temperatures; the average high in November is around 86°F, with 65% humidity. Of course, you'd expect that for a tiny island nation in the Persian Gulf, wouldn't you? I'll be honest, I'd take that right now: as I write this, it's snowing with a windchill of -4°F. November in Northern Illinois, yay!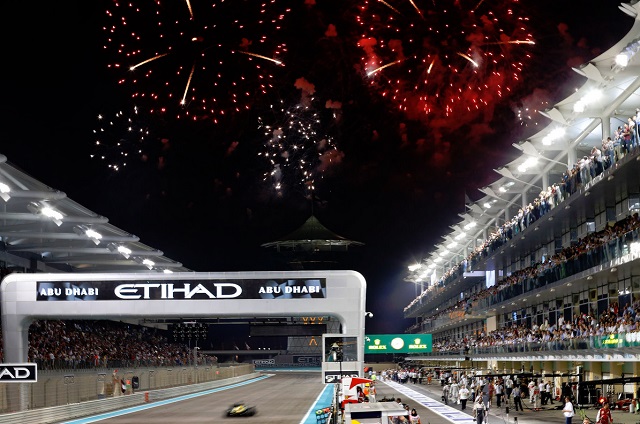 Because
it's so hot in Abu Dhabi, the race begins late in the day and goes into the night, a rather spectacular visual spectacle. The race itself? Not so spectacular, and arguably can be blamed for the acceptance of DRS (see
2010, HWMNBN, losing Driver's Championship
) in F1. In fact, I'll go so far as to say that F1 cars shouldn't be racing here, as the Australian V8Supercar series has had some fantastic races at Abu Dhabi. That's just me, though (note: no, it's not).
Well, our friends at NBCSN will be doing their usual knockout job with coverage, following the following schedule:
FRIDAY
Practice 2
: 7a - 830a
SATURDAY
Quals
: 7a - 830a
SUNDAY
2014 Grand Prix of Abu Dhabi
: 630a - 9a
Of course, it's a race to crown a new driver's champion as well. If Lewis Hamilton finishes ahead of Nico Rosberg, he wins. If Rosberg finishes ahead of Hamilton, Hamilton needs to finish second to win the championship.
Here's a chart breaking down finish positions
and what needs to happen for either to win. Even if Hamilton fails to finish, Rosberg must end up in 5th to win.
So here we go. We here at F1U! will see ya this weekend!
Posted by: Wonderduck at 01:49 PM | Comments (1) | Add Comment
Post contains 609 words, total size 4 kb.
1
This track outline looks like a pistol to me. Or maybe a ray gun.
Posted by: Steven Den Beste at November 18, 2014 03:18 PM (+rSRq)
Comments are disabled.
25kb generated in CPU 0.02, elapsed 0.1105 seconds.
47 queries taking 0.0975 seconds, 277 records returned.
Powered by Minx 1.1.6c-pink.