October 14, 2009
Tone #4
Over at
Chizumatic
, Steven brings up my favorite non-F1, non-anime subject, namely the Battle of Midway.
In his post
, he tells the story of the Japanese scout planes at the battle, and how the
Tone
's #4 scout plane left an hour late because of a defective catapult. He then repeats the conventional thinking about the subject:
If Scout 4 had launched when the other scouts had, it would have radioed back much earlier. The second strike could have been launched -- towards Yorktown -- before the first strike returned from Midway... ...The failure of the Tone's catapult is one of the most fortuitous breaks in the history of war, with consequences far out of proportion to its apparent importance.


As it turns out, recent scholarship has turned this conventional wisdom on its ear. No less a source than the 102-volume official Japanese history of the War in the Pacific, the
Senshi Sosho
, calls this bit of history into serious question. Written in the '60s and '70s from official Army and Navy documents and personal diaries and records, it hasn't yet been translated into English (except for one volume, ;">Japanese Army Operations in the South Pacific Area: New Britain and Papua Campaigns, 1942–43,
downloadable here
), and may never be. It turns out that Military Japanese isn't the same as the regular language, and the number people who can read it are rather thin on the ground.
However, that doesn't mean that parts of it haven't been translated. Much of the volume on the Battle of Midway, for example, has become available to researchers. The authors of the great book
Shattered Sword
, Jon Parshall and Anthony Tully, drew heavily upon the information contained therein, and came to a rather surprising conclusion:
Tone
#4 was actually one of the few pieces of GOOD luck the Japanese Navy had at the Battle of Midway.
It turns out that the pilot of
Tone
#4, Petty Officer Amari, for reasons lost to us now (neither he nor his crew survived the war) may very well have not flown the correct flightpath after he was launched an hour late.
Map adapted from

Shattered Sword
.
The pink line is the flight path taken by Scout plane #1 from the cruiser
Chikuma
, which left at 0430 and flew the planned search pattern.
The blue line is the planned flight path for
Tone
#4. The red line, however, is the path that the
Senshi Sosho
believes it actually flew.
The reason for this possible flight path is quite simple: it would have been impossible for
Tone
#4 to have discovered the
Yorktown
and TF16
where it did and when it did (at 0740, the asterisk on the map) had it flown the correct route. Remember, it was launched at 0530, approximately, over an hour late. This would have put it at the end of it's outbound leg at 0800, instead of the scheduled 0700, and it would have turned for home at about 0830.
Make no mistake,
Tone
#4 would have discovered the
Yorktown
and TF16 had it flown the correct route... at about 0915, on the
inbound
leg of the search. Instead, because it appears that it flew a truncated course, it found the Americans over 90 minutes before it
should
have.
Had it flown the expected path,
Tone
#4's sighting would have come after the Hornet's torpedo squadron had made their fatal charge at Kido Butai (0920), and as the Enterprise's torpedo planes began their attack runs (0940), and just only 20 minutes before the hammer of the Dauntlesses came down.
However, nothing would have gotten the second strike at Midway Island off the Japanese carriers: the timeline of American attacks didn't give the second wave a chance to be lifted to the flight decks, spotted and launched (See my post "
What If #3: Midway... Timing Is Everything
" for a conversation about that point).
At least
Tone
#4 gave Admiral Nagumo 90 minutes to get his planes armed correctly if he got the time to get them in the air. That never happened.
Posted by: Wonderduck at 10:37 PM | Comments (4) | Add Comment
Post contains 677 words, total size 5 kb.
October 13, 2009
F1 on SPEED!: Brazil 2009!
Brazil. Home of the 2016 Summer Olympics, Felipe Massa and Rubens Barrichello, and my least favorite track on the F1 calendar: Interlagos.
Located in the bad part of São Paolo, F1 team-members have actually been attacked by gangs of ruffians and neer-do-wells outside Interlagos' gates, most recently in 2006. Despite this, drivers for the most part are quite fond of the circuit. In recent years, the Brazilian Grand Prix (that's a lot of Grand Prix!) has been the final race of the year, and has brought us some very dramatic moments;
last year's race
decided the Driver's Championship on the very last turn, after all.
Despite that, though, I despise Interlagos.
Let's look at the map:
The circuit is laid out in a valley between two artificial lakes, which fact gives the track its original name: Interlagos literally means "between the lakes" in Portugese. The official name is Autodromo Jose Carlos Pace, after a Brazilian F1 driver killed in an plane crash.
It's the lakes that give Interlagos its best-known trait: it's
bumpy
. The weight of the lakes causes the land between to wrinkle, causing the asphalt of the track to flex. Even though there was a resurfacing in 2007, it's still the bumpiest track around. It's also one of the few on the F1 calendar that runs counter-clockwise, for what that's worth.
It's a relatively low-downforce circuit; while the mickey-mousing from turn 6 to turn 11 calls for a lot of grip, the rest of the track is high-speed and good acceleration is a must. Because of this, it wouldn't surprise me to see Force India do well here. It's not as high-speed as Monza or Spa, but it's a quick track to be sure. It's also easy on the brakes, so no fears on that front.
Bridgestone is bringing the super-soft and medium compound tires to Brazil. The new surface isn't particularly abrasive, and only turn 14 has much in the way of high-speed g-loading on the tires, so the rubber should last pretty well.
Even the engines should have an easy time of it, as only about 62% of the time is spent at full throttle. Of course, Seb Vettel is running race-used motors right now, so he's sweating every time he presses down on the gas pedal.
The one saving grace of Interlagos for me is that its basically in the Eastern Time Zone, which means a race at normal times! I'm sure SPEED's Legendary Announce Team appreciates not having to wake up at 230am for a 6am start, for example. Friday Practice will be from 12noon to 140pm, and Quals is Saturday from 12noon to 130pm.
The 2009 Grand Prix of Brazil is Sunday, LIVE, from 1030am to 1pm. It's very possible that we could see BrawnGP win both championships on Sunday, so you've gotta watch!
Oh, and VaucDuck? I've done a little bit of digging, and
Overtime Sports Bar & Grill
and
Zeke's Sports Bar
show the races. There's also something called the
San Francisco Formula 1 Group
that gathers together to watch 'em... tell 'em Wonderduck's Pond sent ya!
Posted by: Wonderduck at 08:53 PM | Comments (9) | Add Comment
Post contains 521 words, total size 4 kb.
October 12, 2009
Forgotten Classic
One of the bad things about having a CD and cassette collection as large as mine is not having enough space to actually display them all, and having to pack maybe 75% in boxes in the storage closet.
One of the
good
things about having a CD and cassette collection as large as mine and not having enough space to actually display them all is when you open up one box or another and stumble across a gem of an album that you'd long forgotten about.
Like this one:
I remember hearing
Road To Hell
at the late, lamented
Appletree Records
here in Duckford, and buying the cassette before the first song ended. I had no idea that Chris Rea had a sizable following in the UK, nor anything else about him for that matter; just that the song was good, the guitar playing was great, and that
voice
! Like a slightly less whiskey-tortured Tom Waits it was, with a dollop of the Blues put on top.
I didn't know that the track entitled
Daytona
was about the
Ferrari 365 GTB/4
, or that he was a fan of Scuderia Ferrari until just tonight. Back when the album came out (1989), I wasn't a petrolhead nor a F1 fan... I didn't know there WAS a Ferrari Daytona. Now, of course, it's obvious ("Twelve wild horses"?), but still.
What an album...
Posted by: Wonderduck at 12:33 AM | No Comments | Add Comment
Post contains 231 words, total size 2 kb.
October 11, 2009
When Anime & Formula 1 Collide... Part 3
Well, more like "
Light Novel that became source material for an anime & Formula 1 collide,
" but that's too long to put in the post title.
----------------------

"It seems other people aren't allowed to follow Suzumiya's train of thought. She's an amazing person."
Follow her train of thought? More like she's already lapped the rest of humanity multiple times. A whole three laps even. And you can feel the pressure as she creeps up from behind. It's so intense that at first glance, a person in the stands might be confused and assume you were on the same lap. That's something only people racing on the circuit would know, and Haruhi isn't going to ease on the pedal, be it an
S-Curve
, a
Degner Curve
, or a
crisscrossing one
. And on top of all that, she's the only one with a Bussard ramjet engine, which allows her to keep going forever...
-
The Sigh of Haruhi Suzumiya
by Nagaru Tanigawa,
trade paperback version
, pg 125.
For reference: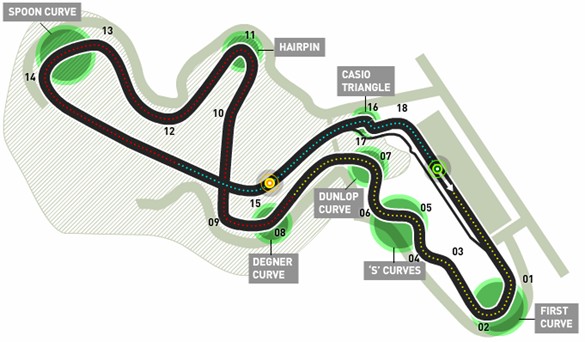 Posted by: Wonderduck at 07:16 PM | Comments (1) | Add Comment
Post contains 174 words, total size 2 kb.
Timo Out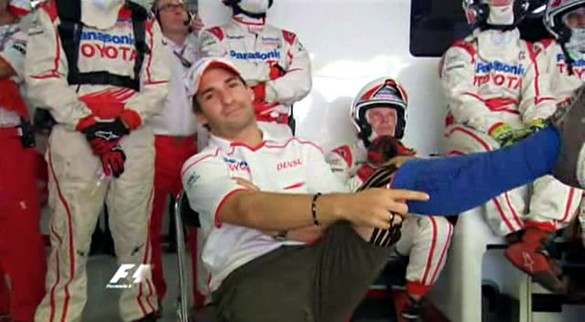 Timo Glock, the official favorite driver of Vaucaunson's Duck's wife, Geese, will not be racing at Brazil. While he was held out of the Japanese Grand Prix because of the gash he suffered to his leg in his huge shunt in qualifying, further medical tests back home in Germany revealed he
also
suffered a fractured vertebra.
This is troubling for a number of reasons, but the biggest is that this is becoming a trend for Glock. If you remember, he's suffered a couple of spine-crumbling crashes in the past. The first was at Australia in 2008:
He got off-track, then discovered what could almost be called a curb in the grass, at which point it was launched into the air. On landing, we all discovered two things: 1) F1 cars have no shock absorbers, and 2) drivers sit directly on the floor of the chassis, with no padding beneath them. The impact to his spine can only be imagined in its intensity.
Four months later, in Germany, his suspension broke and he wound up going backwards into the front straight's inside wall:
This impact was so hard that the Toyota wound up careening all the way back across the width of the track. While F1 cars have a crash structure built into the rear of the chassis, designed to absorb a lot of the impact, there's no way it can take all of it.
While he missed no time from either crash, and indeed finished a career-best second at the race following the German Grand Prix (Hungary), after both accidents there were concerns about his back.
It's possible that the previous crashes had done some unseen damage, weakening his back to where any suitable accident could do serious injury. The doctors don't seem all that concerned -- they still expect him back for Abu Dhabi-- but it's something that's got to be in the back of his mind.
Posted by: Wonderduck at 08:22 AM | No Comments | Add Comment
Post contains 320 words, total size 2 kb.
October 10, 2009
Random Anime Picture #48: Huh?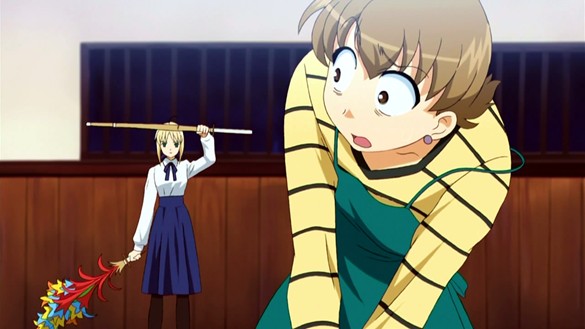 -Fate/Stay Night
,
ep04
This is funnier out-of-context than in.
Who would have imagined? F/SN is a slice-of-life fighting show!
UPDATE: No
wonder
I like the music for the show:
Kenji Kawai
was the composer.
Posted by: Wonderduck at 05:46 PM | Comments (2) | Add Comment
Post contains 39 words, total size 1 kb.
October 07, 2009
F1 News Bits
There's been some doings around the F1 world since Japan, so let's take a look!
*KUBICA TO RENAULT
: Robert Kubica, current driver for BMW, was announced today as the replacement for HWMNBN on the Renault roster next season. WIth BMW's dropping off the grid next year, Koobs has been looking for a drive. Realistically, Renault was probably the best he could have hoped for; McLaren technically has two drivers already, as does Ferrari and Brawn, though Brawn will probably drop Barrichello and might lose Button to contract woes. Other than Renault, Toyota was another possibility, though there's a question as to whether they'll be in the sport in 2010. Kubica, who was considered the best young driver in F1 until the arrival of Seb Vettel, has a historical tie to Renault, getting his first ever F1 test in 2005 with the team. Considering the scandals the team has had recently, the arrival of the Pole can't do anything other than help.
*MASSA TEST APPROVED
: Last week saw Felipe Massa get behind the wheel of a kart; next week may very well see him get behind the wheel of a F1 car. The FIA, with the unanimous approval of the other nine teams, has granted Ferrari and Massa a test session in the F2007, the same car that Slappy Schumacher drove in
his
aborted comeback. Massa, recovering from a terrible injury suffered in Hungary, is still saying that there's a chance he'll be back at Abu Dhabi, the final race of the season. And speaking of Abu Dhabi:
*ABU DHABI APPROVED
: The new Yas Marina Circuit at Abu Dhabi was given the green light today by Charlie Whiting, the FIA's official Race Director. Without his blessing, the track could not host a F1 event, but it's been cleared for the November 1st series finale. Looks like an interesting layout, too: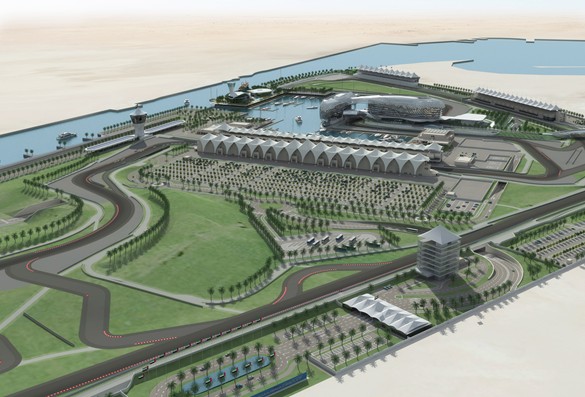 They're still doing the landscaping, but it's all expected to be completed in time for the final race weekend.
Finally, I was grocery shopping a few days back and bumped into a tower display of die-cast cars. Mostly they were sports cars, Beetles, and the like, but mixed in with the dull vehicles were F1 racers! Of course, I bought all that I could:
What's impressive is that the paintjobs are easily recognizable... well, mostly. The top car is clearly the
Toyota livery
. The middle is the
pre-Glare with Wheels-era McLaren
, but I'm having problems identifying the bottom one. My first thought was late
Ligier
, but the blue is wrong and the flames are pure fantasy. Of course, it's possible that it's just a made-up color scheme, but considering the other two being based on real liveries, I'm assuming that it's from
some
thing!
I'm stumped... any thoughts from the audience?
Posted by: Wonderduck at 09:11 PM | Comments (1) | Add Comment
Post contains 462 words, total size 3 kb.
October 06, 2009
Why I Shop At RACS
There are plenty of reasons why any self-respecting anime fan should shop at
Robert's
: huge selection, a sense of humor, low shipping costs, speedy service, and a huge commitment to customer service are just some of them.
Here's another one.
A few days ago, I was at work when the folks from the mail desk came by and dropped a load of stuff in front of me. Most of it was crap ("Junk, junk, invoice, junk, credit memo yay, invoice, invoice, junk..."), but there at the bottom was a small-ish box with the distinctive RACS shipping label on it.
"Huh?" said I, for I haven't placed an order there in a couple of months. Using my handy-dandy boxcutter (we get a LOT of boxes at the Duck U. Bookstore, after all), I sliced it open and found... an envelope?
And underneath the envelope?
Robert had e-mailed me out of the blue back around
that terrible day
, extending his condolences and sharing some personal experiences that helped, but this was entirely unexpected.
I'm a customer for life.
Posted by: Wonderduck at 09:19 PM | Comments (3) | Add Comment
Post contains 181 words, total size 1 kb.
October 04, 2009
F1 UPDATE!: Japan 2009!
Sunny skies over Suzuka today, but will everything stay bright for Red Bull? THIS is
your
F1 UPDATE! for the 2009 Grand Prix of Japan!
*VETTEL VICTORIOUS
: Starting from pole, Red Bull's Seb Vettel simply blew the the rest of the field off the track today. By the end of the second lap, he had a three-second lead. At one point late in the race, he had a 15 second lead... and set fast lap to boot (his teammate Mark Webber took it away a few laps later). Only a late safety car pulled him back to the field, but when the race restarted, away he went again. Much needed for the team as well, for not only did Vettel keep himself alive in the Driver's Championship, but he kept Red Bull alive for the Constructor's Championship as well.
*BRAWN BOTHERED
: The team could have won the Constructor's Championship with four points today. Jenson Button could have kicked out Seb Vettel from the Driver's Championship with six points. Neither happened. Button finished eighth, and teammate Rubens Barrichello came in seventh, for a total of three points. Not even when the safety car came out, bunching the field together, could either driver make a move to pass BMW's Grizzly Nick Heidfeld for that last point. They're still likely to win the Constructor's in Saõ Paolo, but the team's gotta be kicking themselves for letting this chance slip by.
*DRIVER OF THE RACE
: With his teammate starting from the pit lane and pitting three times in the first four laps for modifications to his newly built car, the last hopes for Red Bull rested solely on Sebastian Vettel's shoulders. Many young drivers would have been crushed by the pressure but, as we've learned, Vettel is no ordinary young driver. Instead, he ran a mostly perfect race, marred only by his desire to go very fast when he didn't need to and thereby stressing his final race engine unduly. It didn't bite him today, but those spent revs could come back to haunt him. But for today, Vettel was easily the class of the field and well-deserving of the DotR. Honorable mention goes to Jarno Trulli's second-place finish.
*TEAM OF THE RACE
: With the team perhaps facing the budget axe, Toyota really needed a good result at their "home" race. Unfortunately,
with Timo Glock out
, it all came down to Jarno Trulli. Amazingly, he pulled out his best start of the season, settling into third place behind Lewis Hamilton. He the proceeded to stay about three seconds behind Hamilton until the final pitstops, at which point the team mechanics pulled out the most meaningful stop of Toyota F1's life. The
team
managed to get Trulli in and out so quickly that Trulli leapfrogged Hamilton for second place, the team's second in a row. Hopefully, that'll be enough to keep them in the sport as more than an engine supplier. If not, however, it's a pretty decent result to go out on.
*MOVE OF THE RACE
: This was a fun one. On lap 39, Heikki Kovaleinninninnie and Giancarlo Fisichella came into the pits together. Their stops were nearly identical in length, and as they exited pit lane, Fisi had about a car's length lead over the McLaren. The instant they crossed the speed limit line, both drivers stepped on the gas, with Heikki on the inside. For some reason, Fisi drifted towards the center of the track. Realizing his error, he tried to slam the door on the silver car, but it was too late: Heikki had gotten inside the Ferrari. Even being pushed (slightly) onto the grass wouldn't stop the
Floundering
Finn: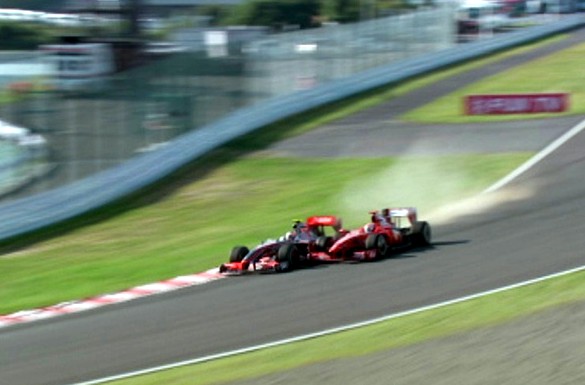 ..and he made this most unique Move of the Race stick; unique because it all started in the
flippin' pit lane
!
*MOOOOO-OOOVE OF THE RACE
: Adrian Sutil's Force India was looking quite racy early on. He was in 9th place and harrying Heikki Kovaleinninninnie, in 8th, quite hard. For three or four laps, Sutil would get right up behind the McLaren in 130R, but Heikki wouldn't give him an opening into the Casio Triangle. Must have been frustrating, I'm sure. Still, on lap 13, Sutil saw a glimmer of light to the inside and jumped at the chance. Through the first part of the chicane, he got his nose out in front of the McLaren. You could almost hear his thought process: "I'm in the lead, therefore I can take whatever driving line I want!" Except it doesn't work that way, of course. He tried to go the the inside of the next turn in the chicane... and Heikki was there. The two touched, spinning Sutil from 9th to 12th. All it would have taken is a desire to
hold your frickin' line
and he would have had the pass made. Instead, he earns his second MoootR in a row. In some ways, we here at F1U! really hope he gets into a good car next year, so he can really show what he can do. In other ways, though, we
dread
the thought of Adrian Sutil at the front of the grid...
*DRIVER QUOTES OF THE RACE
:
more...
Posted by: Wonderduck at 02:08 AM | Comments (1) | Add Comment
Post contains 1357 words, total size 9 kb.
October 03, 2009
F1 Quals: Suzuka 2009!
Now that was a weird quals session! Let's take a look at the grid, then we'll talk about it:
Okay, we've
already talked
about the goings-on in Q1, what with Webber breaking his car ahead of time and two drivers going off in the Degner Curve. It was Q2 where everything started to go pear-shaped for the event.
First NKOTT went off (say it with me) in the Degner Curve, and while it was a fierce accident, he jumped out unhurt. The session was red-flagged for eight minutes, however, while the car was craned out of the kittylitter.
Once the session restarted, Jarno Trulli was the first man out, closely followed by his teammate Timo Glock... which is why Trulli was the only man to complete a timed lap before the second red flag came out.
Glock's appeared to have steering problems as he accelerated out of the Casio Triangle and into the final turn, either because something broke or because of massive understeering due to the soft tires "chunking" in 130R. Either way, his steering wheel was cranked hard to the right to no effect when he augured into the tire wall.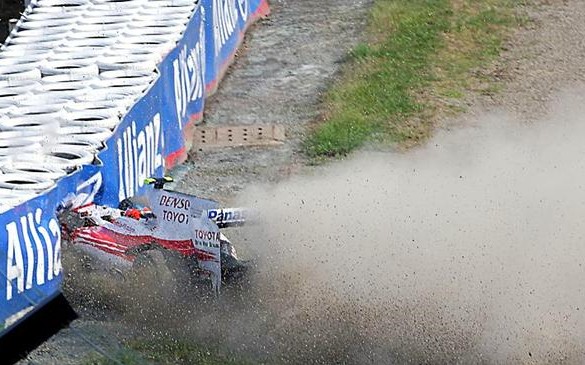 While he quickly got the steering wheel detached, it took over two minutes for the medical car to get to him, as it had to do nearly an entire lap to reach the crash site. He was removed from the car and flown to a nearby hospital, where he was treated for a cut on his leg and some back pain. The session was eventually restarted...
...when Sebastien Buemi, already a victim of a crash in Q1, lost it on the exit from the Spoon Curve and spent most of the run down to 130R grinding the right side of his car away.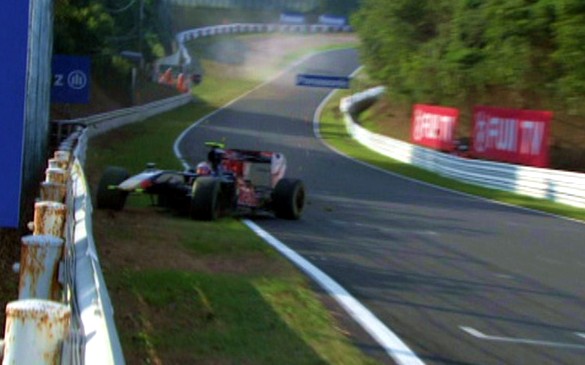 This wreck actually began back where the two orange-clad track marshals are standing, and he was pressed up against the barrier for most of the intervening space. He came to something approximating a halt some distance past the camera, then slowly took the car into the pits... all of which brought out a local yellow flag, just as many cars were bearing down on the crash site in their first, and because of the red flags,
final
hot laps for the session.
Once the session was over, HWMNBN, who was 12th and out of Q3, went and bitched at the stewards that many drivers didn't lift and slow down for the yellow flag... more about that later.
Q3 got started, and...
...oh for heaven's sake.
This time, it was Heikki Kovaleinninninninnie who got waaaaay too much curb under his chassis in (again, say it with me) the Degner Curve while on his first hot lap. The McLaren actually got airborne for a moment, then splatted into the tire wall. He was fine, but his car was broken. The red flag came out with about five minutes left in the session, throwing all the usual plans into a cocked hat. The fuel-burning laps suddenly were gone, and drivers would really only get one, maybe two shots at setting a time. After all, on this track the out-lap takes around 2 minutes, a hot lap about 1:32... if a driver gets out on track immediately, he might be able to get a second hot lap in, which is what Jarno Trulli did, but nobody else. The final results are on the grid above.
Now, back to HWMNBN's complaint. Indeed, the FIA stewards agreed with him that some cars didn't slow down as they came upon the Buemi accident, and they've handed down five five-grid-spot penalties.
The first went to Buemi himself, for not parking his car and strewing debris all the way from 130R to the pits (the part before 130R was okay; he wasn't under control then).
The next four five-grid-spot penalties were for not slowing down for the yellow flag, and they went to Adrian Sutil, Jenson Button, Rubens Barrichello.... and HWMNBN.
Methinks the gentleman doth protest too much, hmmm?
Anyway, Ross Brawn confirmed that his drivers didn't slow down. "They swerved to avoid debris, yes, but they didn't slow," said the team boss. Good show, Ross... we here at F1U! love good sportsmanship. HWMNBN, on the other hand, continued to claim that he DID slow down.
Which is why he's called HWMNBN.
Race report tomorrow!
UPDATE: More five-grid-spot penalties! Yayyyyyyy!
Timo Glock's crash was worse than everybody thought, comprehensively damaging his Toyota's chassis; if he's allowed to start the race (since he'll be in a new car, he may not be allowed to. The regs say it's okay to change the chassis before quals, but they're a little vague beyond that...), he'll be doing it from the pit lane.
Heikki Kovaleinninninnie's crash ruined his gearbox, and he'll need to take a 5-spot to change it out. Vitantonio Liuzzi, who wound up with a gearbox full of neutrals in Saturday Practice, had to change his as well, and will now be starting 24th... or last on the grid, one of the two.
The official grid has yet to be released because of all the penalties, but the good folks at SPEEDTV.com thinks it'll look like this:
1 Vettel
2 Trulli
3 Hamilton
4 Heidfeld
5 Raikkonen
6 Barrichello
7 Sutil
8 Rosberg
9 Button
10 Kubica
11 Kovalainen
12 Buemi
13 Alguersuari
14 Fisichella
15 Nakajima
16 Alonso
17 Grosjean
18 Liuzzi
Pitlane: Webber and Glock

We'll see.

Posted by: Wonderduck at 07:50 AM | Comments (9) | Add Comment
Post contains 1046 words, total size 15 kb.
October 02, 2009
Suzuka Quals Notes 2009
Q1 has just begun, and we've got a bright sunny afternoon in Japan. However, the rain during Friday practice claimed a victim in Saturday's practice. Because of all the rain, the RedBull team had no usable data and sent Mark Webber out with the ride height a little too low. He hit a bump in the Degner Curve, the bottom of the car contacted the asphalt, and suddenly he had no control at all. The car went straight on into the tire barrier, and the chassis was totaled. In fact, the damage was so bad that the team has to build him a new car altogether for the race; he'll not be participating in quals as a result and at the moment will be starting from the pit lane.
Sebastian Buemi in his Toro Rosso just lost it in the exact same place, and probably for the exact same reason. He backed it into the tire barrier a little more gently, but he has yet to re-emerge.
As I say that, Heikki Kovaleininininnie just took a wild ride... at the Degner Curve. This might prove interesting during the race.
There's another typhoon near the Philippines, headed towards Japan. The forecasters have thrown up their hands and stalked away in disgust, so nobody has the faintest idea what weather we'll have for the race.
Championship notes: If Jenson Button finishes 4th or better, he wins the Driver's Championship, no matter what teammate Rubens Barrichello does. If Red Bull doesn't outscore BrawnGP by at least 7 points, Brawn wins the Constructor's Championship... thus, the Mark Webber crash might have stuck a fork in the Red Bull hopes.
Full Qual results later!
Posted by: Wonderduck at 11:23 PM | Comments (1) | Add Comment
Post contains 283 words, total size 2 kb.
F1 Practice: Suzuka 2009!
The rain never really stopped. Until about eight minutes left in Friday's Practice 2 session, this was the fastest thing on the Suzuka track: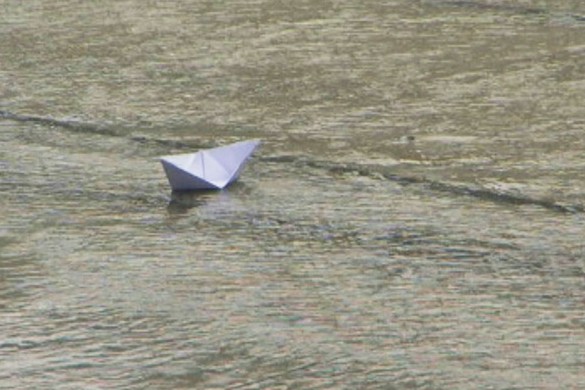 Yup, you know it's a dull session when the mechanics are making origami boats and sailing them in the pit lane. Made it most of the way down, too, until a killjoy track marshal picked it up.
Once cars finally DID make it on track, Adrian Sutil's Force India turned fast lap of the session. That's not saying a whole lot, as it was nearly 10 seconds slower than the morning session, and close to 20 seconds slower than the usual lap at Suzuka, and it sure didn't look like the teams were taking it seriously. One could almost hear the mechanics thinking "don't total the car, lad, don't total the car" as they sent their waterlogged warriors out.
So, not much to report. I'm sure there'll be more after quals... after all, the drivers can't hide in the garage then, no matter how bad the weather gets.
Posted by: Wonderduck at 12:05 PM | Comments (1) | Add Comment
Post contains 176 words, total size 1 kb.
October 01, 2009
F1 Practice 2 LIVE note
It's wet. Really, really wet. They're running on monsoon tires, there's standing water on the track, it's pouring, nobody's on track, and apparently there's a typhoon brewing in the Sea of Japan, just to make it better for everybody.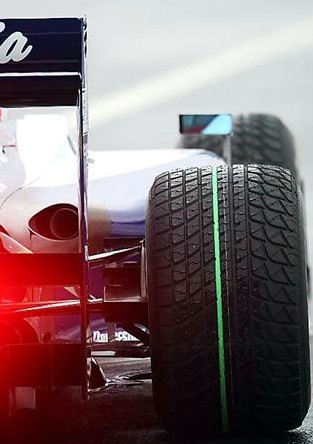 Monsoon tires. That's a helluva tread...
Forecasts say that we'll have a wet quals, and a dry race, but nobody has the faintest idea, really.
(Adrian Sutil just said that, in the wet, 130R "really requires a driver to have some balls." Smarmy Windsor just had an on-camera stroke)
Speaking of 130R, in the track preview post, for some reason I said that it was turn 14, when I knew that it was really #15, right past the bridge. Dumb mistake, sorry about that.
Since nothing is going on on-track and there's no visible break on the weather radar for a looooong time, I'm going to bed. Full coverage later.
Posted by: Wonderduck at 11:21 PM | No Comments | Add Comment
Post contains 154 words, total size 1 kb.
Random Anime Picture #47: Sayo's a Miko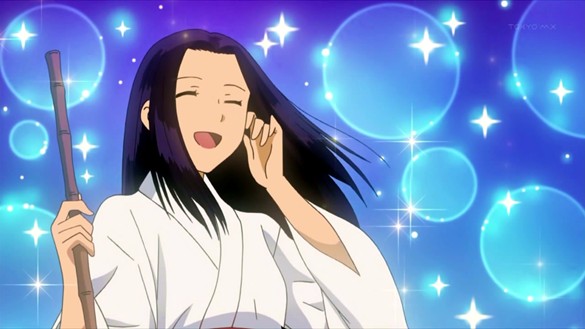 -
Sora no Manimani
, ep08
Well,
of course
Sayo lives in a temple... it makes perfect sense, all things considered. *rolling eyes*
Alas, this is a fantasy sequence (though she does live in a temple). No miko magic here, probably... though one could always hope.
Posted by: Wonderduck at 10:44 PM | No Comments | Add Comment
Post contains 51 words, total size 1 kb.
95kb generated in CPU 0.07, elapsed 0.1504 seconds.
61 queries taking 0.0985 seconds, 328 records returned.
Powered by Minx 1.1.6c-pink.